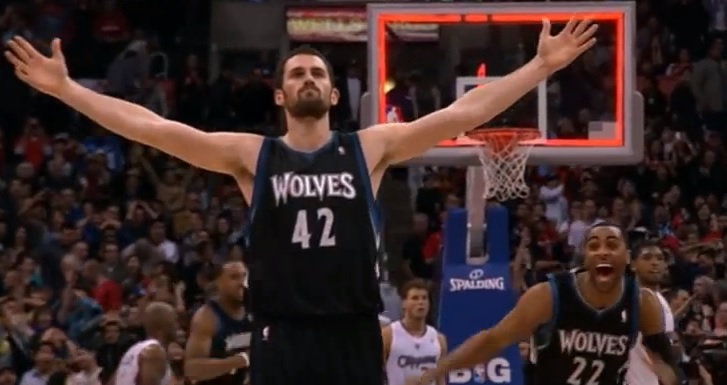 The conference finals didn't even get underway before the Kevin Love trade rumors heated up again.
In a post about Sam Mitchell being a candidate for their vacant head coaching position, Yahoo!'s Adrian Wojnarowski writes that the Wolves are having a tough time roping in flashier candidates with Love's impending free agency clouding the direction of the franchise. He also cites a league executive who thinks the tide is beginning to turn on the willingness of team president Flip Saunders to at least listen to offers for Kevin Love. Wojnarowski lists the Celtics, Warriors, Lakers and Suns as teams interested in pursuing Love.
As for the other perspective in the story, a report from ESPN's Marc Stein and Ramona Shelburne cite sources who say that Golden State and Chicago pique the interest of Love due to the chance at a going to a winning situation, though they don't rule out the big market destinations of Los Angeles or New York, nor asset-rich Phoenix. They also report that Love "has no interest in a contract extension this summer." They note that Love may be willing to sacrifice a bit in market size due to the wear of six seasons that have all ended with Minnesota going to the lottery and not the postseason.
If Love wants the perfect match of winning now in a big market, Chicago is really the only market that offers him that. Let's consider the various suitors:
Los Angeles Lakers: Thanks to the Dwight Howard and Steve Nash trades, as well as the Stepien Rule that forbids teams from dealing consecutive first round picks, the Lakers have no first rounders to deal for the foreseeable future. The loophole in the Stepien Rule would allow them to draft their lottery pick and then trade that player's rights to Minnesota to headline a package for Love, but that's about all they have. Even if that were enough return for the Wolves, that would leave Love with a broken down Kobe Bryant and not much else. Love may want to be back in Los Angeles, but the Lakers offer him little opportunity to win.
Golden State Warriors: They'd be a fantastic match for Love, as he'd get to play with Stephen Curry and not be too far from L.A. But this line in ESPN's report essentially rules them out: "Golden State could assemble a trade package featuring the likes of forwards Harrison Barnes and David Lee." I'm sure the Wolves would jump at the opportunity to trade their franchise player for Lee, 31 years old with two years and $30 million left on his deal, and Barnes, who pretty much had his confidence wrecked this season. The Warriors are also short two first round picks that they gave to Utah in return for clearing salary that enabled them to add Andre Iguodala last summer. Even if Golden State included Klay Thompson, there just isn't enough here to make a deal.
Phoenix Suns: I'd say Phoenix is the biggest threat to Chicago because they have a solid, young team, a treasure chest's worth of assets and are close to home for Love. I suppose this boils down to if Kevin Love wants to be The Man on a playoff team (that plays in the much tougher conference), or share the spotlight for a title contender.
New York Knicks: Unless the Wolves are enticed by Iman Shumpert and Amar'e Stoudemire, the Knicks would have to wait until Love becomes a free agent in 2015 to really get into the discussion.
Boston Celtics: They play in the weaker conference, rival Phoenix in terms of future draft picks, are a prestige franchise and have a star in Rajon Rondo who would help Love but not eclipse his status. They even have a high lottery pick that the Suns do not. If Love is willing to be the star on a team that would be in the middle of the pack of the East playoffs, with a decent shot of contending down the line, Boston could be a contender to once again trade for a Wolves superstar as they did with Kevin Garnett in 2007.
That brings us to the Bulls, who as I mentioned are really the best fit for all parties. That may sound homerish, but let's look at a hypothetical trade:
Bulls get: Kevin Love and Kevin Martin
Wolves get: Carlos Boozer's expiring contract, the rights to Nikola Mirotic, the 16th and 19th picks in this year's draft, the Sacramento pick Chicago acquired from Cleveland in the Luol Deng deal, as well as Chicago's 2016 first round pick (again, due to the Stepien Rule, Chicago would be unable to include their 2015 pick), and whatever combination is necessary of the unguaranteed contracts of Mike James, Ronnie Brewer and Louis Amundson
At first glance, not including Taj Gibson or Jimmy Butler seems like a pie in the sky idea. But in the absence of Derrick Rose, those players, while defensive studs, have proven that they are super role players on a contender, not rebuilding pieces, especially because Jimmy is due an extension soon and Taj turns 29 next month.
Meanwhile, Nikola Mirotic is a much bigger prospect than them, and he's also expendable for Chicago because Taj could play with Love or Noah, while Mirotic and Love would be a very poor tandem defensively. Though he'll cost more, getting Mirotic is like getting a lottery pick.
The money side works out for both teams. Chicago absorbs Minnesota's worst contract in Martin, though his shooting would be a great add for the Bulls. His contract could cause problems down the line, but this team's time to win is now. The Bulls get to save a ton of money in not amnestying Boozer, while his contract combined with J.J. Barea's expiring will give Minnesota flexibility in 2015.
For Minnesota, there likely isn't an elite asset in the deal, but neither Denver nor Utah got such a thing when they dealt Carmelo Anthony and Deron Williams. Regardless, this deal would have the Wolves head into 2015 with Pekovic/Rubio/Dieng/Brewer/Muhammad/3 2014 first rounders and another lottery pick that summer to rebuild around, plus a couple more picks from the Bulls in the future. That's a lot better than letting Love walk for nothing.
The Bulls would end up with Rose, Love, Noah, Gibson, Butler, Martin, Dunleavy, Snell and Greg Smith, adding up to $69,663,319, which also includes another year's portion of Rip Hamilton's buyout, thanks to the stretch provision. The tax line is going to be approximately $77 million. This gives them ample room to add a backup point guard (I'd endorse Devin Harris or even Kirk Hinrich as opposed to D.J. Augustin in this scenario considering how Jimmy would be the only defensive stud on the wing) and round out the roster without crossing the tax. (The tax could be a problem in future years, but considering all the extra playoff revenue the trade could bring and that the Bulls basically print money, I couldn't really care less about this consequence.)
Again, this might sound like a homer idea, but Minnesota lacks leverage, as the team that acquires Love has to be on Love's list in the first place, plus they will need to know he's willing to stay and sign an extension. That knocks out the majority of the league. Bulls fans might feel it's a bit too much, while Wolves fans probably feel it's not enough, which is usually the sign of a fair deal.