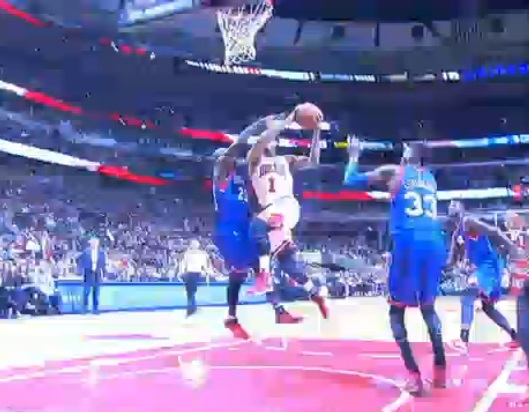 Watch any network TV show and you'll come across filler episodes. Most of the time, it'll be an uninspired Case of the Week or Patient of the Week. Sometimes the show will sneak an important scene in at the end to make the episode still relevant in the grand scheme. Tonight's Bulls-Sixers game was the NBA version of that.
There's been some hand-wringing over the Bulls not putting away a Sixers team that played without Nerlens Noel or a point guard, but of all the lackluster Bulls efforts this season, this one was way down the list. Unlike other games, there was never a real sense the Bulls would choke this one away. Also, this Bulls team has established that they aren't really into trying hard consistently. If they weren't getting up for Miami right off the bat after flat-out giving away a game to Orlando, they weren't getting up for the posterboys of tanking who were missing their best player.
There were only two meaningful takeaways from this game:
1. Thibs finished with Joakim Noah and Taj Gibson, mixing in Pau Gasol for a couple offensive possessions. The exact decisions between those three will likely vary game-to-game, but it appears Nikola Mirotic will not be a part of their closing lineups, unless it makes sense to slot him at small forward, where the results have been mixed.
2. Derrick Rose took over the end of this game. Attempting to describe the myriad of plays he made would be an injustice, so I recommend just finding the highlights. Driving into the lane, running back for a steal, a long-distance jump pass, he did it all. (Well, except shoot well from outside…)
He finished with 22 points on 8-19 shooting, six boards, eight assists, three steals and no turnovers in 28 minutes, a bump up from his first couple games back. The Bulls, still in the #4 slot because of Toronto's win over Miami, have two games left to continue to reintegrate him.