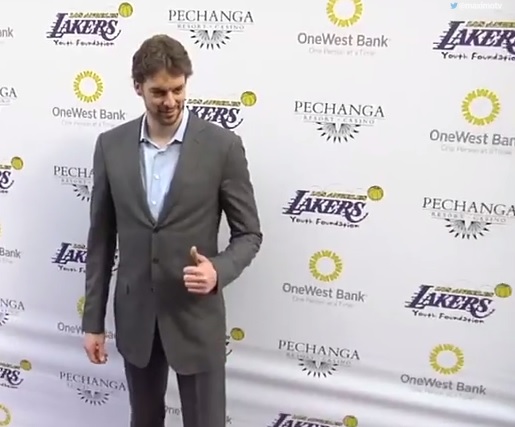 It's nearly 11 PM here on the West Coast and the weekend has just started in the rest of the country, but NBA Hot Stove news has no bedtime apparently. According to Spanish sports outlet Marca, and now Yahoo's Adrian Wojnarowski, the Bulls are about to get Pau Gasol from the Los Angeles Lakers in a sign-and-trade.
From Marca's Jesus Sanchez:
Acuerdo prácticamente cerrado a falta de un 'sign and trade' con @Lakers. @paugasol jugará en los @chicagobulls. Info en @marca.

— Jesús Sánchez (@Sanchez__Jesus) July 12, 2014
Wojnarowski, who does not confirm the sign-and-trade portion of the transaction:
Pau Gasol, Chicago working to complete an agreement, league sources tell Yahoo Sports.

— Adrian Wojnarowski (@WojYahooNBA) July 12, 2014
As of now, the details are unclear. The Lakers could receive a package including Mike Dunleavy and the WaivaBulls (Mike James, Ronnie Brewer and Louis Amundson), or maybe the Bulls threw in a future first to save the amnesty money on Carlos Boozer. The Lakers used their cap space to absorb Jeremy Lin's expiring deal from Houston, so it's no longer easy for them to take on Boozer's expiring, but again, without the specifics, NBA transactions have taught us not to rule anything out completely.
A couple things to remember:
-Google translator is an approximation, so it's tough to gauge the specifics of the Marca article.
-Without knowing what the Bulls are giving up in the deal, it's too early to judge what this means for their pursuit of Carmelo Anthony. It does, however, take Phil Jackson's top target off the market. Jackson was hoping to get his former player at a discount, a move that may have clinched Anthony re-signing in New York.
-If Gasol is acquired in a sign-and-trade, the deal will be for at least three years. Though a scary proposition, seeing as Gasol just turned 34, it's mitigated by the possibility of unguaranteed or partially guaranteed seasons.
We'll update the situation once more details break.