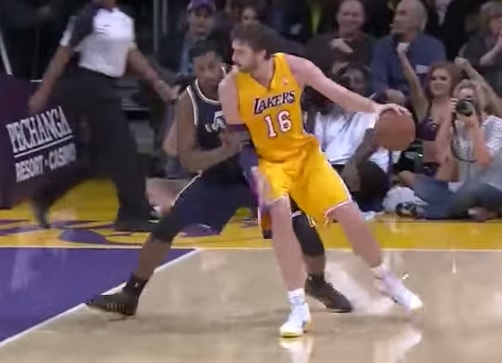 As recently as a few days ago, I was just as perplexed as most Bulls fans at how hard Chicago pursued Pau Gasol. What changed my mind, oddly enough, was a conversation-slash-debate with a random guy on Twitter who argued Luol Deng couldn't keep the Big 3 together in Miami, while Gasol would, as signing him would address a more pressing hole than Deng. My response was that no player on the market would single-handedly convince them to stay, and that, knowing Pau would sign elsewhere, Deng would be a much better addition than simply pursuing a big or a point guard just to fill a need. Amass as much talent as possible, worry about fit later.
Then it occurred to me that I was disregarding that very philosophy in regards to Pau and the Bulls. The more I thought about it, the more I realized that acquiring Pau made sense on multiple levels. First, as mentioned, adding talent is important. That sounds obvious, but Chicago's playoff runs haven't ended out of lack of will or being inexperienced. Simply put, they haven't had enough good players, which has been the case independent of Derrick Rose's injuries.
Also, it makes sense on a game theory level. One of the most rudimentary strategies, regardless of whether it's a game, a business, or in the case of the NBA, both, is if all of your competitors are doing one thing, there's likely market inefficiencies to  be exploited in doing the opposite. That, not sabermetrics, was the core idea behind Moneyball, and smart people in the NBA like Mark Cuban, who has overseen a retool of the Mavs around sub-star contracts in the $7-10 million range in lieu of a full-blown rebuild, are trying to capitalize in the same way.
We live in a world where Jodie Meeks just inked a deal with an average annual value that surpasses his entire career earnings and Avery Bradley fetched $32 million over four years despite constant injuries and lack of playmaking. That's not to disparage them as players, but for all the talk of the Bulls needing to upgrade their firepower on the wing, so does nearly everyone else, and even the Chandler Parsons and Gordon Haywards who nabbed max offer sheets aren't putting anybody over the hump. Circling back to Deng, he and Trevor Ariza are causing bidding wars among a handful of second-tier contenders, yet we saw the limitations of a Bulls team that depended on Lu to put up 15-20 points every night. So why not try something different?
With Pau in the fold, he joins a big man rotation alongside Joakim Noah, Taj Gibson and Nikola Mirotic, as well as Greg Smith in the fold depending on his health. That makes them the deepest team in the league up front, which gives them all sorts of options. Of those top four, the only combination unlikely to see the court together is Gasol/Mirotic, given Pau's decline on the defensive end. Other than that, the versatility of Noah and Gibson allows them to trot out any other duo.
Acquiring Gasol also means lighter workloads for the bigs, if Thibs can bring himself to let the pedal come off the floor a bit. He can now get through the regular season without wringing every minute out of Noah to win the average Tuesday night low-scoring nailbiter against the also-rans of the league. Even if Mirotic didn't play a single minute, there's 96 frontcourt minutes to divvy up, or just 32 minutes a night for each for the Jo/Pau/Taj trio. It also allows the Bulls to be more conservative with injuries in the first year of the post #FredClearedHim era, seeing as trainer Fred Tedeschi left for Oregon State. As much as the "2010 Plan" of adding depth after striking out on the stars seems less than palatable, it would present the Bulls with a chance at getting the top seed and home court advantage without having them be gassed by the time April comes around.
Speaking of the playoffs, being in the East requires being prepared to play LeBron James, regardless of where he plays, and while the supporting cast is now different, with youth and athleticism replacing maturity and playoff know-how, the strengths and weaknesses of his team will be similar. Of the lessons learned from watching the Triad Heat, none are more important than this: You will not beat a LeBron James team by out-smallballing them. The Heat didn't reach their apex until after their bitter loss in the 2011 Finals to Dallas, when they added Shane Battier, and phased out small bigs (Udonis Haslem, Joel Anthony) for big wings (Battier, Mike Miller). They wagered that the gains in speed and spacing were worth the losses in rim protection and defensive toughness, which paid off with multiple titles.
Consider the teams that competed with Miami once they found that smallball gear. Boston's ability to hang with them usually hinged on Kevin Garnett's ability on a given night to battle down low with Chris Bosh. The Pacers did quite well against the Heat when David West and Roy Hibbert shared the court, but as soon as Miami could attack one-way bigs like Luis Scola or Tyler Hansbrough, Indiana got blown away. The Spurs lost the 2013 Finals after Miami forced Tiago Splitter off the floor and to go small. That scenario reversed last year for a number of reasons. Miller had been amnestied, Battier's body paid the price for banging down low in previous years, and Boris Diaw's unique skill set flipped the script.
The moral of the story: The fate of those opponents swayed on how well their bigs played and if they could make Miami pay for going small. LeBron's Cavs are going to be small, even if they do trade for Kevin Love. They're depending on Anderson Varejao to stay healthy, a dicey proposition considering he missed a quarter of the season last year, which is a huge improvement after not playing more than 31 games in any of the prior three years.
Gibson, in a weird way, is kind of like Diaw, as they both have perimeter elements to their game. Diaw passes and shoots like a guard on offense, but the Spurs also survived by having him guard Dwyane Wade at times. As for Taj, he's mobile enough to hang on the perimeter on defense, which would give the Bulls a huge edge down low on offense. Varejao and a Mike Miller type would get eaten alive defensively by Pau and Taj.
Some are worried that Pau is just the next Carlos Boozer. He's not, as first of all he's half a foot taller, but he's also an offensive hub the way Boozer never was in Chicago. Boozer would get his half dozen shots up in the first quarter, and it wouldn't impact the offense at all. It didn't change how the defense moved, it didn't open up looks on the perimeter. Pau's age is a concern, but it's not like the Bulls were bidding against the Nets and Kings here. The Spurs are the smartest team in the league, Oklahoma City isn't far behind, and they were both campaigning to add the Spaniard. It's safe to say the league doesn't think Pau is done.
His numbers admittedly don't look great, though it's hard to take anything from not only his stats last year, when he was L.A.'s only legit threat, but the year before as well. After adding Dwight Howard and Steve Nash, the Lakers never meshed, going through a litany of injuries. They changed coaches too, and Mike D'Antoni clashed with Gasol, playing the mind games that Phil Jackson would, without the cache to pull them off. Pau is an emotional guy, and seems to need to feel wanted and connected to his team to perform his best. On a team with Noah leading a mature and professional locker room, that won't be a problem in Chicago.
Adding Pau doesn't address Chicago's lack of perimeter creators, but even if you can compartmentalize sports and want Lance Stephenson, signing him for big money is rather risky, as his market should heat up now that the stars have found homes. It's definitely a letdown if the Bulls fail to add a star like Love or Carmelo Anthony, but as long as the deal is for reasonable money and short in length, Gasol could be a quality acquisition who is sufficient enough for the Bulls to make a real push at the Finals.