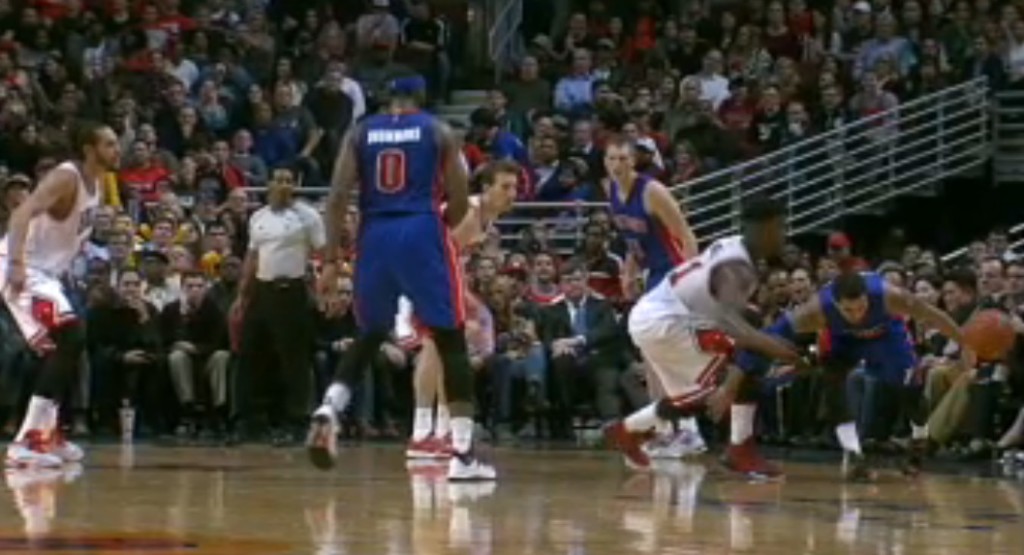 For a game where the Bulls never trailed, their 102-91 victory over the Pistons turned into a real nail-biter. Like so many other comebacks though, Detroit's commendable effort fell just short at the end.
More important than the final score is that Derrick Rose returned and was the engine of their offense. In 32 minutes, he posted 24 points on 9-20 shooting, with the emphasis on posted, as the Bulls went to him down low a couple of times when rotations led to 2014 Bulls savior D.J. Augustin playing opposite Rose, and his turnaround floater in the lane sealed the game, capping a critical fourth quarter performance in which he jump-started a flailing offense.
In their first game with the starting five all active, the Bulls led by as much as 17 before halftime and early in the third but failed to shut the door. After a dominant first half offensively, they went dormant after the break as the Pistons finally got in more of a groove. Detroit got three pointers from Josh Smith, Kentavious Caldwell-Pope, Kyle Singler and Caron Butler as they steadily hacked away at the lead, trimming it to just two after an Augustin jumper with 2:43 remaining.
The next three possessions determined the game, with Pau Gasol hitting a baseline jumper, Smith missing a three and Rose dicing into the lane to set up Jimmy Butler for a wide open triple that he knocked down to make it 95-88 with 1:55 to go. After Smith split a pair of free throws, Rose clinched it with the aforementioned post-up.
Despite the win, Chicago again fell short of the effort they displayed in their opener in New York, and they've been able to get away with it due to the level of their competition. That won't do as the Bulls set to hit the road for the rest of the month, a home date against the wounded Pacers aside. They now get two days rest for just the second time, and they'll need it in preparation for a big matchup with the East's best team so far, the Toronto Raptors.
Notes:
-Jimmy played 43 minutes tonight, with Doug McDermott spelling him for just five minutes and Tony Snell riding the pine all night.
-No Piston had a particularly great night save for maybe Augustin, who sparked the comeback with 16 points on eight shots. Andre Drummond had just a pair of points and was 0-5 from the floor. Smith had 19 points on 19 shots and Greg Monroe had 16 on 15 shots.
-Rose was shaken up after an awkward fall but it was apparently due to being poked in the eye, not related to a leg issue in any way. False alarm!