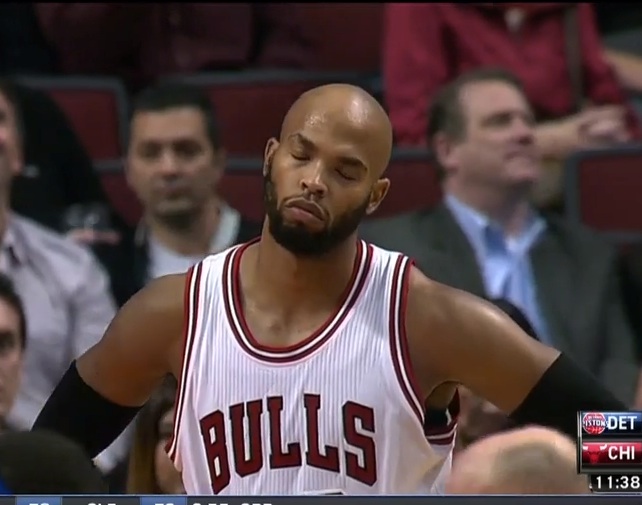 The Chicago Bulls have four big men who seem capable of playing at a solidly above-average level on a consistent basis, if not quite a bit higher than that. Thus far, we have seen Joakim Noah and Pau Gasol starting games, Taj Gibson and Nikola Mirotic coming off the bench and Taj paired with both Noah and Gasol — usually at the end of the first/third quarters and in the middle of the second/fourth, respectively. But I'm guessing you pretty much knew all that.
There are some definite advantages to the current big man rotation. Noah and Gasol are excellent passers and they can make beautiful music together at times. Mirotic's shooting opens up the lane for Taj, both in the post and as a finisher in the pick and roll. But it's easy to look at the current situation and think it could be improved.
To wit: Nikola Mirotic should be starting in Pau Gasol's place. You heard me.
For the record, this has much less to do with Pau and much more to do with Mirotic and how he fits with the rest of the starters. Watching last night's game against the Detroit Pistons, the Bulls bench went on a tear offensively in the second quarter, and their spacing was impeccable. Mirotic did essentially nothing in five minutes (one steal, one block, one foul and nothing else) but his mere presence — along with Doug McDermott's and Kirk Hinrich's — opened things up for Aaron Brooks and Taj Gibson.
We've all seen what Aaron Brooks has done leading the bench. We've seen what Derrick Rose can do with the starters as they are. Now imagine that we gave Rose the same spacing to work with as Brooks as had. Wouldn't that be great? Spacing is especially important when Noah's on the floor, because teams don't really guard him when he doesn't have the ball outside of 8 feet or so.
Pairing Mirotic with Noah also helps Noah because it means he can go back to guarding centers and staying closer to the rim instead of chasing power forwards around, which might also help the Bulls' defensive rebounding woes — though said woes admittedly weren't really on display last night. Pau and Noah isn't too awkward offensively, but it is defensively, and Mirotic would help there.
Meanwhile, Pau and Taj started together while Noah was out for a couple of games over the past two weeks and did well with each other. Both can post up, and Pau's ability to play in the high post meshes well with Taj's skillset. Both can step out and hit from midrange. Most importantly, playing with Pau keeps Taj from having to bang with bigger centers inside, while playing with Taj keeps Pau from having to chase quicker power forwards.
Obviously, you'd probably still finish games with Noah and Pau or Noah and Taj, though I'm personally of the opinion that Thibs should go offense/defense with the Spanish combo (Pau/Mirotic) and the New York combo (Noah/Taj). But if Mirotic opens things up for Rose and the starters as much as I think he would — and if Pau/Taj wreak as much havoc against opposing bench units as I think they would — maybe crunch time wouldn't even really be a thing.