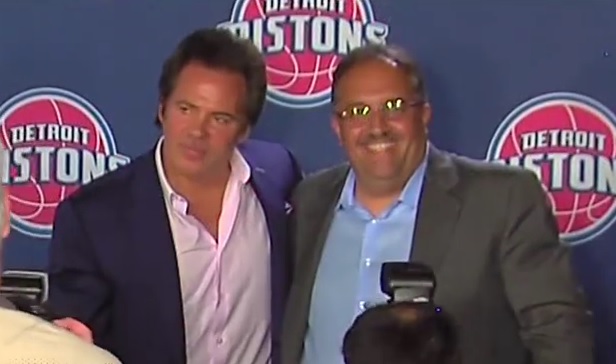 After a day off, the Bulls resume their tour through last year's lottery teams from the Eastern Conference in about an hour against division "rival" Detroit. The Pistons start anew yet again this year, now with the esteemed Stan Van Gundy running the show on and off the court, trying to win more than 30 games in a season for the first time since Derrick Rose's rookie year.
Speaking of Rose, his availability remains once again unclear. Lineup announcements, as shown by the last few games, won't provide any clues on him either as the Bulls have pulled a couple switcheroos right before tip-off. If he doesn't go, Kirk Hinrich will again start in his place in the rare game where he may actually have the shooting edge over his counterpart.
That counterpart is Brandon Jennings, one of multiple cogs of the Pistons thought to be potentially on the move after Van Gundy took over, but he, Greg Monroe and Josh Smith all ended up stayed in Detroit. Added around them were shooter Jodie Meeks (out with injury), Caron Butler, who will apparently remain in the league long we have all shuffled off this mortal coil, and former Bull D.J. Augustin.
Young franchise center/centerpiece Andre Drummond is shooting just 45.3% thus far, Augustin's numbers are back to where they were pre-Thibs-inflation, second year guard Kentavious Caldwell-Pope has gotten off to a rough start, and Smith's shot is dreadful as ever. If there is a night for the Bulls defense to get on track, tonight may be it.
Starters:
Detroit Pistons (2-4): G Brandon Jennings, G Kentavious Caldwell-Pope, F Josh Smith, F Greg Monroe, C Andre Drummond
Chicago Bulls (5-2): G We'll See, G/F Jimmy Butler, F Mike Dunleavy, F/C Pau Gasol, C Joakim Noah