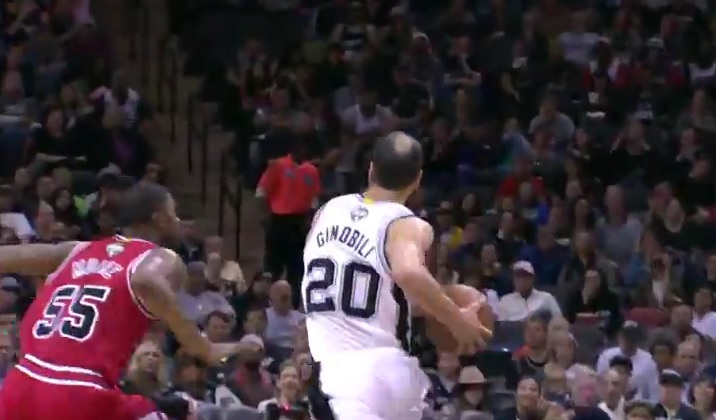 This certainly wasn't a pleasant game to watch as a Bulls fan, but just about all of the bad elements were to be expected. Playing a Sunday morning game is hard and that's before removing the extra hour due to Daylight Savings Time. The start time simply exacerbated issues like turnovers and transition defense that have plagued the Bulls all season long.
The Bulls appeared ready to get blown out early in the second half, but a flurry of plays from Nazr Mohammed (yes, you read that correctly) kept the Bulls hanging around and they kept it a 10-12 point deficit the rest of the way, with Tony Parker refusing to allow them to get any closer. Finishing with 32 points on 13-19 from the floor, Parker set aside some of the doubt that his lingering hamstring woes would derail San Antonio's chances of getting to the Finals yet again.
Some Bulls had good stat lines, as Pau Gasol had 23 and 15, Aaron Brooks scored 22 on 7-12 shooting and Joakim Noah had his increasingly customary box score, this time with four points, 11 boards, nine assists and two steals. However, they scored just 39 points in the first half, and couldn't muster the type of defense necessary to really make it a game despite a 38 point third quarter.
20 turnovers, with every key player contributing to the total, plus 5-15 shooting from three allowed the Spurs to wreak havoc in the open court, and they outscored the Bulls 35-9 in fastbreak points. While the Bulls were victims of some missed calls throughout the game, it really didn't matter, as they were never a threat to win the game.
San Antonio made up for the first game without a field goal in Tim Duncan's all-time great career with a balanced attack. Kawhi Leonard pitched in 20 on 9-20, and Manu Ginobili, Patty Mills and Danny Green all posted double figures.
The Bulls shooting over 50% obscures how sloppy they were offensively to go with their struggles on defense. The game stayed close for a while simply because the Spurs weren't hitting shots. Nikola Mirotic got to the line nine times and scored 19, yet looked out of sorts and quite messy on the court. Doug McDermott had a nice three on an open look, but that was all from him. Kirk Hinrich again struggled with ball-handling. Tony Snell went scoreless in 29 minutes, missing all six shots.
The bad news is the Bulls play their fourth game in five nights tomorrow versus Memphis. The good news is that it is their last such stretch of the season, and they only have two back-to-backs after that for the rest of the season.