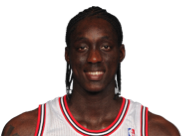 In a game that was both closer and more of a blowout than the scoreboard might indicate, the Bulls fell at home against Memphis. After a rough first three quarters, including a 32 point third for Memphis, the Bulls fought their way back in, mainly on the strength of Nikola Mirotic (6-13, 18 points, 12 rebounds) and Tony Snell (7-13, 21 points), both of whom started hitting basically everything they threw up for a few minutes, eventually tying the game at 88. Memphis called a timeout and calmly, methodically ran the Bulls into the ground to close it out. Curiously, Thibs took Snell out and started running the offense through Pau Gasol (6-14, 13 points, 11 rebounds, 4 assists), who didn't have his best game, counting stats aside.
On the Memphis side of things, Marc Gasol (10-16, 23 points), Jeff Green (7-11, 19 points, 7 rebounds), Zach Randolph (7-12, 16 points, 9 rebounds), and Tony Allen (5-8, 11 points, 3 steals) led the way for the #2 squad in the Western Conference, who now stand at a sneaky 43-18.
The Bulls were paced by Mirotic and Snell, but several others had solid performances. Notably, Kirk Hinrich (3-5, 7 points) looked lively for the first time since Derrick Rose went out. E'Twuan Moore (3-6, 7 points) also chipped in. While I wouldn't say it's time for alarm, it's at least time for concern. The Bulls are 3-6 without Derrick Rose, and while his plan is to return, if he doesn't bring the version of himself we saw before the All-Star break, this might be just as short a playoff run as the last couple years. Fighting valiantly and losing is all well and good, but it's still losing.
The Bulls (39-26) next play Wednesday in Philadelphia.
Player(s) of the Game: Nikola Mirotic and Tony Snell