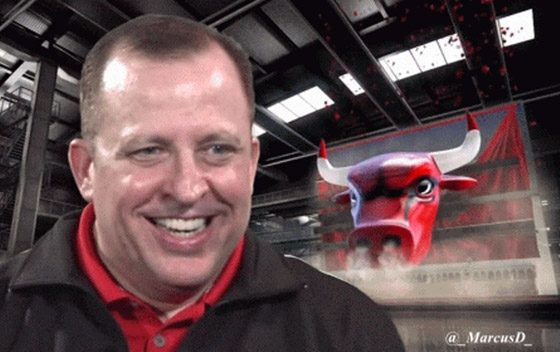 UPDATE (6:15 PST)- Ken Berger of CBS Sports has just tweeted out confirmation that Carmelo Anthony is still giving the Chicago Bulls consideration. With how quickly the news has been coming out within the past 24 hours regarding Anthony's decision, we could be approaching a final decision in the near future.
The Bulls are still under consideration for Carmelo Anthony, a person familiar with his thinking tells @CBSSports.

— Ken Berger (@KBergCBS) July 11, 2014
—-END UPDATE—-
Free agency is perhaps one of the most maddening things in all of sports, particularly when a superstar just can't seem to make up his mind. Yesterday Frank Isola of the New York Daily News reported that Carmelo Anthony had made up his mind to return to the New York Knicks, barring a last second change of heart. In the past 24 hours no reporter was able to confirm that story with most indicating that front offices said they hadn't been notified of anything. Today's news indicates that change of heart may have indeed occurred. On a podcast, ESPN's Stephen A Smith indicated that the Bulls were back in serious contention to land the services of Carmelo Anthony. Mike McGraw of the Daily Herald is now tweeting out confirmation of that report. In addition to confirmation, McGraw is also reporting that Tom Thibodeau is active in trying to recruit Carmelo Anthony.
Hearing the Stephen A. Smith report is accurate. Carmelo may have been leaning elsewhere, but regained interest in #Bulls. — Mike McGraw (@McGrawDHBulls) July 11, 2014
Hearing Tom Thibodeau is playing a major role in keeping Carmelo Anthony interested in Bulls. — Mike McGraw (@McGrawDHBulls) July 10, 2014
It's a little shocking to see Thibodeau so actively recruiting in free agency. But if Thibodeau really is active in attempting to recruit Melo, a change of heart may not be too surprising. Anthony has been vocal in his admiration of Thibodeau and his desire to go into Thibodeau's system. In addition to selling himself, Thibodeau is also able to sell Chicago's ability to contend immediately which is something neither the Los Angeles Lakers nor New York Knicks can offer. These reports that Carmelo Anthony is giving the Bulls consideration again could end up leading nowhere and Isola's original report that he's heading back to New York may end up being right. But of course no decision has yet to be made and the story is every changing. We'll keep you updated as more news and rumors become available.