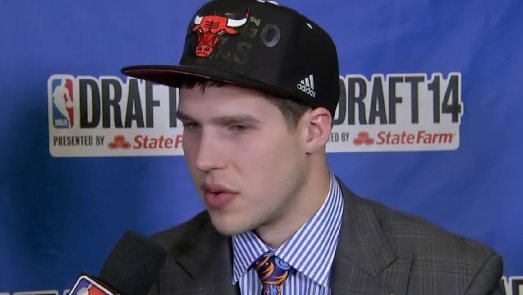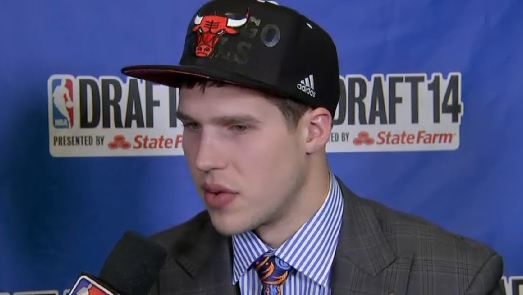 In trading to acquire Creighton star Doug McDermott, the Bulls fell victim to something much more common in the NFL: They got attached to a particular player in the draft.
Every year, smart teams like San Francisco and New England fleece the teams that prioritize the short-term (think Tennessee or Carolina) by taking advantage of the fact that such a team "covets" a specific player. Despite the draft being somewhat of a crapshoot, and the plethora of talent available, teams convince themselves that they just have to have that precious prospect who will fill a glaring need. However, the price for that desperation ends up costing a premium in draft capital. The basic framework of such a trade might see a team acquire a third rounder immediately, but at the high price of next year's second and a sixth in the current draft.
It doesn't happen much in basketball both because the NBA Draft is so much shorter and teams don't deal first rounders to acquire second rounders, leaving just one round for franchises to borrow against their future. Under the current CBA, the only transaction that closely resembles what the Bulls did is Utah packaging #14 and #21 to Minnesota to move up to #9 for Trey Burke last year. The Jazz got much better value in that deal though, as they desperately needed a point guard, and Burke was the last consensus top-level player remaining in that woeful draft.
While they moved up the exact same amount of spots the Bulls did, typically the better the pick, the steeper the cost. And yet the Jazz surrendered far less than GarPax did last night. Gorgui Dieng, the player the Wolves nabbed at #21, looks like a legit asset, but that's judging the deal with information unavailable at the time. In addition to the extra first rounder, #19, the Bulls surrendered a second rounder (they were two in the black thanks to the Luol Deng deal, but still) and took on the final year of failed project Anthony Randolph's contract.
This happened because the normally uber-secretive Bulls were terribly obvious about the object of their affection. Multiple reports mentioned how often Chicago had scouted McDermott at Creighton and practically every major media outlet reported at some point that the Bulls were shopping their picks with reckless abandon, making it painfully apparent that, barring the selection of a draft-and-stash guy, there was no chance they'd use both, with the ultimate goal to package them and move up for a shooter.
So, in the same manner that the Bulls forced the desperate Cavs to cough extra assets in the Deng deal, the Nuggets were able to leverage not just the 19th selection, but swiped another pick and dumped a contract on the Bulls, who've worked so diligently to avoid taking on any sort of money. Randolph may end up being used as salary fodder in a grander move, but CBA rules make re-dealing a player rather complicated, and according to K.C. Johnson, Gar Forman admitted that Randolph's inclusion was Denver's impetus, not Chicago's.
What really puts this over the top is that the Bulls may not have needed to trade up at all, and that, even independent of Randolph, it cost them potential cap room to do so. Unless another team would have swapped with Denver for McDermott, they likely just take Jusuf Nurkic at 11, instead of with Chicago's pick. Orlando was widely assumed to select Dario Saric, enabling their acquisition of tenth pick Elfrid Payton from Philly (speaking of Orlando, they too got swindled out of a first rounder to ensure the delivery of Payton.) The only team that kept their target less of a secret than the Bulls was Minnesota, who took Zach LaVine at 13. Maybe Phoenix was a threat at 14, but Atlanta was surely choosing Adreian Payne at 15 over McDermott.
It looks like McDermott may very well have still been on the board at 16 for Chicago, and staying there would have saved the Bulls a few hundred thousand roughly in cap space due to the difference in salaries attached to the picks involved. In the event he had been gone by their pick, Chicago's worst case scenario was getting "stuck" with Gary Harris at 16. Lack of size may have hurt Harris, but consider that he notched 15 blocks as a sophomore, trumping the paltry 14 McDermott had over his entire four year college career.
The last couple years, the Bulls have been engulfed by two enormous question marks. The first is obviously if Derrick Rose can get, and stay, healthy. The second is how they can pave a path and execute a plan to add another star. We've learned that role players are nice, and crucial on the margins as this year's Finals showed, but when push came to shove, GarPax dipped into their precious flexibility and collection of assets just to add one rookie role player over another. We're not talking about trading up to grab a boom-or-bust type like LaVine, who could change a franchise if he happens to pan out, as McDermott is pretty defined in his potential, a 22-year-old whose lack of variance provides security but considerably less upside.
The Bulls can say they wanted to add shooting, but that's not what this is, at least not yet, because the chatter seems to suggest this frees them up to lop Mike Dunleavy's salary off the books. That's not adding a shooter, that's replacing a shooter, and in doing so, relying on a rookie to suitably fill the role of a guy who's been in the league for a dozen years and qualifies as the only above average deep shooter on the roster.
As for the idea that consolidating two first rounders into one created more cap room for the Bulls, well, that's misguided. If they wanted to do that, they could have stayed at 16, as mentioned, and easily traded 19 for a future first round pick from somebody. There, that was easy, and now you have a shooter without wasting cap room to trade up, plus a future first (or a stashed prospect) that could grease the wheel in trade talks for Carmelo Anthony, Kevin Love or somebody else entirely.
Overall, McDermott's actually a good fit. The Bulls probably weren't retaining Dunleavy after this year anyway, so they secured a long-term shooting threat, and just as importantly, someone who opponents absolutely know is a threat and will bend their defense as such. Within two minutes of watching NBATV, they'd already praised him with the phrases we'll hear about him his entire career: "coach's son" and " high basketball IQ," so basically he's the perfect heir to Kirk Hinrich's throne. In all seriousness though, McDermott does seem to be the high-quality teammate he's lauded as, so for both his sake and Chicago's, hopefully he fills the role they have slotted for him, but the Bulls sure tapped into the resources they've spent years accumulating for what amounts to an ancillary piece of the puzzle.