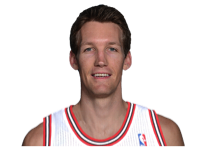 In an…interesting contest, the Bulls held off the rampaging 76ers Friday night. After a low-key first 20 minutes of play that saw the winless 76ers go up by nearly double digits at one point, the two teams went into the half tied at 57. The third quarter saw the Bulls pull away due in no small part to the play of Mike Dunleavy (9-15, 27 points). Halfway through the fourth quarter, the Bulls were up by 18, and then Tony Wroten happened. I wrote in my recap that Kirk Hinrich (3-12, 13 points, 7 assists, 5 turnovers) being able to keep pace with Wroten would be the determinate factor in this game, and while that seemed to be what was happening through most of this game. Until it wasn't.
Setting a career high with 31 points on 11-27 shooting to go along with 7 assists and 5 rebounds, Wroten continued his strong start as one of the best rim attackers in the NBA. In the end, it wasn't even really Hinrich's fault. Kirk forced him to his help defenders as often as he was able to, and Wroten still managed to finish over them. He looked like the best player in this game. The Sixers (0-6), were also helped along by Hollis Thompson (7-14, 21 points), Henry Sims (7-10, 16 points, 8 rebounds), and Luc Mbah a Moute (6-12, 16 points, 11 rebounds). Eventually, the Bulls seemed to pull away again before a pair of missed free throws from Hinrich left the door open. Honestly, this game should have ended several times, but it didn't. I'm not sure it ever ended at all. I'm not sure it ever will end. There is only this game.
The Bulls (5-1) were aided by Jimmy Butler (8-15, 23 points, 7 rebounds, 5 assists), Pau Gasol (6-11, 17 points, 12 rebounds), Taj Gibson (5-6, 11 points) and Aaron Brooks (4-8, 10 points, 4 assists).
Player of the Game: Mike Dunleavy.