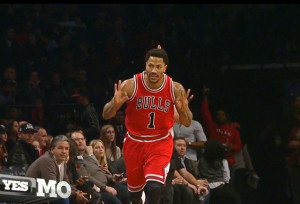 So that Derrick Rose guy returns tonight, after several not entirely subtle hints over the last few days. With five games left in the regular season (including tonight) it seems as though he should have enough time to get back into a groove of sorts before the playoffs begin. As the Bulls are pretty much locked into their current playoff trajectory, it'll be nice to have something worth watching. With how he runs, knee injuries are always going to be a danger for Derrick, but it seems this particular injury (right meniscus) is a thing of the past, given how generally impossible it is to tear a meniscus that no longer exists. It'll undoubtedly come back to hurt him later in his career (ask Dwyane Wade), it's a positive for the short term, both in shutting up the sort who would accuse Rose of not trying his hardest to play (those sorts generally shouldn't be paid any heed regardless), and in his prognosis for the impending playoff run and the next few seasons. Knee injuries are just as much a mental hurdle as a physical one, and having his third knee injury NOT be his third season ending knee injury has to at least bolster his confidence a bit.
Now we just have to hope he's still good. It's been a mixed bag this season, of course, and while he'll be on a minutes restriction, tonight is the first step to seeing what this team really has in store for the likes of Cleveland and Atlanta.
Key Matchup(s): Derrick Rose vs Elfrid Payton
Payton is as tenacious as they come and a virtual lock for First Team All-Rookie. He'll pressure the ball as well as any guard Rose is likely to face the rest of the season, and should present a great challenge for our Returning Savior (TM 2011-2013).