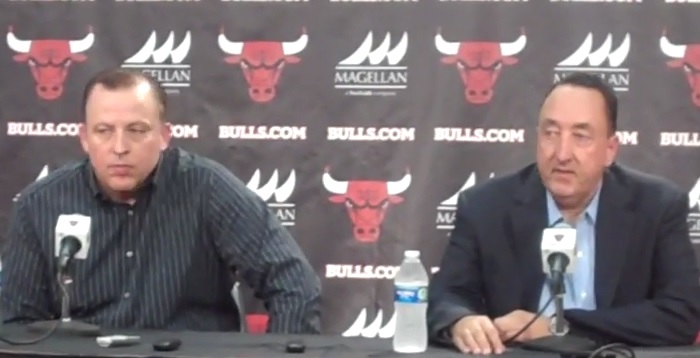 Let's start by stating the obvious: Jerry Reinsdorf is cheap, Tom Thibodeau is kind of a crazy person, and the front office combo of Gar Forman and John Paxson lack, um, let's call it bedside manner. Actually, that's not true, because as we learned from Luol Deng, GarPax won't even visit your bedside.
Surely every Bulls fan has felt frustration because of these flaws at some point. They make the Bulls look like a second-rate organization, one that makes fans feel conflicted, or at the least, a little slimy about embracing the franchise wholeheartedly. However, comparing them to franchises like Deng's current home of Cleveland reveals that the problems on each level of Chicago's infrastructure aren't as damaging as they appear to be.
It is a widely accepted axiom in the NBA that having a superstar (or two) is the number one factor when it comes to winning championships. And while that is true, having a stable, professional organization is a close second. There's multiple levels that constitute a solid organization, and though the idea that the entire franchise has to be in lockstep to succeed is exaggerated (see Jordan's Bulls or the Shaq and Kobe Lakers), each has a part to play in forming a culture capable of contending with the league's best.
First and most importantly is the owner, because a bad owner is the least likely piece of the puzzle to get replaced. Reinsdorf catches a lot of heat for his beer tastes on a champagne budget, and rightly so considering the Bulls are worth over a billion dollars. On the other hand,  though the value of NBA franchises are skyrocketing, only a handful of teams have dabbled with the tax lately. Using data from Mark Deeks, only six teams have paid the tax each year in the two seasons since the new CBA went into effect, with only the Lakers and Heat paying in both years. They are set to pay the tax again this year, joined by Brooklyn, New York and, barring a trade that shaves off $1.5 million from their cap, the Clippers. Having an owner averse to paying the tax isn't the hindrance it once was. Consider that over half the league paid the luxury bill in 2003, and three other years from 2004 until the 2011 lockout saw at least eight teams cross the threshold. If everyone else is tempering their spending just like Reinsdorf, his frugality, while still infuriating, is comparatively no longer such a significant competitive disadvantage.
The other criticism that dogs Reinsdorf is that he cares far more about the other team he owns, MLB's Chicago White Sox, to the point where the team's Twitter account infamously tweeted and deleted him saying "Basketball is a game. Baseball is a religion. Baseball is American." Obviously having an invested owner like Mark Cuban would be a huge boon, but the worst owners in sports aren't the hands off owners, but rather the hands on owners. James Dolan's petulant manner has buried the Knicks for years to come. Mikhail Prokhorov's mandate to win within his first five years has Brooklyn no closer to a title and barren when it comes to significant assets for the future.
The biggest culprit of this problem is Dan Gilbert in Cleveland. His "I need it now" attitude continually undermines the process of building of a cohesive culture. GM Chris Grant just lost his job, and heat remains on coach Mike Brown for failing to command the locker room, as well as Kyrie Irving for perceived attitude problems. Sound familiar? It should, because this is just an amplified version of what happened in Brown's first stint in Cleveland when he coached LeBron James, and the constant is Gilbert. Much like Jerry Jones and Daniel Snyder in the NFL, his impatience prevents the authority figures from having any power.
According to the New York Daily News, Deng was shocked by the amateur hour that is the Cavs locker room, saying nothing of the sort would have been tolerated in Chicago. Certainly some blame falls on the immaturity of youngsters like Dion Waiters, but anyone putting all of the culpability on the players is surely forgetting how they treated substitute teachers as a kid. Even the best of students have a little bit of fun at the sub's expense. Why? Because unless you mess up bad enough to get sent to the principal's office, there really aren't any repercussions. The same holds true for Cleveland. In retrospect, LeBron's mini-meltdown in 2010 against Boston, where at times he felt only slightly more corporeal than the Ghost Raptors, makes a lot more sense. There was no stability in the building, nothing for him to fall back on. Successful franchises treat their players like good parents would their children: they treat them like adults, but set boundaries, because ultimately those boundaries provide security and stability. It's impossible to have any sort of accountability when the players don't know where the line is in the first place.
So while it's important to have a superstar, it's somewhat irrelevant if the franchise doesn't cultivate a mature environment. It may not be in the most ideal way, but Reinsdorf's indifference endows Tom Thibodeau and the front office with the jurisdiction to make the decisions that they see fit to make.
As for the front office, Forman and Paxson's poor people skills and lack of charisma obscure how well they have set up the team to contend and how they've done it. Paxson hates talking to the media while Forman gives off a cold, condescending vibe with the press and by all accounts is waging a power struggle with Thibodeau, one that ended up catching respected assistant coach Ron Adams in the crossfire. Whether it's Paxson fighting Vinny Del Negro, the team continually pushing players with serious injuries, or most notably how miserable their treatment of Deng's spinal tap last year was (which Paxson finally copped to after Deng was dealt), there's always some negative story coming from the front office.
If only it were possible to ignore the personal side of the job, because GarPax's draft record stacks up against anyone in the league, even without crediting them for the ping pong ball gods gifting them Derrick Rose. They developed a star with ninth pick Joakim Noah, quieting skeptics who felt his stock was inflated by playing on stacked Florida teams. They found long-term building blocks at the very end of the first round in Taj Gibson and Jimmy Butler, and may have nabbed two more pieces with non-lottery picks in Tony Snell and Nikola Mirotic. Marquis Teague was miscast among a veteran group, but few front offices can hit on four out of five picks between 20 and 30, which makes it all the more aggravating that they botch remedial tasks, as they did last season when they simply should have declared Rose out for the year instead of continually dangling the possibility of his return.
Critics will point to the Tyrus Thomas whiff, but over time every front office will compile hits and misses. Larry Bird received extensive praise, and deservedly so, for revitalizing a broken franchise, and specifically for turning around Lance Stephenson's career, but his big move upon returning to the job last offseason was dealing Miles Plumlee, a first round pick and Gerald Green for Luis Scola. As a cap-conscious small market team, bailing early on Plumlee would be bad, but throw in the pick and the deal looks like a major loss. Houston's Daryl Morey finally cashed in on his frantic style of asset accumulation, ending up with James Harden and Dwight Howard, but he probably wishes he'd given in to Goran Dragic's desire for a player option and retained him. Morey also spent a first round pick on Royce White, whose greatest contribution to the NBA was jokes like this. Morey himself even joked that his selection of White could be the worst pick ever.
The other overlooked part about GarPax is that it's not just the players they draft, but the type of players. Look at that list of players again: Rose, Noah, Gibson, Butler, Snell, even tertiary picks like Erik Murphy. The Bulls focus on drafting mature, team-first players, and always surround them with respected veterans to maintain a level of decorum. That's not meant to denigrate guys like Waiters, who have bright futures and just need time to grow into the role of being a professional, but the level of shock about Carlos Boozer's relatively benign comments proves the point that the Bulls simply don't open themselves up to these type of problems, with the possible exception of how the Rip Hamilton experience deteriorated.
As Chicago Tribune reporter K.C. Johnson wrote after their bounce-back win in Phoenix, their locker room is such that guys can air whatever grievances exist, without fear that it will escalate. The most illuminating quotes came from newcomer Mike Dunleavy, who has spent his entire career on bad teams.
"You have a lot of sensitive guys in this league. You have to have the right group of guys to do (what we do)…guys get on each other and nobody takes it personally. Just kind of the next play, 'Ok, I hear you.' Everybody checks their ego at the door."
It's hard enough in sports to build up that type of selflessness and win, but to do what Chicago has done and sustain it through not one, but two lost seasons? Only a couple teams in the league could think of doing that, and it's a testament to the type of players that Forman and Paxson acquire.
Of course, the other pillar of that stability is Thibodeau. Many have concerns over how hard he rides players in games (/raises hand) but the fact that players never grumble about it is a significant indicator that Thibs doesn't show any signs of losing the team. To be fair, Thibodeau's more reasonable critics don't even mind how hard he pushes guys like Butler in individual games, just how often it happens. Butler going 44 minutes here and there would be far more palatable if he got a 32 minute night on occasion. Instead, he's played over 40 minutes in ten of the last 11 games, playing the entire second half in five of those games.
That Thibodeau can coach the way he does is the ultimate indicator of just how good he is at it. Brian Scalabrine put Thibodeau in the rarified group, along with Kevin Garnett and Jason Kidd, of "culture changer" on Bill Simmons' The B.S. Report in 2012. Thibs deserves a fair share of the credit for what Dunleavy was talking about. The team was fine under Del Negro with relatively comparable personnel, but nowhere near what it is now. The concern with Thibodeau has always been that, like most intense, demanding defensive coaches, the team will eventually tune him out. It certainly happened to Scott Skiles in Chicago, as well as coaches like Doug Collins. In fact, both of them have had that be their downfall in one coaching stop, and still they were unable to adapt and prevent it from happening again in subsequent opportunities. Often the heavy-handed coaches are fine until the team has a season wrought with adversity. Skiles was fired before the All-Star break in the 2007-2008 season even though they had made the playoffs all three seasons under him and had just won their first playoff series since Michael Jordan retired.
Well, considering the amount of adversity the Bulls have gone through even going back to the lockout season before Rose tore his ACL, it seems safe to say Thibodeau is at no risk of succumbing to that curse. If the players were going to revolt against him, we'd have seen it by now. He's on the short list of coaches, along with the likes of Gregg Popovich and Rick Carlisle, who practically guarantee a playoff berth with an average roster.
The point of this examination isn't to forgive the Bulls for their various sins, but to put them in perspective. Nearly half the league lacks a player as good as Noah, let alone a healthy Rose. Teams like Detroit and Washington who aren't short on talent have underachieved for years as they continue to strike out on head coaching hires. Even contenders like the Clippers, still owned by one Donald T. Sterling, and Pacers, limited by their market, have tenuous holds on their high standing in the league. The Bulls are blessed with a market that keeps the profits flowing and, unlike many other cold weather cities, doesn't eliminate them for significant free agent signings. They have one of the brightest minds in the game leading a talented and committed team. Fretting over their issues, while justified, is the epitome of an NBA first-world problem.