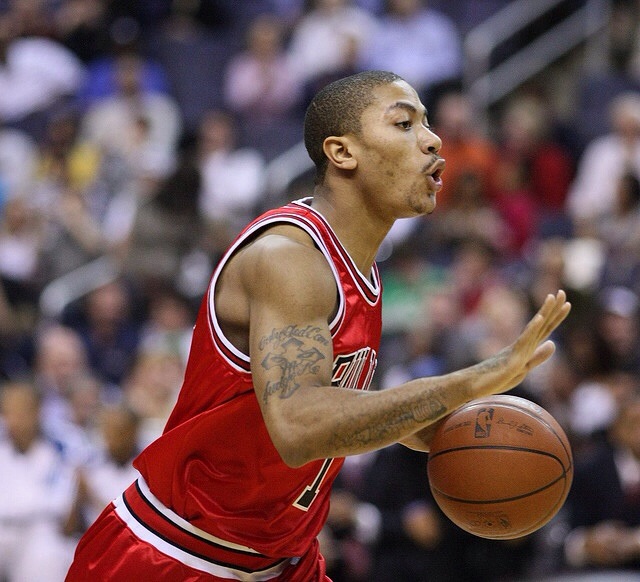 Welcome to the latest Bulls by the Horns 5-on-5. Five of our writers will answer five Bulls-related questions. In this edition, we touch on post-season awards, Tom Thibodeau's future and Carlos Boozer's media comments.
1. What does Carlos Boozer's words to the media this week say about his future?
Peter Owen: It probably doesn't do much to change his future – he will become another victim of the amnesty clause this summer – but it does point to Boozer's belief that the final 32 games of the season are his chance to prove his worth to whoever will pick him up off the waiver wire this summer. He still has a few serviceable years left and there are teams out there who could use another big man.
Eric Nehm: I don't know if it necessarily has a large impact on Boozer's future. It has been rumored for a while that the Bulls are planning on using their amnesty on Boozer this offseason and I obviously don't know if that is their plan, but it does seem like a logical next step for the Bulls as they try to figure out how to assemble a championship team without Luol Deng. So, if anything, his words to the media this week might have just solidified his future.
Avi Saini: I touched on this in the BbtH podcast with Caleb (Listen here), but I'll go over it again. Boozer sitting at the end of games is nothing new and seemingly hasn't been a problem before. So why speak up now? To me there's really only one reasoning- he knows he's gone. I believe Boozer may view the rest of this season as a tryout for other teams. By playing the end of games, and showing he's effective at the end of games, it inflates his value which means teams would be willing to pay him more cash.
Kevin Ferrigan: I don't think it changes things much. I've always appreciated that Carlos didn't complain about being benched in the 4th quarters of games, so I'm a little bummed that he started to complain now, but I think the Bulls will do with him whatever they planned prior to his comments. They won't have much of an effect.
Trenton Jocz: Nothing in the sense that they don't tip the scales on anything. He's probably already gone this summer, and if Jerry Reinsdorf is too cheap to amnesty him, these comments won't single-handedly convince him to fork over the money. What he said isn't even that bad or uncommon. The part I had a problem with was the part where he said the team loses most games he doesn't finish. That's not because he was wrong (plenty of athletes and people in general twist narratives in their head to feel better about themselves), but rather because he essentially said the difference between him and Taj costs them games, which is a pretty big slap in the face to a teammate.
2. Mark Deeks wrote an article this week stating Taj Gibson has a clause in his contract paying him an extra $250,000 if he is named to the NBA All-defensive second team. Will he make the team?
PO: Given the glut of defensive studs in the NBA and the very limited space on the All-Defensive rosters Taj will most likely miss out. He is one of the best defensive big men in the NBA and is on an incredibly cheap contract which will only look better once he moves into the starting lineup next season and continues to develop his offensive game.
EN: No. Gibson is certainly deserving, but I think his teammate Joakim Noah will make it very difficult for him to garner such recognition. Voters have had no problem rewarding teammates as teammates have been featured somewhere on the first or second team every season since the inception of All-Defensive teams in 1968-69. Gibson's candidacy will be hurt by Noah because voters may not be willing to reward Gibson since they see too much overlap in the skills and contributions of both players as well as Gibson's more limited minutes (28.7 mpg) because of Noah's presence in the middle.
AS: Unfortunately, no. Both All-Defensive teams traditionally feature 2 guards, 2 forwards, and a center for a total of 10 spots (on some occasions more if there is a tie for the first team). Because he plays as both a PF and C, Gibson technically can qualify for 6 of the spots. Once you eliminate him from the running for center (behind guys like Noah, Gasol, Chandler, Howard, Hibbert, etc) that drops to 4 possible spots. Taking away a spot for guys like Serge Ibaka, Paul George, and Lebron James (all locks to make it) that leaves 1 spot for grabs. While Gibson is a great, deserving defender, I think he gets overlooked.
KF: He really should. He's such a beast. He and Joakim are absolute freaks with their ability to successfully guard perimeter players on switches while also protecting the rim incredibly effectively. I can't think of many power forwards in the league who are better overall defensively, so I could definitely see him making it.
TJ: For a couple of reasons, I feel pretty safe in saying that he won't. First, voters will give Joakim Noah a lot of support, and a .500 team simply won't get enough attention to warrant a second candidate. Also, to reach that incentive, he'd need be in the top four forwards for votes. Paul George and Serge Ibaka are locks. So is LeBron James, despite attention being drawn to a down year by his standards. That leaves one spot that I'd guess begins a long run of selections for Anthony Davis, or Andre Iguodala depending on if he's deemed a guard or a forward. It should also be stated that Taj's omission will be fair, as he plays significantly fewer minutes than his contemporaries.
3. Derrick Rose has started practicing again and, predictably, the media are talking about his potential to return ahead of schedule. Will he, and should he?
PO: There may be increasing chatter about an early return this season but as we have seen with the Rose camp previously, they won't take the risk. If last season's surprisingly good team wasn't good enough to inspire a comeback, this certainly can't.
EN: He won't and he shouldn't. I know the backlash he received from fans last time was probably a bit annoying, but I just don't see how someone who has gone through the injury process already would willingly rush back onto the floor. Last time, it took Rose a significant amount of time to feel comfortable moving around on the floor when returning from injury and I expect much of the same this time around.
AS: I don't believe Rose will come back earlier even if he has the option. He and his camp have played it safe in the past and there's nothing to suggest they'll opt to approach things differently this time around. Nor should he/they. Think back to Russell Westbrook's situation. Rose said he should take his time returning to the game, Westbrook ignored him, returned, and subsequently was on the sidelines again with inflammation in his surgically repaired knee. Waiting that extra bit of time, even if cleared, does no harm. It just assures that Rose will be 100% ready.
KF: He won't. I don't know if he should. I don't want to think about it. The whole situation just makes me sad.
TJ: No, he won't because if last year's team wasn't worth returning for, this iteration that lacks Luol Deng and Nate Robinson certainly isn't. He shouldn't because this time around he gets to participate in Team USA Olympic practices. Even if he isn't close enough to 100% to make the World Championship team, those workouts will provide the kind of floor time prior to training camp and preseason that would have helped him knock off the rust and lack of rhythm that dogged him in this regular season prior to his meniscus tear.
4. Talk has been constant this season of Tom Thibodeau being poached by the Knicks this summer. How much credibility do you give that scenario?
PO: Not too much. I think given the friction between Thibodeau and the front office lends the rumors a certain air of believability but the real problem is the lack of draw to the Knicks. Assuming Thibodeau did want to leave, what reason would he have to go to a team lacking in future draft picks, tradable assets, adequate defenders and potentially no superstar if Carmelo leaves.
EN:I understand that Tom Thibodeau's fit with Chicago might not be the best anymore, but I just don't see how the Knicks are able to pry him away from the Bulls. The Knicks have NO assets going forward and nothing that the Bulls might value. Unless the Knicks are willing to give the Bulls a whole lot of cash, I'm just not sure what the Bulls would be willing to accept from the Knicks for Thibodeau's services.
AS: None. I've been vocal that I believe that the Bulls will part with Thibodeau soon because of the clash between him and the front office, but I don't believe he's going to New York for a second. Not unless the Knicks have a first round pick they can offer Chicago.
KF: Zero credibility. Thibodeau may be unhappy with the front office, and he certainly has a few good reasons, but the Knicks have nothing of value to offer the Bulls in exchange for Coach Thibs, who is under contract, as they've dealt all their picks seemingly in perpetuity, and Thibodeau would be very sad coaching that horrible mess of a roster.
TJ: None. If Thibs has problems with Chicago's management, he'd have even more with New York's. While his coaching mentality might be shortsighted at times, he's anything but stupid. If really he wants out of Chicago, there's worse things than playing out your contract with the asset-rich Bulls during Rose and Noah's primes, then getting to be the best candidate on the market in a couple years. He'd have teams lining up for him, among them potentially a reloaded Lakers team and a few of the currently-rebuilding franchises that in a couple years will have a young superstar or two ready to contend for the next decade.
5. We're halfway through the season. Who is the team's MVP thus far?
PO: The majority will say Joakim Noah and rightly so. However, I'm going to go for the man behind the machine: Tom Thibodeau. Noah is the on-court manifestation of Thibodeau's philosophy – play hard, defend well, make the smart offensive play. His schemes and strategies do not care for the ability of the players on the roster, a fact we knew before this season but one that has been driven home emphatically with the likes of D.J. Augustin and Mike Dunleavy seamlessly transitioning into the defense. It also speaks volumes that not a single player who has arrived in Chicago under Thibodeau has refused to buy in to his message.
EN:Joakim Noah. Noah is one of my favorite players in the league, so I may be a bit biased, but I don't think there is anyone else in the conversation for Bulls MVP thus far. Noah has held this team together amid a season full of turmoil and he is finally getting all of the attention he has deserved for a long time.
AS: Standard answers here will say Joakim Noah and/or Tom Thibodeau and those are 100% correct answers. But I'm going to go full hipster and say DJ Augustin. Chicago's point guard situation is abysmal. Kirk Hinrich? Seriously? Augustin has run the point beautifully for Chicago and provided a scoring option and been the reason Chicago has won a good number of games. Augustin has scored in double digits in 21 of his 30 games with Chicago and Chicago is 14-7 when he's scored in double digits (two of the losses coming against OKC and a one-point loss to Orlando). PS- Come at me Hinrich stans.
KF: Joakim Noah, because obviously.
TJ: If this were strictly about play on the court, Taj Gibson might have an argument, but when you consider all of the other factors in this lost season, it has to be Joakim Noah. Certain players demand excellence from their teammates and compel everyone else to sustain a level of both professionalism and passion. Noah has sustained this team through Rose's injury, the Luol Deng trade and the daily grind of a season they no longer have a chance of capping with a title. There's only a few players in the entire league capable of doing that. Then, to cement his case, add in that he's their defensive anchor, capable of defending in space and that he functions as an offensive hub at the top of the key.