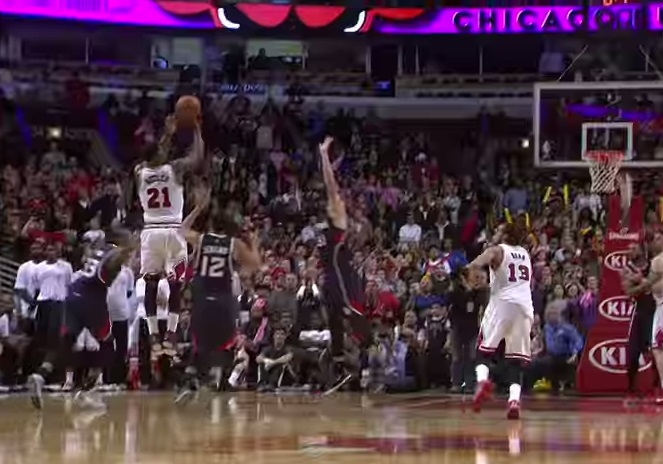 Tonight marks the first meeting between the Bulls and Hawks since Jimmy Butler hit a game-winning three in Game 7 of the Eastern Conference Finals, leading Stacey King to call him "Jimmy Jordan." The Bulls advanced to the Finals and… oh, whoops, that was just a preseason game.
Funny thing is, at this point in the season, the idea of a Bulls-Hawks Eastern Conference Finals isn't that crazy. Cleveland, Toronto and Washington will all have their say in that, but the Hawks just came off of a nine game winning streak and the Bulls have won three in a row themselves, with blowouts over also-rans and their first quality home win over Portland.
Just as the absence of Derrick Rose vs. Chris Paul matchups is to be lamented, so is the nearly two years it's been since Joakim Noah and Al Horford, the pillars of the back-to-back Florida champs, have squared off. Both have had trouble staying healthy, Noah with various nagging conditions to his legs, ankles and feet, Horford with multiple pectoral tears. That stretch continues as Noah again sits due to his persisting ankle injury.
After relatively good health last year, Rose's meniscus aside, Chicago can't catch a break this year. That bad luck continued when supposedly minor knee discomfort turned into surgery for rookie Doug McDermott. The team has maintained their usual "everything is fine" mantra, but no knee surgery is a positive one, especially for a rookie who has thus far played poorly and failed to solidify his role in the rotation.
In McDermott's absence, Tom Thibodeau has predictably declined to expand his rotation. This is an eight man rotation, at least until Noah returns. Rather than give Tony Snell regular minutes in the first half, Mike Dunleavy and Kirk Hinrich will just soak up the few minutes McDermott was seeing. That's not a bad thing in the short-term as Dunleavy has played particularly well as of late.
After trade rumors in the offseason, Dunleavy looks much more comfortable in his second year on the team, giving the Bulls their best threat from long range since Kyle Korver, who they'll face off against tonight. Korver has somehow gotten even better with the Hawks and in his 30's. He currently sits at 55% from three, an unfathomable figure, and surely one Thibs is aware of and prepared for.