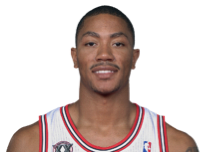 The Bulls look to string together consecutive home victories Friday night as they host the Northwest Division leading Trail Blazers.
Fresh off a frankly dominant second half against Brooklyn, the Bulls (and more specifically Derrick Rose) look to establish a new level of consistently high play tonight as they host LaMarcus Aldridge, Damian Lillard and Portland (17-5, third in the West). While the play of Pau Gasol and Jimmy Butler has been fairly unquestionable as of late, it's been Rose who has been something of a let down since his return from the hamstring injury that cost him nearly two weeks of play. Finally, after having played in 6 straight games, he broke out against a floundering Nets squad, dropping 23 points on 8-15 shooting, completing one of his better games of the season as well as 3/5ths of the numbers from LOST. Something close to a repeat performance, against the team his season ended against last year, would go a long way to mitigating the criticisms of Rose's play, both from outside and inside the Bulls' organization. It's mostly mental, at this point.
The Bulls themselves still sit in fairly decent position, standing in second place in the Central Division by virtue of their loss to Cleveland on Halloween night. Having made it through the Circus Trip relatively well, the next challenge rears its head in the form of several playoff caliber opponents for the rest of December. Portland tonight, Miami on Sunday, Atlanta, Memphis, Toronto, and Washington the rest of the month, with games against the Knicks, Lakers, Pelicans, Pacers and Nets again interspersed. None of those, save perhaps New York and LA, can be considered easy wins, so a victory tonight, against one of the elite in the West, would be pretty big considering it's still early December.
Key Matchup(s): Derrick Rose vs Damian Lillard.