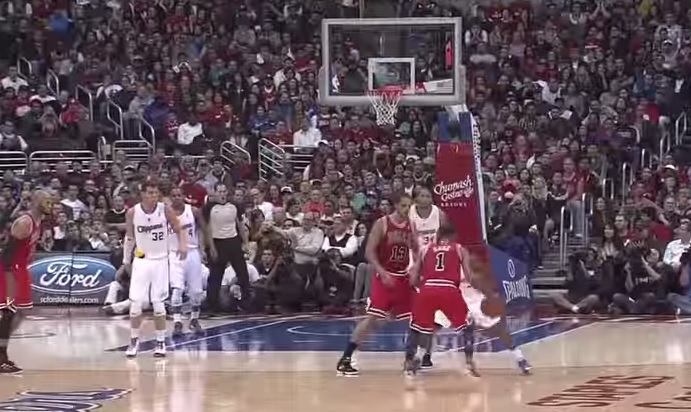 Rip Hamilton was the Bulls starting shooting guard.
Jimmy Butler had zero regular season minutes to his name.
Chauncey Billups, Caron Butler and Kenyon Martin were all core rotation players for the Clippers.
Derrick Rose had only missed six games in his NBA career.
That's how long it's been since Rose and Chris Paul faced off against each other in a game, when Rose dropped his famed 29 point, 16 assist performance on Paul as a welcome gift in his home debut for the Clips, defending his best-point-guard-alive title belt fresh off of the lockout. Rose has won all five meetings with CP3, with the other four coming when Paul played for the Hornets.
The wait will continue, seeing as Rose is out again. His hamstring injury is apparently no big deal, but this is the start of the circus road trip and the team is on the road for the remainder of the month. No need to push it, so it'll be more of the ISO KIRK offense. In the long run, it's a smart decision, but for tonight, Rose's absence portends bad things for the Bulls. Without him they're 0-4 against the Clips and it'll be the first game back in Staples Center against Doc Rivers' squad since the 121-82 complete demolition that L.A. put on Chicago in the first game after Rose tore his meniscus in Portland.
Chicago doesn't play again until Thursday, so don't be surprised to see big minutes again for Butler and Pau Gasol, who'll be making his return to Staples as a visitor for the first time since leaving L.A., albeit not against the team he left. If the Bulls are to win, it'll have to be a big game for Jimmy as neither Jamal Crawford nor J.J. Redick has the capability to stop his newfound offensive game, and the more the ball is in his hands, the less it's in Hinrich's.
A lot has changed since the last meeting between Rose and Paul as evidenced above, but the core elements are the same: The Bulls are anchored by Rose, Joakim Noah and Taj Gibson, Los Angeles by Paul, Blake Griffin and DeAndre Jordan, and both are still seeking that elusive championship. The unfortunate wait continues, but this time it's in a season where the matchup can be legitimately considered a Finals preview.