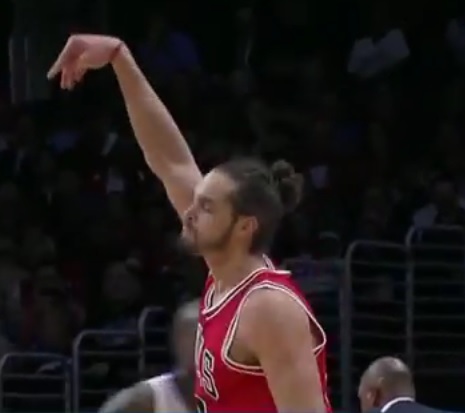 Chris Paul had hit two jumpers within a minute to put the Clippers up by 14 as halftime approached. Right around that point I had this thought:
At this point I want the Bulls to just get smoked so the starters sit. Related: I have tonight's recap and it would let me go to bed earlier

— Trenton Jocz (@TrentonJocz) November 18, 2014
Six more road games awaited the Bulls, and despite their unblemished record away from home, pouring resources into a game with Derrick Rose and Pau Gasol on the bench in street clothes seemed like a losing proposition. One problem: the game would have to get far, far out of hand for Thibs to agree, so I started rooting for the Clippers to hit shots, to just make it quick. The Clippers announcers mentioned that Paul has focused on being aggressive earlier in the game when the opportunity to put the dagger in presented itself. Six quick points and he was doing just that.
And then Mike Dunleavy hit a jumper.
And then Jimmy Butler hit a three pointer.
And then Joakim Noah completed a three point play.
Still, the lead was six, and that was before Matt Barnes knocked down a three. Nine points, no man's land:
The Bulls are gonna stay just close enough to play their guys too many minutes aren't they?

— Trenton Jocz (@TrentonJocz) November 18, 2014
Well, Taj Gibson chipped in a couple of buckets and it was down to five. Then, right before the buzzer, Jamal Crawford tried to grab the ball and race upcourt, except he lost the handle, Jimmy grabbed it and Crawford's effort to atone led to an and-one for Butler.
Halftime: Clippers 50, Bulls 48.
Chicago came out of the break strong, with Kirk Hinrich, yes, Kirk Hinrich hitting two triples in the opening minutes of the half. They seized the lead and a dominant 31-14 third quarter put the game well in hand. The listless Clips made a late run led by Crawford, who had 24 points on 10-17 from the floor, but never really threatened.
This might sound like the typical Thibs Era game, where they Never Give Up and play batten-down-the-hatches, tighten-the-screws defense, except it wasn't. Mentally, the toughness was there, especially from Jimmy, who played the entire second half and simply refused to allow the team to lose, but the Bulls won this game with precise offensive execution as opposed to mucking it up.
Everyone save for Doug McDermott had their moments:
Noah submitted an 11 point, 16 rebound, six assist performance, looking more comfortable back to manning the middle with Gasol out.
Every time Chicago needed a bucket, Mike Dunleavy supplied it. His 19 points and seven rebounds aren't eye-popping in the box score but he made a lot of big plays and is showing why the calls to start McDermott over him were premature.
Nikola Mirotic overcame some defensive mistakes and battles with the Clippers bigs down low, showcasing an array of offensive skills, long distance shooting, prescient passing and crafty separation moves among them. He could have gotten rattled, but he didn't implode from the frustration. He'll learn some valuable lessons from tonight.
Hinrich played much more effectively than he has in other games without Rose, as the talent on the floor allowed Kirk to spot up or keep the ball moving rather than try to create on his own.
Taj Gibson relished the chance at extended minutes, notching 20 points on 9-13 shooting, adding 6 assists (!) and a couple blocks.
Finally, Butler had one of the more astounding 6-17 games a player can have. On defense, he chased Redick around screens to start and guarded Paul a couple times in the fourth quarter. He also drew a critical charge call early in the possession on Crawford as the Clips attempted their late comeback. On offense, he handled the load as the Clippers assortment of underwhelming wings could not contain him and he relentlessly attacked the rim with post-ups and penetration. He tallied eight assists by finding the open big once help came, and got to the line ten times.
Now, the Clippers have been far the Finals contender they were billed as coming into the season, and they certainly contributed to their own demise tonight. Blake Griffin mistakenly thought he was Magic Johnson in transition, Spencer Hawes tried a Kareem sky hook, Matt Barnes airballed a pass and DeAndre Jordan airballed a free throw. But in the past, the Bulls simply haven't had the talent to go with the effort, and with Mirotic finally here, as well as improvements from Jimmy and Taj, they actually have some options on offense.
The Bulls have a couple days to rest up for Sacramento and stay undefeated on the road. That doesn't mean it's a day off though:
Bulls were talking about Tuesday offday when Butler got reminded they have noon film review. "Hip, hip hooray," Butler said.

— K.C. Johnson (@KCJHoop) November 18, 2014