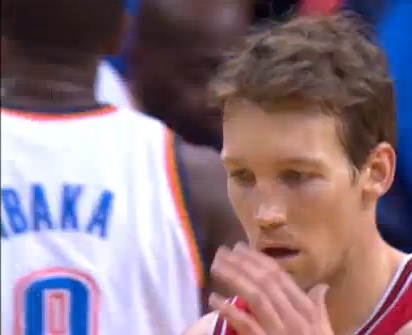 Trade season officially is upon us, with the deadline just a week away. And Yahoo!'s Adrian Wojnarowski is on the case, reporting that the Oklahoma City Thunder intend to be buyers.
Armed with trade exceptions, OKC has been active in search for a shooter to fortify them for title run, league sources tell Yahoo.

— Adrian Wojnarowski (@WojYahooNBA) February 13, 2014
The Thunder have a $6.5 million traded player exception left over after signing and trading Kevin Martin to the Minnesota Timberwolves over the summer, so they've got some options on that front. The question, then, is who fits the bill?
This brings us to Mike Dunleavy. Dunleavy makes just over $3 million this season, meaning he could slide into that TPE with plenty of room to spare. He would provide quality outside shooting, and the Chicago Bulls have some incentive to move him, especially if there's no salary coming back. Between wanting to clear as much cap space as possible for this summer, and the problem of being able to afford filling out the roster, moving Dunleavy would solve some problems in Chicago.
In addition to their own first rounder, which would fall 30th if the season ended today, the Thunder own a first round pick that belonged originally to the Dallas Mavericks, which, according to RealGM, is top-20 protected this year and every year through 2017, then unprotected in 2018. If OKC is serious about winning now, it might be willing to part with said pick to get Dunleavy. As of this exact moment, the Mavs would pick 23rd in this year's draft.
Will this actually happen? Probably not. But I certainly wouldn't be surprised if it did. It probably comes down to whether OKC wants to give up a first rounder or not. If they do, I suspect the Bulls would be more than amenable to shipping Dunleavy out west.