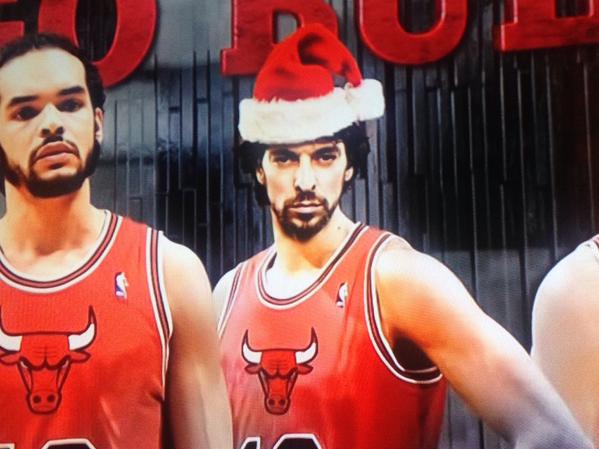 For the second time in four seasons, the Chicago Bulls and Los Angeles Lakers met to play on Christmas Day and once again there were major story lines underlying the action. On this day in 2011, the two teams kicked off the NBA season after a long, seemingly endless lockout. This year, the game marked the first time Pau Gasol and Carlos Boozer would face off against their old teams- the Lakers and Bulls, respectively. The game was to also serve as a game between two superstars who have finally made their returns to the court after various injuries (though, this story didn't come to fully come to fruition as Kobe Bryant sat out the game).
Unfortunately despite all of the underlying plot narratives the game, unsurprisingly, fell flat due to the glaring difference in abilities between the two teams. Behind Gasol's 23 points, Jimmy Butler's 21 points, and Derrick Rose's 20 points, the Bulls trounced the Lakers 113-93. The game was marked characteristic up and down play by Chicago, due in part because the team would play down to their opponent's level after building a lead. When engaged Chicago fired on all cylinders and were seemingly unstoppable. Otherwise they looked uninterested and ready to pick-up the egg nog Joakim Noah had asked the crowd to put down before tip-off.
Due to difference in both teams' abilities and their current trajectories, all the story lines weren't exactly enthralling. While fun for Bulls fans to see Gasol continue to play at a level former-Bulls Carlos Boozer would occasionally deliver, without fierce competition his first game against the Lakers fell flat. Boozer's fight against Chicago was only interesting because it was difficult to determine whether the crowd was chanting "boo" or "Booze." Or even when trying to figure out…
Are Chicago fans saying "boo-urns" or "boo-zer"?

— Pro Hoops History (@ProHoopsHistory) December 26, 2014
The Bulls will have the day off before hosting the New Orleans Pelicans on December 27th. Both Derrick Rose and Chicago will hope to keep their incredible level of play (when engaged) going forward.