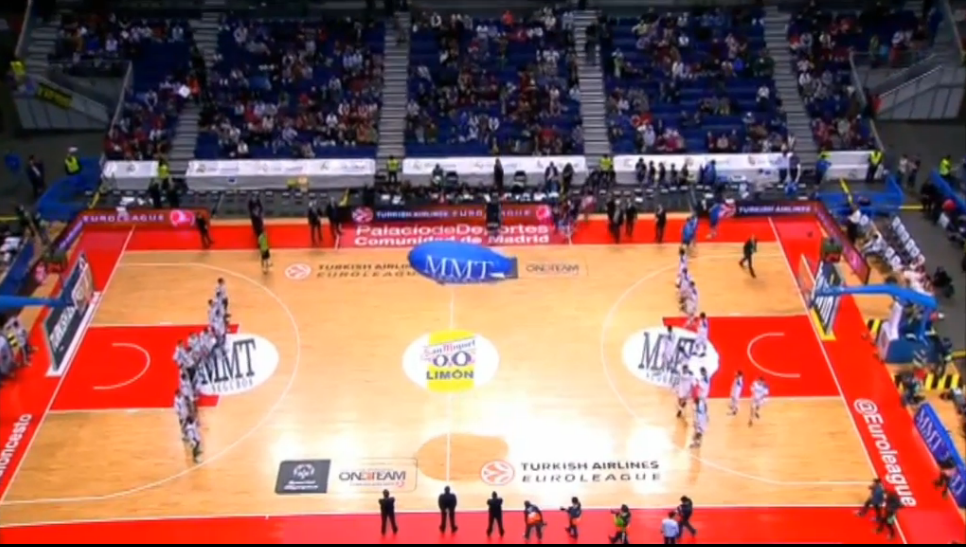 Welcome back to the Bulls by the Horns "Nikola Mirotic Scouting Report Series" where we watch, analyze, and report on how Mirotic is performing in the Euroleague. We hope that with theses posts everyone will gain a better understanding of Mirotic's strengths, weaknesses, and what they should generally expect of him when he makes the jump over the NBA. At this point we're on game 6 of many. If you've missed any of the previous reports you can find them at the following links:
Some notes before we get going with tonight's game:
For those of you who still don't know, Nikola Mirotic added to his already glamorous list of accomplishments with Real Madrid. His new honor is being named the Copa Del Rey MVP.
Our friends over at Blog-A-Bul

l

recently published a post indicating that there may be signs that Mirotic is on his way over this offseason. Ricky O'Donnell, the author of the post, makes a good point that it could cost the Bulls around $10 million to bring Mirotic over instead of the $7 to 8 million we've guessed in previous posts. While we still are sticking with our initial instinct, we wouldn't be shocked at all if Ricky ends up being right.
At this point in the series we're 6 games into the regular season but haven't given a comprehensive report on Mirotic. To provide a general map for you all, the current plan is to continue to break down how Mirotic does in individual games. After the regular season of the Euroleague concludes (game 10), we'll provide our initial, comprehensive report on Mirotic. After that we'll return to individual games and sporadically update our comprehensive report for the remainder of the season.
With all of that out of the way, let's get on with what you all actually care about.
Game 6: Vs. Zalgiris Kaunas 11/22/2013
Box Score: 23 Min, 17 Pts (5-6 2PM-A; 1-1 3PM-A; 4-5 FTM-A), 2 Rbs (1 Off; 1 Def)
If you've read the other 5 posts you know this is going to start with us saying that Real Madrid was absolutely dominant. The game was essentially out of reach at halftime and by halfway through the third quarter Madrid seemingly started goofing around. The game's final score was 95-67. After an incredibly lazy effort in the last game, Mirotic was moving around the court as if he downed 5 cups of coffee and was seemingly everywhere. It wasn't until roughly halfway through the second quarter that I saw Mirotic start to slow down, and even that was only due to fatigue from playing 14 1/2 minutes consecutively (all of the first quarter and almost half of the second).
Mirotic's minute distribution was fairly interesting tonight. Over the course of the first games, we've become accustomed to Mirotic play the entire first quarter, the final 2 to 4 minutes of the second quarter, most of the third quarter, and random minutes from there on out. But for the first time Mirotic played long(er) stretches. The results were interesting. Mirotic started off strong on both ends of the floor and played very consistently through 10 minutes. However, as soon as he hit minutes 11-14.5 in a row, his game started to take a massive nose dive.
Offensively Mirotic stopped moving around almost altogether and started to demonstrate worse decision making (on the one baseline drive he attempted he dribbled into an easily avoidable trap and make a very errant pass that led to a steal and fastbreak). Defensively he stopped trying altogether. No rotations, close-outs, help… nothing. Though the NBA has longer quarters and Mirotic may have to play longer stretches once he makes the transition (which doesn't bode well for his stamina), we're not worried in the slightest. His body will adjust to the longer games. The only concern that fans should have is his how much his play drops when he becomes tired.
Offense:
Offensively there isn't much of note to mention.
Mirotic did flash some creativity throughout the night, most notably on a screen and roll to get open (unfortunately we could not grab clear images). On the play Mirotic set up a screen for Rudy Fernandez at the break on the three point line. As Fernandez dribbled up towards half court, Mirotic rolled towards the paint with his defender right on him. Zalgiris's other big rotated over anticipating Mirotic would get the ball. Mirotic saw the rotation and stopped on a dime and reversed his movement towards the corner three. This sudden jerky movement forced his defender off balance and left him open for the corner three (which he made after a beautiful pass from Fernandez over the shoulder).
The only other thing worth mentioning is Mirotic's continued reliance on the pump fakes and drives. While his actions following the pump fake are predictable, we're noticing just how well Mirotic is able to execute the fakes. By our count, Mirotic has managed to get closing out defenders off balance on all but 5 or 6 of his shot fakes. A major part of this ability seems to be Mirotic's quick shooting motion. Because of the speed at which Mirotic catches and shoots the ball, he can easily get into his motion and sell the fake to the opponent (versus others who may have to wait to try to sell their shot and/or alter their fake shooting motion… both of which decrease the likelihood of getting defenders to bite).
Defense:
Mirotic was generally the same as always on defense (aside from the fatigued minutes in the second quarter). He kept fighting in the post despite getting pushed around and used his length to. The only thing worth mentioning is just how bad Mirotic's help defense was in this game.
Previously it's been noted that Mirotic's help defense has been spotty. There are times when he makes the correct rotation, cuts off driving lanes, and helps double-team players in the post, and there are times when he doesn't do any of that. This game was almost exclusively the latter.
Aside from two good switches off of screens, Mirotic was useless helping others. Generally Mirotic can be found playing in the mid-range off of his assignment (generally a guy roaming around the three point line). This usually sets him up to rotate in to driving/passing lanes while keeping him in a position to close out his assignment. But despite playing in this "ideal" location, Mirotic did nothing. No rotations, no helping double team the smaller player who was stuck in the post, not even trying to cut off the driving lanes. On two consecutive possessions, Mirotic even played "matador defense" and ended up drawing fouls on both "attempts" to stop the driving guard.
A little fun note about his defense: he seems to knows how to act (more or less). Mirotic quite literally flopped worse than (insert your most hated player who you believe flops) here. After getting some body contact in the post, Mirotic decided to fall down several long moments after the contact. The funniest part of the flop was that Mirotic was somehow sent almost perfectly sideways rather than straight back. There was no reason for the referee to call the foul but that he did makes the sequence that much better.
Conclusion:
This game was definitely a mixed bag for Mirotic but overall the poor marks (stamina and help defense) are things that can be fixed. As Mirotic gains more experience and plays more consecutive minutes, his body and conditioning should improve. Defense is one of the hardest improvements for anyone to make; however, the potential shortcoming with help defense that we're beginning to see shouldn't be much of an issue under Thibodeau. As Caleb pointed out in the first Shooting the Bull podcast, if Thibs can work with Boozer's terrible defense then working with Mirotic shouldn't be any issue at all.
——
As the sample size grows so do our notes on Mirotic and our idea of who he is as a player and what we expect. If you believe there is anything we should keep an eye out for that we haven't already (or you'd just like to remind us about something), let us know. Aside from that thanks for reading everyone and until game 7.