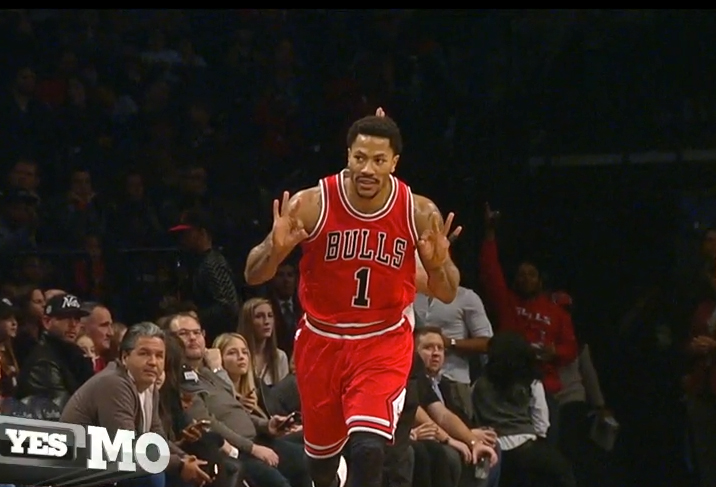 Coming to the end of a road trip that has seen injury troubles aplenty and some disappointing performances, the Chicago Bulls shrugged off the continued absence of Taj Gibson and first-half turnover problems to lay a second-half beatdown on the Brooklyn Nets, 102-84.
Derrick Rose struggled for much of the game, but found his stride in the third quarter as the Bulls started to pull away a bit. Jimmy Butler continued his excellent play, racking up 26 points on 12 shots to go with 4 rebounds, 5 assists and excellent defense on seven-time all-star Joe Johnson, who finished with just 3 points on 1/7 shooting. Pau Gasol scored 25 points (also on 12 shots) and grabbed 13 rebounds and Nikola Mirotic recorded a double-double off the bench with 12 points and 12 rebounds in just 27:24 of floor time.
Some of the hallmarks of a traditional Bulls win under Tom Thibodeau were there, to be sure. The Bulls outrebounded the Nets 50-34 and held Brooklyn to 37 percent shooting from the field and just 2/14 from distance. But make no mistake, this wasn't a traditional Bulls win. Even with Rose mostly ineffective, the Bulls shot just under 50 percent (49.3) from the field and scored 102 points despite turning it over 19 times and managing just 7 offensive rebounds. This team features a lot of offensive talent, Kirk Hinrich's continued existence and Doug McDermott/Tony Snell's struggles notwithstanding.
It's also important to note that the Bulls just went 4-3 on a road trip that has a tendency to submarine even good Bulls teams. Since the end of the Jordan Era, they've managed a winning record on the Circus Trip just twice: 2010-11 and 2014-15. And this year, they had to play the first three games without Rose and Gasol and the last four without Taj. This team hasn't totally figured itself out yet, but there's a lot to like here.
The Bulls are off tomorrow before making their return to the United Center on Tuesday at 7 p.m. CST against the Dallas Mavericks.