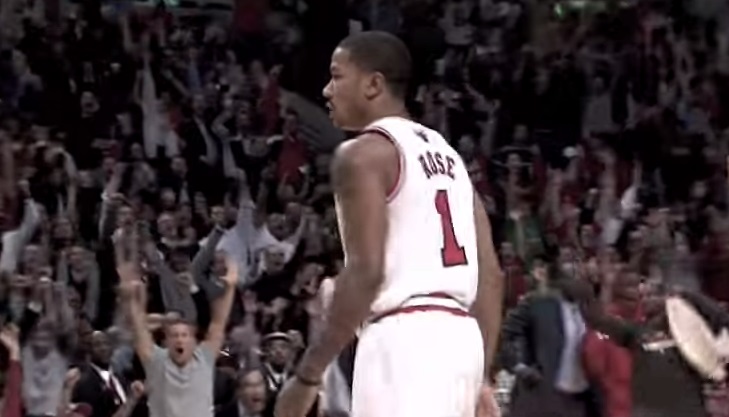 Apologies for failing to get a preview up in time. I was up later than I expected due to, you know, it being Black Friday and all. If you're really missing what my input would've been, it's simple: if Derrick Rose plays, the Bulls will likely win.
Guess what? He played, and they won. Despite the first half looking suspiciously like the Bulls' earlier loss to the Celtics, despite everyone who isn't Rose, Jimmy Butler or Nikola Mirotic shooting a combined 35% (18-51) from the field, and despite those hideous gray Celtics alts, the Bulls managed to take advantage of some abysmal Boston shooting late and pull away. The aforementioned Rose (9-18, 21 points, 4 assists) and Butler (6-15, 22 points, 3 assists) led the way for the Bulls (10-6), who also saw contributions from Pau Gasol (6-19, 15 points, 15 rebounds), Joakim Noah (4-12, 15 points, 14 rebounds, 6 assists, 6 blocks), Aaron Brooks (6-12, 15 points, 3 assists) and Mirotic (4-6, 13 points, 8 rebounds, 5 blocks). It was an early 12 point spurt by Rose in the third quarter that got the Bulls back in the game, and by the time he re-entered with a handful of minutes left in the fourth, Butler, Brooks and Mirotic had managed to shoot the Bulls back in front.
The Celtics, after scoring 60 points in the first half, managed only 42 in the second and 11 in the fourth, slowing down considerably both through a concerted effort defensively and on the board from Chicago and a bevy of easy misses, bad fouls, and the sort of play one would expect from a 4-9 team led in scoring by offensive luminaries like Jeff Green and Avery Bradley. Today's game belonged to Jared Sullinger (9-19, 23 points, 10 rebounds) however, even if his three point shooting cooled off considerably in the second half. Bradley (7-12, 18 points), Brandon Bass (5-11, 16 points, 9 rebounds), Evan Turner (4-11, 13 points) and Green (5-9, 10 points, 4 rebounds, 3 assists) led Boston, who stands at third place in the poor Atlantic division.
The Bulls next play the Brooklyn Nets on Sunday afternoon.
Player(s) of the Game: Derrick Rose and Jimmy Butler.