With Carlos Boozer amnestied and Anthony Randolph traded, the Bulls finally had the cap space to officially sign their big additions of the offseason, Pau Gasol and Nikola Mirotic.
First, you put the pen to the paper… @nikolamirotic12 pic.twitter.com/Vz3dIBe8Eq

— Chicago Bulls (@chicagobulls) July 18, 2014
…then each had their own press conference this morning with the media.
Highlight's of Mirotic's session:
Mirotic spoke in multiple languages, with his agent interpreting the more intricate English questions from reporters for him.
According to the Bulls website, they also signed a Paul Gasol!: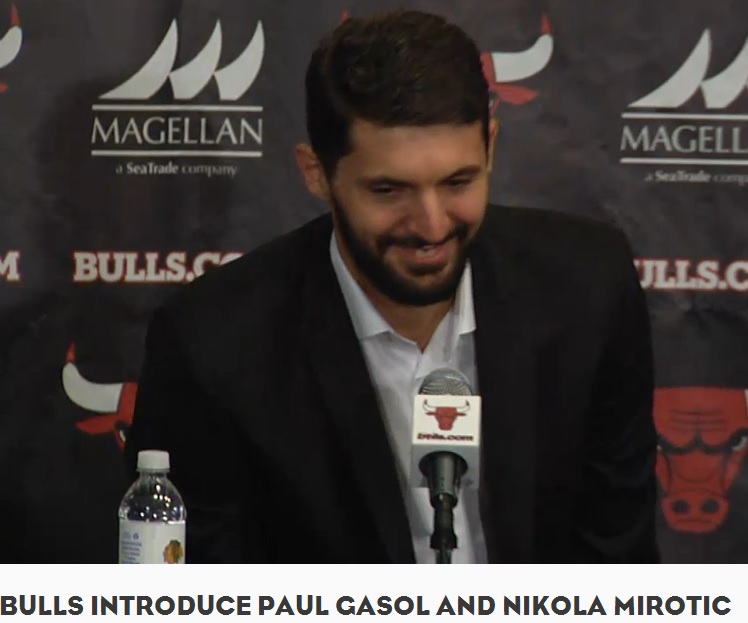 When asked about Mirotic's ability to stretch the floor and the role of stretch fours in today's game, Tom Thibodeau began his answer referring to Nikola's drive and work ethic, because of course he did.
He directly noted that he wanted to improve his "physical," referring to his strength and conditioning that he knows he will have to build up to succeed at the NBA level.
As for his plans the rest of the offseason, Mirotic said he'd return to Madrid to pack up with his family and go back to Montenegro to train with his personal trainer. He plans to return to Chicago in August and get here early to prepare for the season.
On why this was the summer to finally come to the NBA, Mirotic said many expected him to stay another year with Real Madrid since his contract hadn't expired, as well as the Final Four for their league being held in Madrid next year.
Thibs cracked a smile when asked how his Spanish was, and compared it to coaching Yao in Houston. He jokingly said Yao understood him when it was praise but not when it was criticism or coaching, and said having Pau will help with the transition.
Mirotic confirmed he had not met Gasol until yesterday.
After answering questions, Mirotic posed for the press with his number 44 jersey. Note the Gar derpface: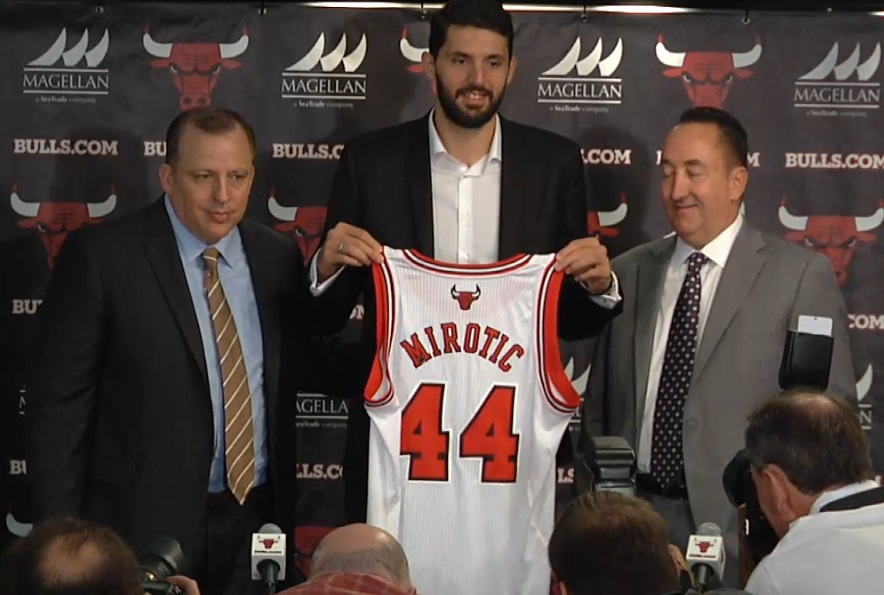 An hour later, at 12:30 P.M. Central time, Gasol took the stage.
Before turning it over to Pau, GM Gar Forman said their goals of the offseason were to improve by getting deeper and add to their ability to shoot from outside. He also noted how important Derrick Rose's health is and is optimistic about Derrick's progress, specifically saying it's "terrific" watching him play. Forman also said they got "good news" and took a bit of a pause, setting up the potential for breaking news, but no, the "good news" was just Kirk Hinrich staying with the Bulls despite competitive offers from other teams. He finished by noting that Pau has All-NBA and All-Star nods on his record, but that his championship background was important and a real fit.
Pau said he can't wait to start working. Careful what you wish for, especially with Thibs sitting right next to you.
Asked which Bulls he talked to, Pau confirmed he met with Joakim Noah when Chicago's contingent recruited in L.A., but also revealed he spoke with Rose on the phone, discussing how Rose felt physically and his feelings about having Pau come to Chicago, which Pau called very positive and encouraging. He said Mike Dunleavy also reached out to him, as did owner Jerry Reinsdorf.
He later lauded the humility of Rose and Noah. "Very important to not have big egos, makes things a lot easier. Their passion and hunger as well. They're hungry to win…to be a part of a team that ll do whatever it takes."
On his many suitors, which included staying with the Lakers, or going to San Antonio or Oklahoma City: "No decision was going to be a bad decision for me."
About playing for a prestigious franchise and in The House That Jordan Built: "It wasn't part of my decision," but he did call MJ his idol, saying he had posters of him in his room. He emphasized again that that wasn't part of his decision, and that he "thought cerebrally," as well as with his gut on where to sign.
When asked to repeat an answer he had just given in Spanish, the entire room laughed as he paused trying to remember exactly what he had just said.
KC Johnson asked him about minutes management, to which Gasol said: "We'll see, have to manage a bit." He said he'll talk with Thibs about it and "can't predetermine too much but have an idea." He mentioned paying more attention to detail to minutes as he gets older.
On playing against the Bulls: "Always had to respect, had your work cut out for you… have to match their intensity and physicality to have a chance," adding that he respected their character.
Asked about playing in front of "better" basketball fans, as opposed to the sterotypical L.A. fan: "Laker fans were really good to me…can't say one bad word."
Having been through it himself, Pau was asked what the transition from Europe to the U.S. will be like for Mirotic. He said it will be an adjustment year and he will be homesick, but that playing on a competitive team will help, as will the Serbian community in Chicago. He said his family coming to Memphis made it much easier for him, and that "I'll try to help him out as much as I can."
Referring to his interest in medicine, Pau said he will contact hospitals to help out and work with, noting that it's very rewarding to him to help kids. Later, a clueless reporter said this was the first he'd heard of Pau's medical background, and asked what he can do to help Derrick's knees. He answered the question respectfully and said "Hopefully there's no need for anything."
Why he signed with the Bulls over other contenders: "Money obviously wasn't the priority here." He said he prioritized being on a championship quality team and the chance to put that team over the top. "Here I was gonna have that opportunity," later adding "I think we have all the pieces. It's not easy…we can make it happen but it's a process."
When asked later about why the Bulls over the Spurs specifically: "San Antonio was another great option, but now it's I'm here and that what i want to focus on. Woulda, coulda, shoulda, I have to put them behind me. This was the team i wanted to be a part of."
On leaving Kobe Bryant: "It was difficult. we have a close friendship…I'm sure I'll miss him…but our friendship goes beyond basketball. He was supportive and understood…that's what friends and brothers do and that's what we are."
Asked if he talked to Carmelo Anthony: "We talked. we talked on the phone…if you could have made a difference to come to the Lakers or not, or stay in New York or signing here, things could have changed but those are hypotheticals."
Pau acknowledged the colder weather. "Maybe my wardrobe will have to change," he said.
On championship experience: Noting Thibs has won as well, "I think we can send the message, what does it feel like, what does it take."
He somewhat side-stepped the question of if the Bulls are a title-or-bust team, but did say:"If I didn't believe we had that potential, I don't think i would have come here."
He didn't commit either way when asked if he would start, saying "we'll figure it out as we go along."
Pau finished posing with his number 16 jersey, which he will continue to wear with the Bulls: