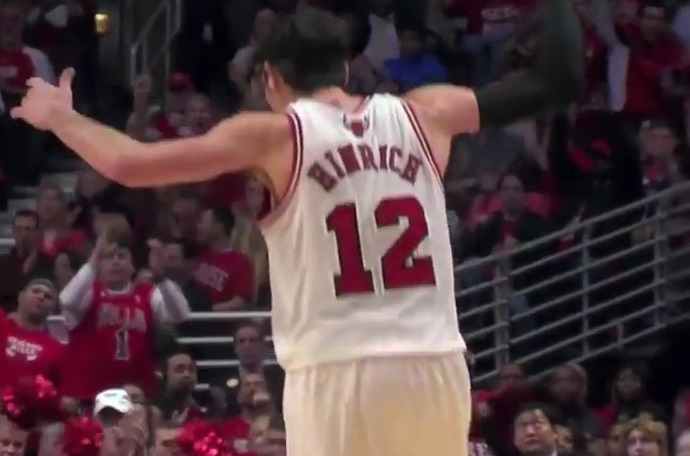 Once Charlotte, the other main suitor for Kirk Hinrich, signed Brian Roberts, it seemed to be a fait accompli that the veteran would return to Chicago yet again, though hope remained another team might jump in. Those hopes were quickly dashed by Adrian Wojnarowski:
Charlotte had been pursuing free agent Kirk Hinrich, but belief is that he's destined to sign with Bulls, league sources tell Yahoo.

— Adrian Wojnarowski (@WojYahooNBA) July 13, 2014
That was quickly followed by David Aldridge:
Kirk Hinrich has re-signed with the Bulls, per source.

— David Aldridge (@daldridgetnt) July 13, 2014
The news was met with this reaction by about 90% of Bulls fans:
Details aren't available yet, other than Aggrey Sam noting that the deal is for more than the minimum, and KC Johnson saying the terms are somewhat flexible until the Bulls are sure of how to sequence the transactions involving Pau Gasol and Nikola Mirotic, as well as the probable amnesty of Carlos Boozer. If Kirk were to make the veteran's minimum, the league pays a portion of it so teams are not discouraged from adding veterans whose minimum salary is higher than those of younger players. By signing Hinrich for more than the minimum, the Bulls are now responsible for all of his salary.
KC noted, as he has before, that the Bulls feel Hinrich is the perfect complement to Derrick Rose. Maybe he was in his last stint with the Bulls, but he's not that player anymore:
-As John Wall showed in the playoffs, Kirk can't relieve defensive pressure off of Rose because he can no longer stick with fast point guards.
-He's shot 38.6% from the field since coming back to Chicago. Other than Miami's Norris Cole, Kirk had the worst PER in the entire league among point guards who played 20 minutes per game last year.
-Also, a dependable backup behind Rose is a necessity, but Hinrich has missed nearly 15 games a year since his age 30 season, and even more if one dates back to his injury-plagued 2008-2009 season. Either way, he's missed at least seven games each of the last eight seasons, which means a back-up is still needed for the back-up.