Late in the first overtime period against the Orlando Magic, things looked grim for the Chicago Bulls. They were down by three and were struggling to execute properly, resulting in turnovers that could have allowed the Magic to seal the deal.
Instead, they got another chance at it, still trailing by three with 15 seconds left and made the most of it, as Mike Dunleavy would hit a wide open three off a beautiful set. But we'll get to that in a minute.
First, with 1:20 left in the first overtime, the Bulls ran possibly their favorite late-game set, which I've broken down previously here at BbtH. It's a versatile set, capable of generating layups as well as jumpers. Unfortunately, things didn't quite go according to plan this time.
From the way DJ Augustin reacted, I assume he thought he was fouled, but it looks to me like Joakim Noah jumped the gun on his screen a little bit and hit DJ instead. Which is too bad, because Taj Gibson is about to hit Mo Harkless with a surprise backscreen to free Tony Snell up in the corner, and Gibson's defender — Glen Davis — isn't even looking at him. Alas.
Anyway, about 35 seconds later, the Bulls got another crack at it, after Noah rebounded a Snell miss from the corner and got fouled. They ran another one of their favorite sets, one that actually pre-dates Tom Thibodeau's tenure with the team. At the very, very end of this clip from 2009, Jeff Van Gundy attributes it to Mike D'Antoni's Phoenix Suns. But regardless, it didn't work out quite so well last night.
The play isn't terribly complex or anything. Basically, you inbound the ball to someone at the elbow, then the inbounder gets a flare screen as he runs across the court. DJ is actually wide open there, but Davis, guarding Noah, either recognizes the play and purposely disrupts Noah's ability to make the pass, or just decides to pressure him and kind of accidentally blows up the play. Either way, Noah can't make the pass and turns it over.
Fortunately, the Bulls would get a stop and another shot to tie the game. And although I kind of pride myself on being conversant in most of the Bulls' late-game sets, I'd never seen this one before.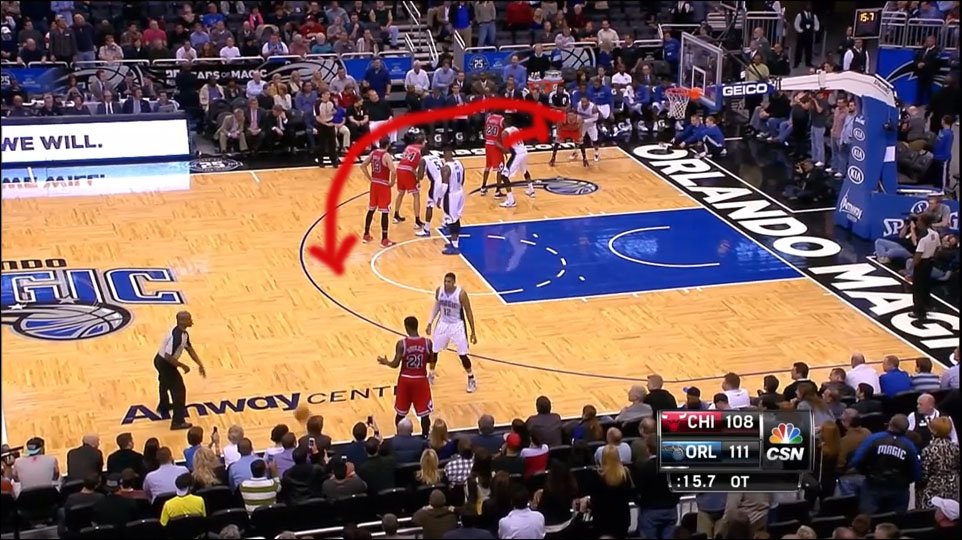 The play starts with the Bulls in kind of an arc on the side of the floor away from the inbounder. Augustin, in the corner, will pop out toward the top of the key, receiving a screen from Snell.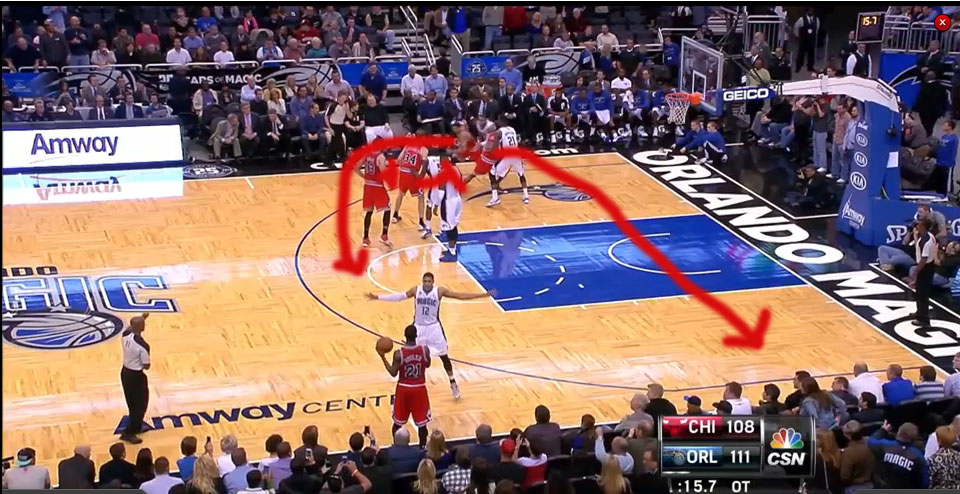 Snell actually slips his screen here, though I'm not really sure if that's by design or not. I think it is, if only because that would best combat a switch there. Anyway, he then cuts along the baseline to the near corner. Mo Harkless, his defender, hesitates a bit there and if the Bulls had needed a layup, Snell could've gotten one. But he recovers well enough to contest a potential three. Meanwhile, DJ continues up toward the top of the key, receiving a double screen from Noah and Dunleavy. So far, so good, for both teams.
Here's where things start to get interesting. Augustin, rather than run along the three-point line toward the inbounder like you might expect, hangs a sharp left and he and Noah set a double screen for Dunleavy. Note that Snell is running open along the baseline, but that Harkless is in position to challenge him should he get the ball.
The thing that stands out most to me about this part of the play is that Augustin isn't setting up to screen Dunleavy's man, he makes a beeline for Davis, who is guarding Noah here. This is one of those things where the cliche of a chess game seems appropriate. Thibs — or whoever designed the play — has realized that most teams will switch rather than fight through screens late in games, and having DJ screen the help defender is a next-level stroke of genius. (It's also worth noting that this is what informs my earlier speculation about whether Snell was supposed to slip his screen or not.) By screening the second level of help, the Bulls introduce an extra layer of communication that might foul up even an elite defense for a crucial second or two.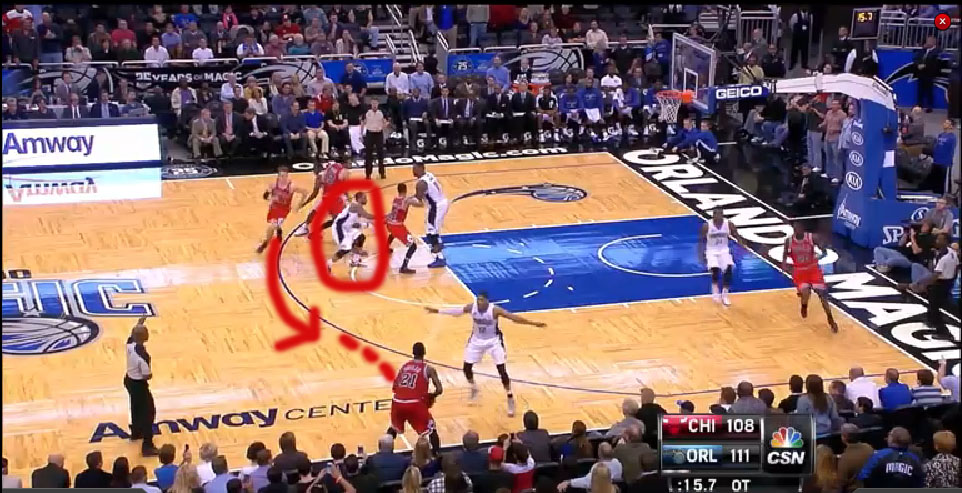 I have helpfully circled Jameer Nelson in the picture above, since it would theoretically be his responsibility to pick up Dunleavy as he curls around the screen from Noah. Davis isn't really in any position to help to begin with, but Augustin's presence takes him out of the play completely. Nelson, meanwhile, sticks to Augustin like a tick, allowing Dunleavy to come WIIIIIIIIIDE open. It's also worth mentioning that Jimmy Butler, inbounding the ball, gives just enough of a fake to Snell to get Tobias Harris leaning the wrong way to help on Dunleavy.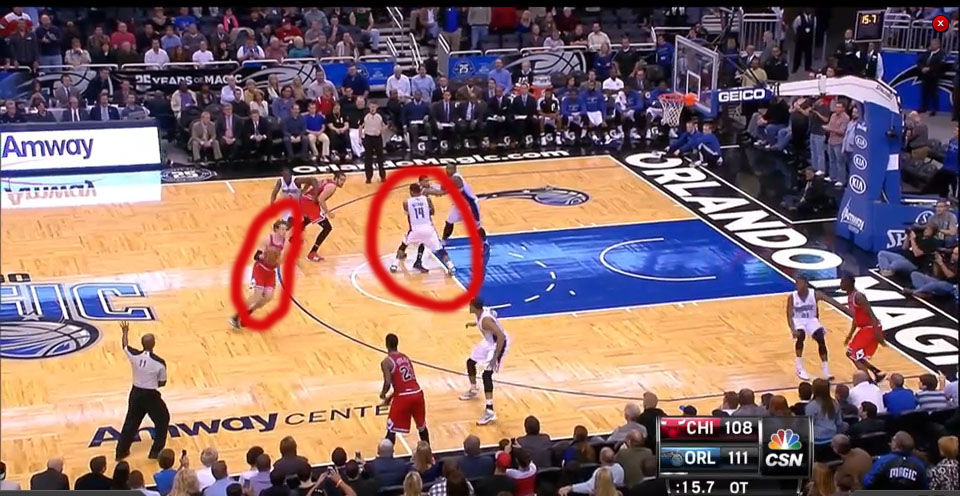 So, yeah. Dunleavy now has the ball with nobody within six feet of him and anyone who could help is in absolutely no position to do so. Victor Oladipo has been completely taken out of the play by Noah's (possibly illegal) screen. Davis doesn't realize he needs to help until it's too late and he's being screened by Augustin anyway. Harris and Harkless are too far away, and Jameer doesn't even know there's anyone behind him. End result, wide open three and a tie game.
Obviously, I don't know this, because I'm sadly not privy to the Bulls' timeout huddles, but I'd guess there's another action that would come after Dunleavy gets the ball in case they've covered everything. Probably featuring Jimmy sliding down to the corner and getting a flare screen from Snell, but I really don't know. Anyway, here's the full play:
The Bulls have some great late-game plays they can pull out, and it appears we have a new one to add to that list. I look forward to seeing this play again.