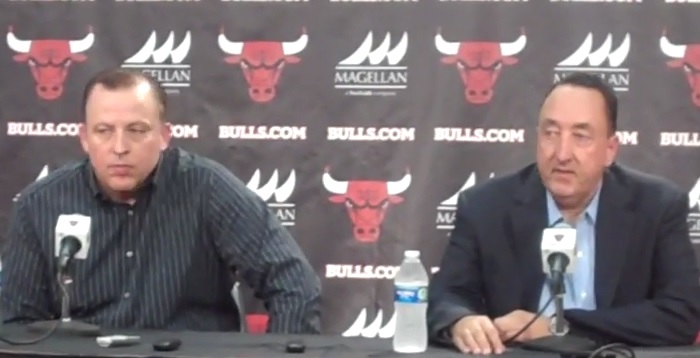 On today's B.S. Report, Grantland's Bill Simmons had the always-excellent Zach Lowe on to discuss the state of the league heading into the All-Star break, as well as topics pertaining to the festivities of said weekend. Simmons went out of his way to bring up the Bulls early in the chat.
"We gotta talk about this Bulls thing quickly because this is one of those things where the actual what's going on isn't fully what I think the public thinks," Simmons said. After bringing up Chicago's past behavior with Vinny del Negro, he continued saying, referring to the rumors about Thibs, "I don't want to use the words 'smear campaign' but there are elements of smear-campaignishness."
When asked of his take on the situation, Lowe said the situation is not one that he's super-plugged into, but after noting the heavy minutes and Ron Adams factors, he said, "The Thibs noise never stops […] and where there's that much noise, there's something going on."
Simmons mentioned the hiring of Jen Swanson, adding, "Apparently they rely on her to the point where it makes Thibs uncomfortable. She's actually telling management how many minutes guys should play and that's a lot of the conflict…Once you start moving into the realm of 'We don't trust the minutes you're playing these guys, we're going to give you help' that's when it becomes a problem." Lowe confirmed that he has heard rumblings along the same lines.
With the Bulls an hour away from tip-off in Golden State, here are the main takeaways:
1. You have to take Simmons' talk on the Bulls with a grain of salt after his prediction last summer fell through. When Memphis was going through front office upheaval (that seems like years ago at this point), coach Dave Joerger had supposedly seen the writing on the wall and was headed to Minnesota to salvage a secure head coaching job. Simmons followed with this on Twitter:
Hearing that, if the Grizz totally clean house, the Memphis owner will look to trade for Tom Thibodeau + give him an SVG/Pistons-type deal.

— Bill Simmons (@BillSimmons) May 19, 2014
He also mentioned Fred Hoiberg as a replacement for the Bulls.
So, that's not to say he's wrong this time, but he has been anticipating a Thibs-Bulls split for a while now and it has yet to happen.
2. This isn't the first we've heard of Thibodeau bristling at injury-related minutes management. He whined frequently at the beginning of the season when constrained by management's limitations on Derrick Rose and Joakim Noah. The guy just doesn't get it. If there's one thing we know about Thibs, it's that he's stubborn, often to a fault. No amount of expert opinion is changing his mind on just about anything, whether it's minutes or tactics. This dates all the way back to his first year when his failure to at least try Kurt Thomas in the Eastern Conference Finals proved to be a mistake. This will prove important tonight, considering Golden State bludgeoned the Bulls all game with Draymond Green stretching the floor, with Thibs refusing to abandon Pau Gasol defending the paint as Noah struggled on the perimeter.
3. Another sign of unrest: ABC/ESPN broadcaster Jeff Van Gundy spoke out in defense of his good friend Thibodeau asserting that the Bulls have undermined him just as they have coaches in the past. Van Gundy isn't doing that without Thibs wanting him to, or at the least, being OK with it. Per K.C. Johnson of the Chicago Tribune, Thibodeau's response was, in part, "I'm fine. I don't get wrapped up in that stuff. That's his job. He's paid to give opinions."
Not exactly a denial.