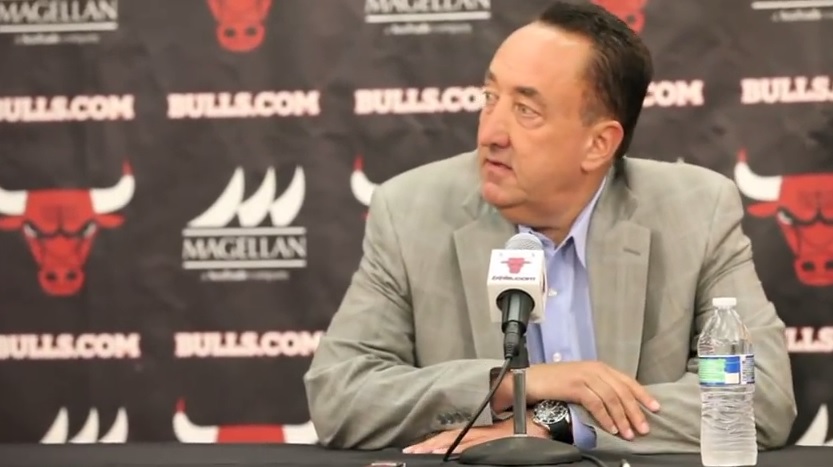 The Transactions:
-Cut ties with assistant coach Ron Adams
-Hired Jen Swanson as Director of Sports Performance
-Drafted Tony Snell and Erik Murphy
-Signed Mike Dunleavy (mini mid-level exception for 2 years)
-Used stretch provision on Rip Hamilton, which spread the $1 million buyout for the final year of his contract over three years
-Signed Mike James, Cartier Martin and Jarvis Varnado to various 10 day contracts
-Traded Luol Deng to Cleveland for Sacramento's future first round pick (top-10 protected through 2017, at which point a second round pick will be conveyed instead), the right to swap first round picks with Cleveland in 2015 if the Cavs make the playoffs, two second round picks (Portland's 2015 and 2016 selections) and Andrew Bynum, who was waived immediately
-Traded Marquis Teague to Brooklyn for Toko Shengelia
-Signed D.J. Augustin and Jimmer Fredette through the end of the season
-Waived Shengelia to sign injured Greg Smith to a guaranteed deal through 2015
-Waived Murphy, who was claimed by the Utah Jazz
-Re-signed James, and signed Ronnie Brewer and Louis Amundson, all through 2015 with unguaranteed contracts for next season
The Good:
This section undoubtedly starts with Jen Swanson. While the addition of D.J. Augustin has gotten the press, and deservedly so, Swanson is more meaningful in the long-term. The torn meniscus of Derrick Rose cast a pall over the story, but as others have noted, the Bulls were otherwise very healthy this year. Jimmy Butler sustained his problematic turf toe and others had minor injuries, but he was the only rotation player to miss more than ten games. It's impossible to figure out how much of an impact Swanson had in this regard, but it's a very positive sign for a franchise that has been downright criminal in addressing and treating injuries.
As for the aforementioned Augustin, his signing was (understandably) panned, and though there's no way Gar Forman, John Paxson and crew could have predicted the degree to which he'd rescue Chicago's season, it was an unqualified success. Not only did he provide penetration and shooting that was sorely lacking, he was also capable of handling a significant minutes load.
The trade of Deng to the Cavs may have seemed callous and more about finances than the on court product, and while that's definitively true, it was also the right move to make if this team is to contend for a championship again. Re-signing Deng at an annual cost somewhere in the eight figure range would have extended their inability to land the offensive difference maker they've lacked for years. Instead of keeping him through the end of the season, they found a team desperate to make the playoffs in the Cavs, who happened to possess Bynum's uniquely waivable contract, and got a collection of useful assets. Especially after winning the lottery, Cleveland has a good shot at finally returning to the playoffs next year, which would allow the Bulls to swap picks and move from somewhere in the 20s to the mid-teens. Sacramento also wants to improve for a host of reasons, so their pick should end up netting the Bulls another first. As for the second rounders from Portland, they may not turn into much, but extra swings at players who cost less than the minimum cap hold could prove valuable in the future in the way Murphy did this year.
Speaking of Murphy, his release capped a stressful few months after the Deng trade in which Chicago had to constantly maximize the allowed time period for only rostering 12 players, as well as handle the revolving door of ten day contracts to meet the 13 player requirement. This added to the team's burden, as they were constantly short on practice bodies, but the process paid off, as they will, in all likelihood, have dodged the luxury tax thanks to Utah taking Murphy's deal off Chicago's hands.
The front office adapted to another lost season and came out of it with three picks, a potential pick swap and got under the tax. The frugal Bulls screwed up two summers ago in the way they maneuvered signing Kirk Hinrich, but they proved once again how adept they can be when it comes to saving money. In this case, that's a compliment.
The Bad:
The failure to add more offensive playmakers reared its ugly head yet again this season. Had Toronto not traded acquired an extra player in the deal that sent Rudy Gay to Sacramento, Augustin may not have been released and the Bulls that were so terrible between Rose's injury and the addition of D.J. may have continued to exist all season.
Not bringing lead assistant Ron Adams back was the first time the icy relationship between Thibs and the front office had a tangible effect on the team. Despite being beloved by the players and respected around the league (he was quickly hired by the Celtics), Forman seemingly decided to make a power play in dumping Adams. With current assistants Adrian Griffin and Ed Pinckney candidates for head coaching jobs this summer, we may find out if that was an isolated incident or if Forman will continue to meddle with Thibodeau's power in selecting his staff.
In another instance of Forman's poor people skills, the Bulls offered Deng an ultimatum before he was traded. They offered him a take-it-or-leave-it three year, $30 million extension, a ridiculous way to treat someone who was as vital to the franchise as Lu was. That came just months after completely mishandling everything having to do with his spinal tap in such egregious fashion that it isn't outlandish to question whether the franchise is worth rooting for at all.
The Grade: INCOMPLETE
The Future: Why incomplete? Because the success of just about every move Forman and Co. made this year is dependent on this summer. For years, Gar has emitted the company line with something like: "The new CBA limited our flexibility. For the first time in years, we have options and some different directions in which to go." Well, it's time to deliver. If the trio of unguaranteed contracts help the Bulls land Carmelo Anthony or Kevin Love, then they'll look brilliant. If the Bulls simply waive them after the hot stove season, then it will have all been for naught. The Bulls have made an impressive collection of clever little moves, but now they must complete the big move.
This is unquestionably the most important offseason for the Bulls this millennium. Rose will be 26, and even the most optimistic Rose supporter (/raises hand) must confront the prospect that the end of his prime may come fairly early. Jo and Taj will both turn 30 in 2015. Miami is in flux, they will need to remake their bench just as Jordan's Bulls did and hope Dwyane Wade's contract doesn't become a complete albatross. Indiana's lack of cap space and tradeable assets will be a problem even if they keep Lance Stephenson. Brooklyn and New York are old and have dealt every draft pick until the end of time. Washington is good, but won't be great until John Wall and Bradley Beal get a little older. Orlando and Philly are building the right way, but are years away.
The TL;DR version? The East is there for the taking, and this offseason is GarPax's version of a series finale. Nail it Six Feet Under style and they'll vault the Bulls completely to another level where they truly compete into June. Screw it up at the end like How I Met Your Mother did and it could stain everything that came before it. Drafting young guys and adding on the margins will not be enough. If Nikola Mirotic is the best player the Bulls add this offseason, it will be a failure. As everyone surely knows by now, stars move the needle, and the Bulls are one short.
For years, Forman has talked about this chance. No wonder, since just like the Bulls, talk is cheap. Now it's time to put their money where their mouth is.