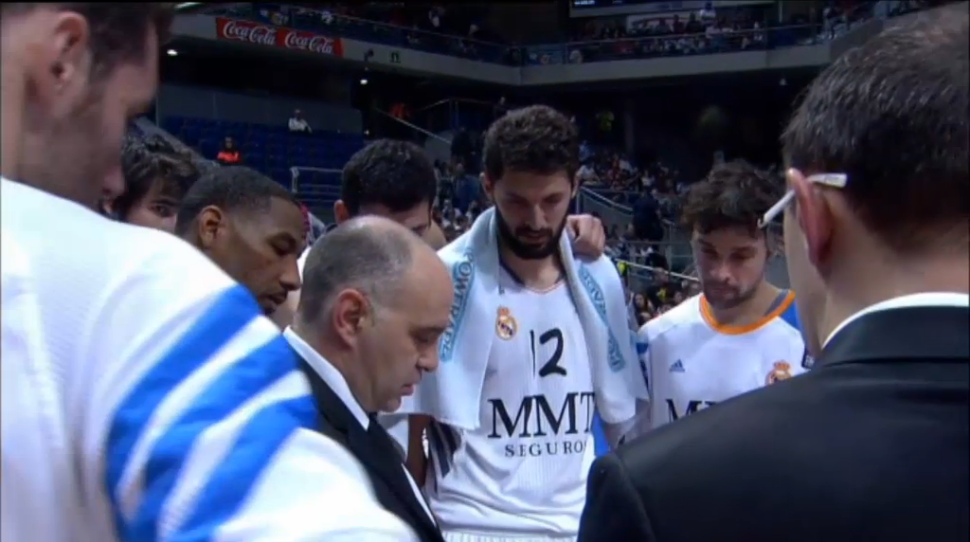 Hello everyone and welcome back to the Bulls by the Horns series where we break down and analyze Nikola Mirotic's performance in the Euroleague this year to hopefully help everyone know what to expect for when Mirotic makes his way over to the NBA. If you missed the first two series of the post, you can read them here and here.
Real Madrid played game 3 of their group stage against EA7 Emporio Armani Olimpia Milano (yes, that may in fact be the longest team name in the world) and won the game by a score of 93-74. Because of a combination of Real Madrid's 21 point halftime lead and Mirotic's fairly odd minutes distribution (he plays the entire 1st quarter, no minutes in the 2nd quarter, and sporadically in the second half of the game), I didn't have much to go off of except the first quarter of play. With the game well in hand (trust us when we say there was no risk of them losing their lead to a Samardo Samuels led team) Mirotic and most of the starters mailed it in with little effort in the second half of the game. Luckily for us Mirotic did 80% of his scoring in the first quarter alone.
Game 3: Vs. EA7 Emporio Armani Olimipia Milano 11/1/2013
Box Score: 21 Min, 19 Pts (5-5 2PM-A; 1-1 3PM-A; 6-6 FTs), 6 Rebs (2 Off; 4 Def), 2 Ast, 1 TO
Offense:
Mirotic's offensive game against EA7 (insert rest of the name here) was marked heavily by attacking play and creating his own shot. Though it's only been two games, it's been a refreshing change to see him able to do more on offense other than work off the ball setting up screens and spotting up for jump shots. Mirotic's aggressive play affected several facets of his game and revealed some facts about others that I'd like to discuss a bit further (just below). Generally every other part of his game not mentioned below was roughly the same as it has been in previous games.
Dribbling/Ball-Handling:
Because Mirotic played very aggressively and drove to the basket often, the first thing that we were able to analyze closely was Mirotic's able to dribble and handle the ball by himself. The first thing we noticed while watching Mirotic's dribble around the floor was that he tended to have a high dribble (not at all shocking for a taller player) but was able to vary how high his dribble is depending on the circumstances. Whenever Mirotic went  against a larger player, he would stick with his naturally high dribble and simply use his wingspan or body (or both) to shield the ball. To protect the ball from double teams in this situation, Mirotic would pick up his dribble and cup the ball close to his body. Against faster guards, Mirotic had a tendency to lower his dribble and play closer to the ground thus making it harder for the guards to steal. On one play Mirotic went one-on-one against a guard and utilized a couple of crossovers (between the legs and behind the back) to try to shake the guard to drive to the hoop. While Mirotic failed at shaking the player, he did demonstrate a solid ball-handling abilities. Lastly, Mirotic demonstrated a solid dribble with his first step against defenders. While his dribble was high, Mirotic put the ball on the floor fast and hard enough to make it extremely difficult for opponents to poke the ball away despite the fact that they have an angle to get to the ball. Mirotic also would put the ball far enough ahead to give him a half-step advantage against his defender.
Decision Making:
While he still made smart passes around the perimeter, opted out of shooting jump shots that were closed out well, and even exhibited the patience and awareness to take a step back to avoid the long two pointer, we feel as if  Mirotic made several poor decisions as a result of his aggressiveness. On three occasions, Mirotic found himself going up for the shot but passing out of it last second, something coaches teach you to never do. Two of the plays were very similar and saw Mirotic attacked the paint and went up for what we assume was going to be a sweeping hook shot. Unfortunately, Mirotic wasn't able to shake his defender as he has done in the past and went up with a defender in his face. Mirotic saw the defender and passed the ball to teammates who were covered and, as a result, saw both of his passes almost taken away for fast breaks on the other end (he got lucky and both passes were tipped out of bounds). The third instance saw Mirotic pass out of a shot and make a dangerous long pass to a Rudy Fernandez that ended up sailing to half-court. Had it not been for Fernandez's recovery Mirotic would have been credited for another turnover. For a guy who has made virtually no mistakes in the two games to date, it was very surprising to see him make 3 very basic and avoidable ones in this game. In addition to these, Mirotic had one turnover in the game.
Adjustments:
Mirotic's made many impressive adjustments to what the defense threw at him when shooting or attacking the basket during his one man onslaught. One of the most common adjustments we saw during the game came whenever Mirotic spotted up for an open midrange jump shot. While the defenders closed out, Mirotic would throw up a pump fake that always resulted in players jumping in the air or getting extremely off balance which allowed Mirotic a clean lane to the hoop. All four of these kinds of possessions resulted in either a basket or foul. One of the possessions that resulted in a foul was incredibly impressive (and unfortunately we couldn't get any good screenshots of it). After pump-faking, Mirotic took off down the baseline for what was going to be an open layup. By the time Mirotic finished the first step of his gather, Filipe Reyes's defender rotated over to contest the shot. Rather than continue to go for the shot, Mirotic adjusted and took a larger stride for his second step and took off with a longer jump setting himself up for a reverse layup (that almost went in after sitting on the rim momentarily). Reyes's defender attempted to adjust which ultimately caused the foul.
Mirotic's best adjustment came in the middle of the first quarter. The following sequence highlights Mirotic's quick thinking, high IQ, ability to adjust, and how he has the footwork, technique, and fundamentals needed to perfectly execute the required adjustments. The announcers for the game talked about this play for a solid two minutes after it was executed.
The play starts in image 1 when Mirotic executed a fake screen that got both defenders to follow the ball handler momentarily, allowing the roll into open space in image 2 (had it not been for a slow pass, the play likely would have ended here with a jumpshot). By image 3, Mirotic's defender has recovered and the two face-off one-on-one. Mirotic began to attack the paint in image 4 (for what we assume is a hook that he's taken several times in the past few games out of similar situations) but Mirotic's defender quickly slides and gets in the way. In image 5 we see that the lane into the paint was completely cut off, so Mirotic adjusts by beginning a spin move to try to finish at the rim with his right hand (image 5). The defender sees this move and begins sliding back over to contest (also image 5). Mirotic, having never taken his eyes off the defender, sees this move and stops mid spin and uses a body fake to get his opponent to commit (in between image 5 and 6). Once the defender committed Mirotic adjusted once more by pivoting on his right foot once more (image 6) setting up the very open shot (image 7).
Step Back:
One play that really shocked us in this game was the step-back Mirotic executed on his first touch of the game (sequence outlined below). Because it was only one play, we aren't going to sit here and proclaim that Mirotic has a step-back in his offensive arsenal that he can go to whenever he'd like. However the balance, shooting form, and overall mechanics of this play were so much fun to watch we feel it's worth breaking down. We're definitely going to keep an eye out for step backs in the future to see if this is part of his repertoire.
Mirotic started off the play by catching Sergio Llull's kick out pass from the drive and faces up against the defender that closed out. Mirotic utilized a couple of jab steps to get his defender off balance a little bit before using a quick first step to gain an advantage over his defender (seen in image 2). The defender managed to recover and Mirotic drove his body into the defender's chest (image 3) creating enough contact to push his opponent back without needing to extend his left arm. Once his opponent is pushed back, Mirotic pushes off with his left foot and pulls off a huge jump backwards into his shooting form. Image 5 shows Mirotic taking the shot while his opponent still tries to recover. To emphasize how quickly Mirotic pulled off that step back and got up his shot while maintaining form, take a look at the time stamp. Mirotic creating contact, jumping back, and shooting with the ball out of his hands all occurred within a one second time frame.
Defense:
There isn't much to mention about Mirotic's defense in this game that hasn't already been said in the previous scouting reports. While there were a few instances of Mirotic falling asleep and losing his defender (a first in the three games), everything was the same. One thing worth noting though was that Mirotic definitely did put in more effort on the defensive boards and, as a result, had a better night on the glass than he previously did. He successfully boxed out his man allowing himself or one of his Real Madrid teammates to get the easy rebound. When he was either boxed out or found himself in bad positioning, Mirotic fought hard to regain position or, at the very least, prevent his assignment from getting the board. To this end, he used some spin moves which was really shocking to me. The one time Mirotic didn't box out or fight for positioning it resulted in a loose ball foul for Mirotic.
Conclusion:
We really liking what we're seeing from Mirotic so far on offense. If you couple both his attacking offensive game (assuming it's reliable on any given night) with his spot-up and general off-ball play, he becomes an incredibly dangerous offensive option. We've addressed his strength issue in the past so hopefully that's something that can be resolved to truly make him dangerous in the post. There are some concerns about his ability to focus at times. There are stretches in games during which Mirotic won't move around at all or move around to try to bail out his teammates from traps (something that happened twice in this game). Defensively Mirotic has demonstrated great ability to read and react to what teams are doing. He's been a solid perimeter defender and decent in the post because of his footwork and length. Again though, unless he can fix the strength issue, he could be pushed around in the NBA.
—
That wraps it up for this game. Hope everyone found it helpful and enjoyable to read. As always if you have anything you'd like us to try to pay attention to the next time around, please let us know and we'll do our best to keep an eye out for that part of his game. The next analysis will be of Mirotic's performance against Strasbourg and should be up in several days. Until then!