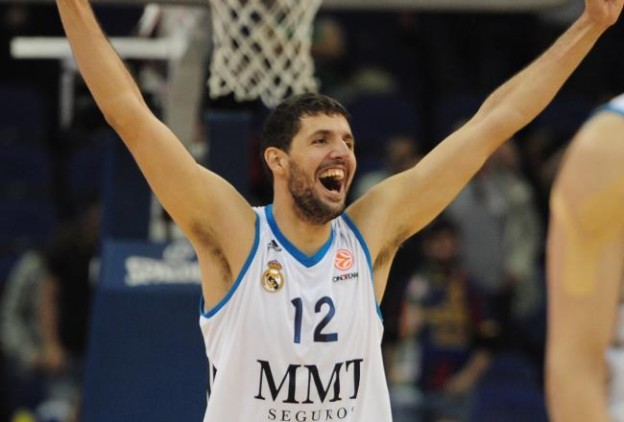 EDITOR'S NOTE: Due to various technical issues out of our control with the site and my personal computer, the images used in the post originally are no longer available. Sorry for the inconvenience.
Hello and welcome back to the Bulls by the Horns "Nikola Mirotic Scouting Report Series" where we watch, analyze, and report on how Mirotic is performing in the Euroleague. We hope that with theses posts everyone will gain a better understanding of Mirotic's strengths, weaknesses, and what they should generally expect of him when he makes the jump over the NBA. Apologies for three week gap between report four and this post. Since the last post I have gone on vacation, was incapacitated with the flu, and found myself pressed for time and unable to watch the Euroleague games. But we're back. If you've forgotten anything from the previous posts you can find them at the following links:
 Let's get right into it.
Game 5 Vs.Anadolu Efes 10/13/2013
Box Score: 22 Min, 14 Pts (3-4 2PM-A; 2-3 3PM-A; 2-2 FTM-A), 6 Rebs (1 Off, 5 Def), 1 Ast, 1 Stl
The story of the previous four games was that Real Madrid had essentially defeated their opponents by halftime. Give you one guess as to what the story was against Anadolu Efes. If you guessed that it was over by halftime– congratulations, you're right. Because Real Madrid had such an easy time from the outset of this game, Mirotic wasn't heavily involved in the game on both sides of the floor so there wasn't much to work with. The majority of the following just confirms or questions what has been previously reported and will serve as a springboard for things to look for in the future.
Offense:
Mirotic was almost nonexistent on offense. He set very few screens (none of which lead to anything of significant or were noteworthy in the slightest bit), didn't really have to go to work on the offensive glass since his team couldn't miss, barely tried to dribble the ball, didn't do any work in the post, etc etc. In fact all of his points damage came from him spotting up for jump shots.
The only two notable shots Mirotic took were both three pointers both of which showcased his ability shooting from distance. The first image, featured above, is worth mentioning simply because of the distance from which Mirotic took the shot. The difference between an NBA three point shot and a FIBA/Euroleague three pointer is one foot. Mirotic, according to the image and the announcers for the game, was roughly three feet behind the FIBA/Euroleague line. Despite shooting from as far out as he had, his form and quick release didn't change at all and Mirotic once again hit the shot without the ball touching the rim.
The second three pointer (which I couldn't even get a halfway decent image of after 15 minutes of trying) came from around the NBA three point line. What separates this instance from the many others is Mirotic was able to maintain his form and quick release with the shot being challenged. To date we haven't seen much of Mirotic getting his shots challenged due to his incredibly stringent shot selection. Hopefully we can see more of what he can do with a hand in his face moving forward.
In some of the previous analyses done, occasionally been noted that Mirotic can have a tendency to fall asleep on offense and not move around or give any/much effort. That was once again evident in this game, but something I noticed was that the rest of his teammates were also giving no effort on all of those plays. In fact, three of Mirotic's teammates sat around the perimeter and allowed the ball-handler to go to work in isolation. International basketball is known for players occasionally standing around while one goes to work. Magic Johnson noted that he believed Ricky Rubio would be a good player in the NBA simply because players are more aggressive than they are internationally. This has us wondering just how much of Mirotic's previous "laziness" is simply the team allowing a teammate to take on the defenders. It's something we'll keep an eye out for in future games and when reviewing previous games.
Defense:
There wasn't much going on on defense for Mirotic in this game. He did have occasional uncharacteristic moments where he bit on the pump fake in the post and lost his man in transition but for the most part was his usual self. He was pushed around in the post but was pesky like a mosquito and kept annoying his man, played off of the three point shot (but paid for it a couple of times in this game), and demonstrated high awareness. The most notable thing to me was Mirotic's ability to read passing lanes and cut them off or jump in for the steal using his length. Though he only recorded 1 steal in the game, by our count Mirotic managed to disrupt 7 passes away through a combination of sheer will and jumping in the middle of lanes.
Conclusion:
Unfortunately Real Madrid keeps blowing teams out of the water that has limited how much exposure of the real Nikola Mirotic we get, but we've still gotten some decent morsels. At this point there are 5 more "regular season" type games for Real Madrid in the Euroleague. We'll continue to push through these five games in the coming weeks and will begin reviewing previous games to get a first draft of a conclusion of what we can expect from Mirotic.