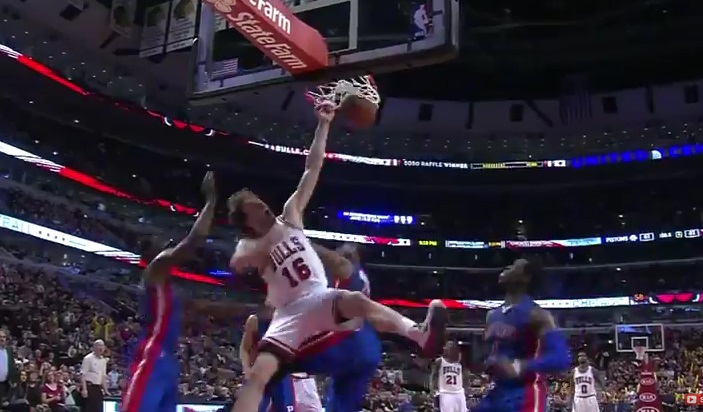 Continuing trends from their recent games, the Bulls played a ugly contest tonight with the Pistons in which they frittered away a large lead.
The game began with an unremarkable hour or so of basketball, only marked by Reggie Jackson suffering what looked like a scary injury as he peeled around a pick on offense, but it thankfully turned out to be that he was merely poked in the eye. Also, Andre Drummond (14 points, 22 boars, 6 blocks in 42:32) continued his strong play against the Bulls this season with a handful of early rebounds.
Chicago managed to build a 16 point lead early in the third, but back-to-back threes and a crazy, one-handed scoop shot from Jackson as the shot clock expired. Buckets from all five Pistons on the floor (Jackson, Kentavious Caldwell-Pope, Caron Butler, Anthony Tolliver, Drummond) cut the lead from 16 to three in just three minutes. By the end of the quarter, the game was tied.
Pau Gasol finished with 26 points and ten rebounds, yet another amazing statline in a bounce-back season for the ages, but the Bulls seemed to thrive a bit better with him off the floor. With Joakim Noah (six points, nine boards, ten assists), Gibson and Nikola Mirotic on the floor, the Bulls regained the lead. While Noah on the bench for just two and a half minutes, Detroit came back yet again to tie the game at 78 with 2:26 remaining.
At that point, Aaron Brooks, despite one of the most brutal performances of his season, put Chicago up for good on a three and then a difficult drive off of a pick and roll with Gibson. Brooks scored, but both possessions were very disappointing, as Jimmy Butler and Nikola Mirotic were relegated to standing on the perimeter while a dangerous but inferior driver handled the ball in sets involving Gasol and then Gibson.
The Pistons made one final push by stymieing Pau on one end and then having Drummond beat him back down the floor for a score, as seen here:

However, Pau redeemed himself by emphatically jamming a putback of a Gibson miss, plus hitting the free throw to complete the and-1, making it 86-82 with 5.7 seconds to play.
Toronto lost to the Nets, putting the Bulls back in the driver's seat for the 3 seed, though this game showed signs that the Bulls still can be exposed, mainly with Pau's defense and Tom Thibodeau's confusing decision-making. By splitting 2-2 with Detroit, the Bulls have now split or won the season series with 26 teams. Only the Hawks have clinched over the Bulls, while Cleveland and Miami are yet to be resolved.