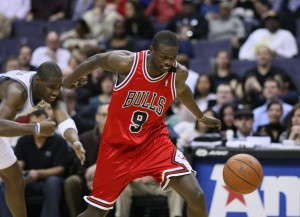 Chicago Bulls star Luol Deng has been traded to the Cleveland Cavaliers for Andrew Bynum and draft picks, league source tells RealGM.

— Shams Charania (@ShamsCharania) January 7, 2014
Wow.
Talk about a bombshell. Luol Deng has been dumped after roughly 9 and half seasons with Chicago. The choice of words there is intentional. The Bulls have essentially traded Deng for zero in on-the-floor contributors for this season. It's not hard to see why, though. Deng, owing to his being in the final year of his contract and his status as a soon to be unrestricted free agent, had limited value in trades. The Bulls extracted every last ounce of that value from this deal. In exchange for the final roughly 50 games of this season of Luol Deng, the Bulls will receive Andrew Bynum's contract, which will be promptly waived for savings against the salary cap to remove Chicago from the luxury tax, the right to swap first round picks with the Cavs in 2015 should the Cavs' pick land outside the lottery, a heavily-protected first round pick the Cavaliers held from the Sacramento Kings*, and an additional two second round picks.
That sounds like a lot, but the protections might make this a situation where the Bulls end up with only two second round picks and luxury tax avoidance for sending Deng packing. Still, it's worth it. I say that as someone who loves Luol Deng and values what he's brought to this team for nearly a decade, on both ends of the floor, very highly. Deng is just 28 years old, but he's logged an incredibly high number of minutes relative to a normal 28 year old NBA player, and given the usual decline of wing players post 30, he's very likely to be overpaid this off-season as an unrestricted free agent for his likely on-court production going forward. If the Bulls didn't have see any way they were going to reach a compromise they were comfortable with, contract-wise, with Deng, getting assets in return for him was always better than keeping him on to play out the string in a pretty pointless season, winning unimportant games and reducing the Bulls chances of getting a good player in the much ballyhooed 2014 draft. (Update: Woj reported, via Twitter, that the Bulls offered Deng a 3 year, $30 million extension, which Deng turned down. Ten million dollars per annum is the maximum Deng is probably worth going forward, given his heavily taxed body and the usual degradation that comes as wing players age, under the new CBA. 3 years is the maximum number of years the Bulls could offer Deng as an extension. Given these facts and Deng's refusal to sign the extension, the Bulls definitely made the right choice in grabbing assets for him, rather than losing him for nothing.)
The Bulls are, pretty clearly, setting up for a reload. Mitch Lawrence of the NY Daily News first reported a few days ago that the Bulls were definitely dealing Deng, prior to any specific deal being consummated. Lawrence also made it clear that according to his intel, the Bulls would amnesty Carlos Boozer in the offseason. Part 1 of the plan is now complete. It appears that Boozer now has a proverbial sword of Damocles hanging over his neck waiting to drop this offseason.  The Bulls should be in a great spot going forward, given their abundance of their much loved and discussed "flexibility." They just increased their chances of their own pick being a good one this offseason, they may receive the Charlotte Bobcats-Hornets 2014 pick if Charlotte keeps winning and find themselves outside the top 10 picks, and the Bulls have the best player in the world whose not already in the NBA set to arrive in time for next season. In addition, they've just added a bunch of extra picks and potential picks all by parting ways with Luol Deng a few months earlier than they might otherwise have done.
Oh, and that sound you heard at roughly midnight Central time? That was Tom Thibodeau shouting at the heavens, cursing Gar Forman for trading his beloved away. Hopefully, Jimmy Butler's up for 48 minutes a game for the rest of the season!
* The exact protections on the future Kings first pick are as follows, per Real GM: "Sacramento's 1st round pick to Cleveland protected for selections 1-12 in 2014, 1-10 in 2015, 1-10 in 2016 or 1-10 in 2017; if Sacramento has not conveyed a 1st round pick to Cleveland by 2017, then Sacramento will instead convey its 2017 2nd round pick to Cleveland protected for selections 56-60 (if this pick falls within its protected range and is therefore not conveyed, then Sacramento's obligation to Cleveland will be extinguished)."