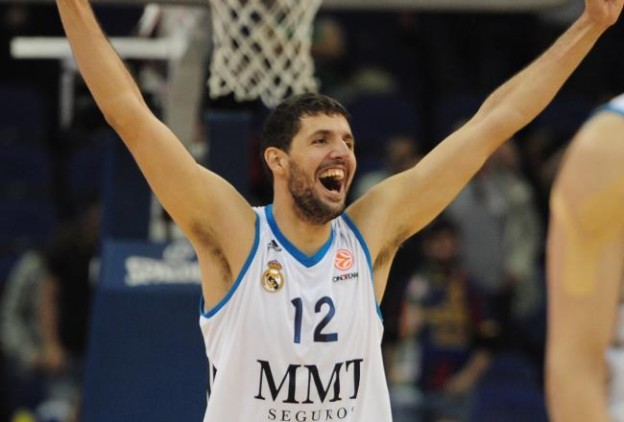 Hello everyone and welcome to the second of a series of scouting reports breaking down Nikola Mirotic's performance in the Euroleague. If you missed our opening post of the series, you can find it here. Today's game is Real Madrid's against Brose Baskets Bamberg at home. Unfortunately there wasn't much of Mirotic to watch and break down as he only played 17 minutes in the game- 10 minutes in the first quarter, two in the second quarter, and the final 5 in the third quarter. Because of the limited action after the first quarter, the majority of the analysis (and all of the images) come from the first quarter.
A few notes before I get into the game:
-One reader questioned the validity of the statement that the Chicago Bulls could pay as little or as much as needed to bring Mirotic over. I made this statement under assuming that the Bulls make the decision to allow use the amnesty clause on Carlos Boozer and let Luol Deng walk. With those moves, the Bulls would have roughly $11 million in cap space and can use however much money they'd like to sign him. If the Bulls do keep Boozer (a more realistic scenario) then they would only have the mid-level exception to bring over Mirotic. I failed to make this clarification in my post and apologize for any confusion that may have generated.
-A piece of information I believe is important to realize is that under the collective bargaining there's a value known as the "excluded amount," the amount of money from a buyout that doesn't count against a team's salary. For this coming offseason that value is set at $625,000, meaning the remainder of Mirotic's $2.5 million buyout will count against the cap. With a team like the Bulls, who are over the cap and can only offer the MLE, the buyout essentially comes out of Mirotic's contract/pocket. The end result is Mirotic would have to take a salary cut from his $4.4 million per year salary with Real Madrid.
-To discuss things in a more holistic sense, I've abandoned the categories except to highlight certain aspects of his performance.
Game 2: Vs. Brose Baskets Bamberg 10/24/2013
Box Score: 17 min, 12 pts (3-7 2PM-A; 2-2 3PM-A), 8 Rbs (4 off; 4 def), 3 Stls, 0 Ast
Offense:
Mirotic's offensive game tonight was far more limited than it was against Zalgiris, so there isn't much to discuss in this regard tonight. Shooting wise it shouldn't shock you when I say he demonstrated great touch and range on his shot. His selection wasn't refined as it was in the last game as he opted to take two shots that were heavily contested (both missed). When you compare something to perfect though there's obviously going to be a drop.
His screens on the ball were hit and miss- at times they were excellent and set up a basket, sometimes the opposing player would be able to run right by the screen with ease, and sometimes Mirotic seemed to bail from the screen too early (these may have been by design but after re-watching these instances it doesn't seem like it was). His off ball screens were phenomenal throughout the night though. Taking a wide stance at an angle, Mirotic freed up guards to cut into the lane. Often times on these screens Mirotic's defender would fall back to try to cut off the lane (while the guard's defender also followed) setting up Mirotic for an open three (both of his three pointers came from this design tonight).
There wasn't much passing for Mirotic in this game except to just get a guard the ball to move down court or so the guard can start a play. Because he wasn't around the basket much and his rebounds were long bounces off the rim, I didn't get a chance to assess Mirotic and his ability to fight around the rim.
Now for some highlights on offense:
Face Up:
Assuming Mirotic will act as Carlos Boozer's successor, one thing he needs to be able to do is face up opponents from midrange and create offense from there. Mirotic faced up in this game. The play started with Mirotic setting a screen for the guard and then rolling into open space (image 1). Mirotic then used a couple of jab steps to get his defender to back off and create some space. Image 3 shows Mirotic start dribbling the ball into the lane with his off hand while simultaneously protecting the ball. Mirotic cups the ball in image 4, thus protecting the ball from the guard at the free throw line, and begins his gather. Image 5 depicts Mirotic taking the shot with his left hand (which went off the back iron for a miss). While Mirotic did miss and this was the first time I've seen Mirotic face up (so small sample-size theater), I do like what  I saw. Mirotic demonstrated good ability to create space for himself and adequate ball handling. Mirotic did end up taking a bad shot, but part of that can be blamed on the fact that he had no other options. If you notice, two opposing guards cut passing lanes to the perimeter and there is a cluster of players just underneath the hoop. If his teammate who took a few steps out in image 5 had made his move a bit sooner, Mirotic could have passed out of the shot.
Post Work:
This sequence started when Mirotic moved into open space on the fast break (quick note- notice how it's 3 on 5. Mirotic got down the floor very quickly). Mirotic catches the ball and checks his defenders positioning while keeping the ball out of reach (image 2). After figuring out positioning on the floor, Mirotic begins trying to back down his opponent (image 3). While he wasn't overly successful, Mirotic was able to get his opponent to back up a step into the paint (image 4). In between image 4 and 5 Mirotic made some body fakes to get his defender off balance. We see in image 5 that Mirotic was extremely successful in shaking his defender as he puts in the bunny.
The sequence didn't quell my concerns about Mirotic's strength that I had after watching his first game, but it definitely was nice to Mirotic able to back down a bigger player even just a little bit. One thing I definitely noticed during this play (and in general) is that Mirotic's footwork is excellent and really helps him overcome his lack of strength. His footwork will translate over to the NBA, but with how much more difficult the competition is in the US, Mirotic will definitely need to compound his finesse with added muscle.
Fast Break:
This play happened so quickly I was only able to grab two images that were semi-clear. One thing I look forward to when Mirotic comes over is his incredible speed getting down the court. I briefly mentioned it last week but it was put on full display multiple times in this game. Just like in the sequence above, Real Madrid was able to get a rebound off a shot. Normally that kind of situation doesn't lead to fast breaks, but Mirotic was able to get down floor so quickly that he exploited Bamberg's transition defense to get into open space to ultimately take a layup (contested because Bamberg's center recovered at the last second). If Mirotic can continuously create fast breaks in situations out of nothing, Chicago's offense could become a bit more fast paced and exciting when he makes his transition over to the NBA.
Defense:
As he was last week, Mirotic on defense was very strong. His pick and roll defense was excellent as he rotated, cut off passes, and prevent rolls with relative ease. In one case he was able to stick with a eurostepping guard to heavily contest a floater (ultimately forcing the guard to make extreme adjustments and miss). When defending a player one-on-one, Mirotic almost never gave up any space and recovered well when he did (almost blocking a step back jumper at one point). When guarding in the post, Mirotic avoided fouling by going strait up which, with his length, forced his opponents to alter and miss their shots most of the time. When big men posted up on him, he was once again forced to back down further raising questions about his strength and ability to defend the NBA's bigs. Lastly, he demonstrated excellent footwork in the post while defending. Though he was backed down in several instances, he managed to recover by positioning himself and using his footwork to force his opponents into a tough position on the baseline and, on occasion, force turnovers.
Like on offense, there are a couple of things I would like to highlight:
Collapse/Help Defense: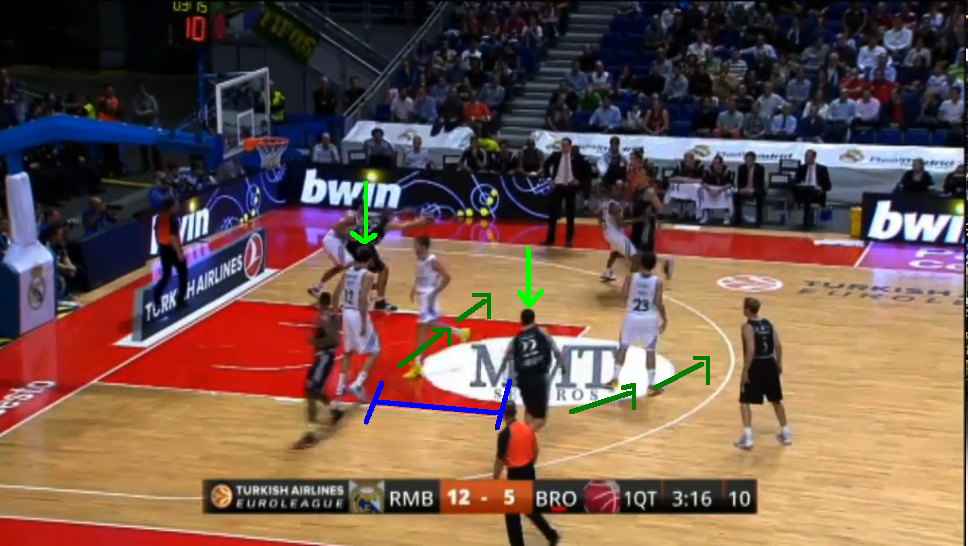 In the first game's report, I briefly mentioned that on defense Mirotic tends to guard players who roam around the perimeter but, while defending them, he collapses into the paint to help in the post. Once again this week he did the same thing. Both Mirotic and the man he's defending are pointed to in light green, and their paths around the court in dark green. The distance between the two is shown in blue. By collapsing a little bit, Mirotic allows himself to be in position to move around and shut down passing and driving lanes and get near the paint so he can help double team in the post while staying close enough to his man for a quick closeout. I'm sure Real Madrid has him do this by design, but the fact that he's able to successfully help, shut down lanes, and close out (and the fact that Real Madrid trusts him to do so on almost every defensive possession) speaks highly about his defensive abilities.
Entry Pass:
One thing I've repeatedly highlighted in both this report and the report for Real Madrid's first game is that Mirotic has really used his length well to prevent passes and force steals. What's so unique about this scenario is that Mirotic was able to use his length to deny an entry pass into the post despite the fact that his opponent was able to back his way down and get inside positioning against Mirotic. In the first image you see the two players fighting for position with Mirotic losing (he was backed down and was constantly pushed off). After being pushed off for what was by my count the second time, Mirotic recovered and managed to position himself on the side of his assignment and used his length to deny entry, though he did give up inside positioning. After the lob pass, Mirotic managed to quickly shuffle his feet in front of the defender and extended to tip the pass for a steal and fast break. While I'm not a fan of Mirotic (or anyong) giving up inside positioning, I was impressed by his quickness and recovery on defense to shut down what looked like a scoring play.
Conclusion:
This is only the second game so once again I want to avoid making any big conclusions from this game. I still am anxious about Mirotic's strength and I think that's going to be a recurring them moving forward unless he manages to pack on 10+ pounds of muscle in between now and future games. I definitely am starting to feel more confident in him as a defender despite the lack of strength. He's demonstrated great ability in various defensive situations thus far and is aware of everything going on around him at all times. Offensively I still need to see a bit more from him aside from him making jump shots, but I do like his footwork in the post. Thus far it's been impeccable.
—
That does it for this game. If there's something you want us to try to pay attention to in the coming games that we haven't already, please let us know and we'll keep an eye open for it next time around. The next analysis will be Mirotic's game against EA7 Emporio Armani Milano. Until then, thanks for reading and Happy New Year.