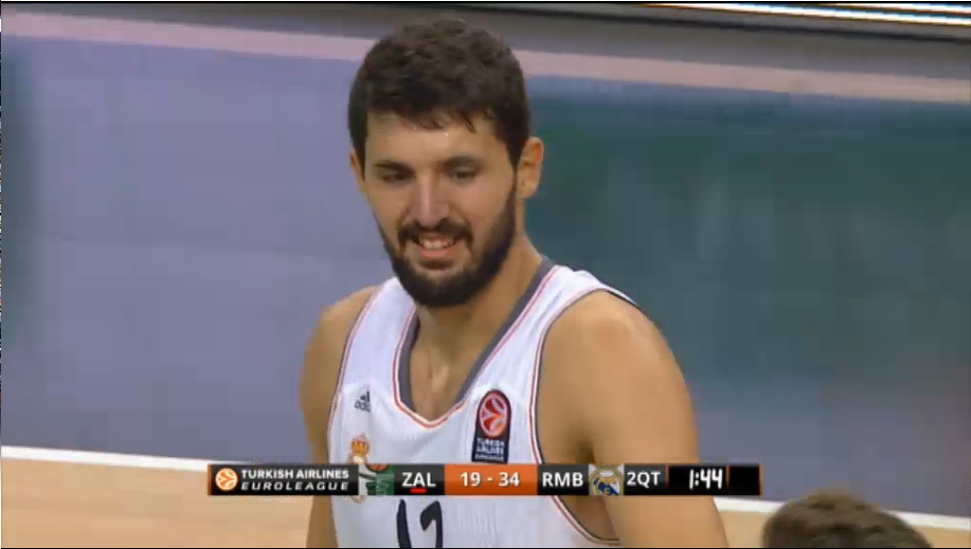 Despite the rumors that Real Madrid plans to try to extend Mirotic, there is a good chance that the 2014 NBA offseason will be the season that the Chicago Bulls bring Nikola Mirotic over to the NBA. In addition to his now affordable contract buyout, Mirotic is no longer subject to the rookie pay-scale thus allowing the Bulls can pay as much or as little as needed. In efforts to bring him over, the organization recently met with him and are reportedly doing everything they can to get him to get him to agree to a buyout.
This is good news for Bulls fans who have been excitedly waiting for Mirotic to cross the Atlantic. Since he was drafted in 2011, people have heard nothing but good things about the Spanish league phenom: he's supposedly the next Dirk Nowitzki; he has earned several accolades with Real Madrid, including the ACB Most Valuable player award; and is considered to be "the best player not in the NBA" by one scout. But aside from these things and some highlight reels set to Tupac Shakur on Youtube, people don't really know much about Mirotic. What are his strengths? Weaknesses? What should be expected of him when he comes over to the NBA?
To help answer some of these questions, I've undertaken the task of watching Real Madrid's Euroleague basketball games and breakdown and analyze how Mirotic plays on offense and defense. His play is broken down into categories on both sides of the ball and are analyzed individually. Because the Euroleague began in October and we're just starting this now, the next month or so of analysis will be on previously played games. Posts will go up two to three times per week depending on how long it takes to breakdown each game.
The following is analysis of Mirotic's first game of the 2013-2014 Euroleague season:
Game 1: @ Zalgiris Kaunas 10/18/2013
Box Score:
25 Min, 18 Pts (2-2 2PM-A; 3-4 3PM-A; 5-6 FTM-A), 5 Rbs (2 Off, 3 Def), 1 Ast, 2 Stl
Offense:
Box Out/Rebounding:
Let's get the bad out of the way first. I understand that as a stretch big his offensive rebound numbers will be low since he won't be hanging around the basket. However the times he was around the basket were not pretty. Often times Mirotic wouldn't even try to get into a position to fight for any possible offensive rebounds. When his teammates shot went up he would start heading back to play defense. This was most evident on free throws where he'd just start walking away as soon as the ball left his teammate's hands. Of the times Mirotic did fight to try to box out his opponent, he would often lose. The two times he did win positioning, he wouldn't get the rebound because he would barely jump off the floor.
Isolation Offense/Post Work/Finishing:
By my count, Mirotic took his defender on one-on-one two times in the game- one of which he scored on, the other which he passed out of. The one that he finished on his own was done when he called for the ball in the post and went to work against his man. During this possession, Mirotic tried to back his opponent down but barely moved him. However, using extremely solid foot work and a good number of body fakes, Mirotic was able to create ample space for himself and put up a hook shot. His finishing touch on this shot was excellent as the balled went through the hoop perfectly. I'm hoping in the future I'll be able to see more of his post work/isolation offense/finishing so we can get a better idea of how good he is.
Shooting/Decision Making:

I won't spend too much time on this since any Youtube search will show you everything you need to know. In this game Mirotic took 5 of his 6 shots out of catch-and-shoot situations in both fast break and half-court sets. Each of his jump shots travelled along a very high arc and he demonstrated an extremely quick and high release. He showed excellent touch from both midrange and beyond the arc and, without even taking a shot from that far out, showed me he can take a shot from NBA distance. His decision making when deciding when to shoot was perfect. In at least 4 different instances Mirotic would catch the ball for an open jumper but then would opt to pass on it for an even better shot, whether it be for himself of another teammate.
Off-Ball Movement:
When it came to off-ball movement, Mirotic was a mixed bag. First off, his ability to get down the court was excellent, especially for a big man. When moving in a half-court set, Mirotic was able to run around screens and get into open space on most possessions. Which would either set him up for a shot or get the defense out of shape as they try to recover, thus getting another open shot for one of his teammates. However, this was when he did move. On a good number of possessions, I noticed that Mirotic would find a spot behind the arc that he liked and would just stand there and wait for the ball. However, this may also be a result of the system/league he's playing in as I noticed that a good number of players would just stand around and wait for the ball, not just Mirotic. We'll see what it is in later games.
Pick and Roll/Pop:
Mirotic was really solid at setting screens in this game. Very rarely did he set one up at a bad angle that would lead the ball-handler into poor positioning. I hope to see Mirotic improve on what he does after the screen though. While he did create good opportunities to roll to the basket or fan out for the jump shot, Mirotic would occasionally wait just a few moments too long to commit and would end up blowing his windows of opportunity.
Passing:
When Mirotic got the ball in this game he was usually very open and would simply just take the shot. There isn't much to say about his passing for this game, however there is one moment from this game that stood out. Towards the end of the second half upon grabbing the defensive rebound, Mirotic quickly scanned the floor and found a streaking guard around roughly the half-court mark. Using an over-the-head throw, Mirotic was able to hit his teammate with a pass in the chest and in-stride that set up the quick fast break score. I'm hoping I get to see more instances of his passing to see just how strong he is in that regard.
Defense:
Box-Out/Rebounding:
Like on offense, Mirotic had trouble boxing players out of the post and was constantly fighting to get positioning. This ignores the times that Mirotic spend defending a player on the perimeter only to collapse in for a rebound after an opponent shot the ball. He did demonstrate good footwork and ability to to use his teammates' boxout to get the rebound for his team, but aside from that there was something to be desired.
Isolation:
By himself, Mirotic was a solid defender. He was able to use his length to disrupt passes and, as a result, kept the ball out of his man's hands. In addition to this, Mirotic also tracked the opponent well and stuck to him like glue. I didn't see any instances of Mirotic losing his man on defense even through traffic and, as a result, he disallowed his opponent to ever get up a jump shot.
Post:
Mirotic in the post demonstrated excellent footwork to keep his balance and contest shots without fouling. Using his incredible wingspan, he was also able to force adjustments around the rim without jumping. However, I do have concerns about his ability to guard big men in the post as players were repeatedly able to back down on him with relative ease.
Pick and Roll/Pop:
Mirotic was EXCELLENT (and I can't emphasize that enough) when guarding the pick and roll/pop in this game. Mirotic never once lost track of the man setting the screen and would prevent the screener from rolling to the basket or fanning out for a shot well (occasionally getting his hand in the way of the pass to cause a turnover). When he switched onto guards, his lateral movement was excellent and he was able to stay in front of the guard for the most part. The images below show one such play where Mirotic's lateral quickness forced the bad shot and a block (partially by both the center who rotates over to help and Mirotic). The red arrow points to Mirotic.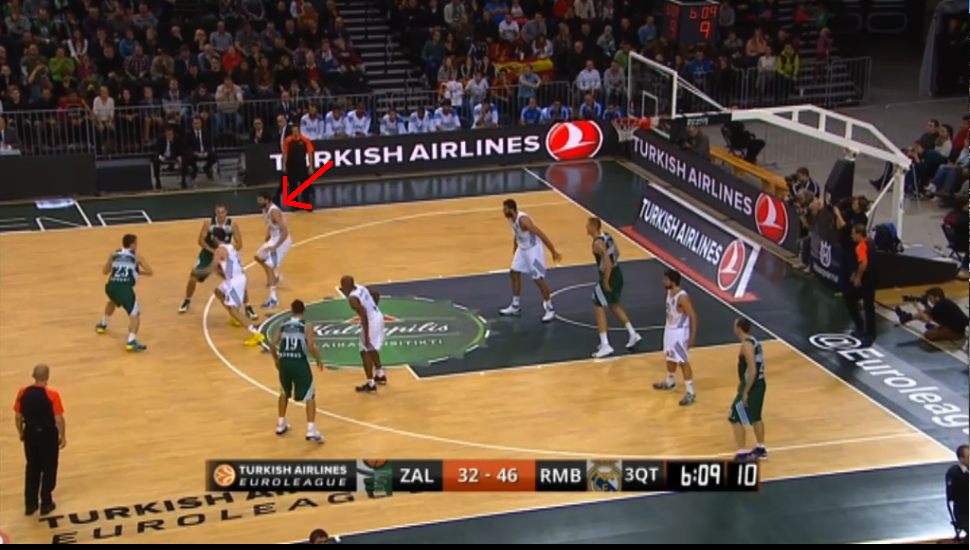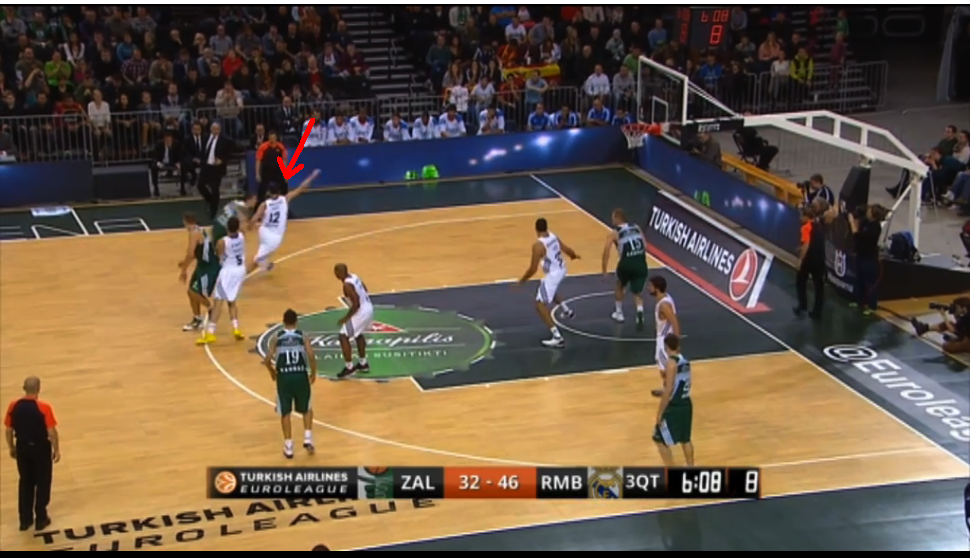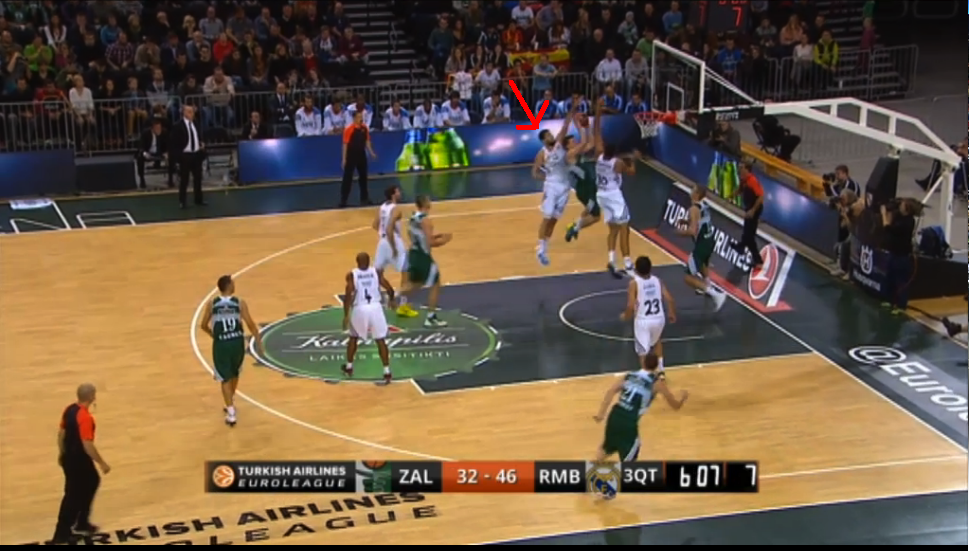 Help:
Because the man Mirotic was assigned to guard roamed around the perimeter, Mirotic was rarely in a position where he had to and could help his teammates. The few instances where Mirotic could have helped, he didn't; however I would attribute those instances to a breakdown in the team defense rather than pin it solely on Mirotic.
Positioning:
Mirotic managed to position himself well throughout the game. Though he would be guarding man on the perimeter, he would collapse towards the paint a little bit to force players driving or cutting to the hoop to find an alternative route. I noticed that whenever Mirotic collapsed the attack to the basket would always come from the opposite side. In addition to this, Mirotic always kept himself close to the passing lanes into the post and would use his wingspan to poke the ball loose. Lastly, his individual positioning against players on inbounds also caused a great deal of trouble for Zalgiris. One inbound play in the first quarter saw Mirotic press up against his opponent at an angle and then use his wingspan to knock the ball to the ground. After one bounce, Mirotic's hands essentially palmed the ball and he got the steal for his team.
Conclusions:
Because this is a one game sample size, I'm not going to make any conclusions. However I will say two things. First, now I understand why people speak so highly of his offensive game as his shot looked phenomenal. Secondly, I have some concerns about his strength be he was pushed around a bit. In a league as physical as the NBA, I wonder just how effective he'll be guarding some of the more physical players.
—
That wraps it up for this game everyone. I hope you found the breakdown useful or, at the very least, entertaining. The next breakdown will feature more images of Mirotic's play (they were left out of this one for the sake of length). If you have any areas of the game that I should try to focus on analyzing more, let me know and I'll try to pay more attention to it the next time around. Otherwise I'll see you all for the breakdown of Mirotic's next game against Brose Baskets.