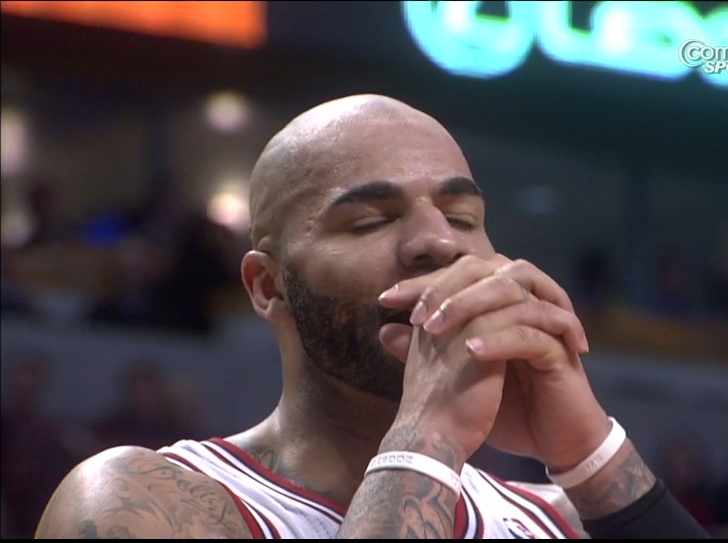 Carlos Boozer being benched late in games in favor of Taj Gibson is a move we've become accustomed to seeing Thibodeau make over the past several years. In previous years Boozer, though a better offensive option, was a giant hole on defense that Thibodeau couldn't trust. And this year, we've seen Thibodeau play Gibson more late in games as Gibson has improved his offensive game.
Obviously no one likes to be benched, especially guys at the highest level of the game. But in Chicago, a fairly quiet organization, no one has publicly complained about their grievances (at least not the players… looking at you Reggie Rose). That all changed today when Boozer vented his frustrations to ESPN's Nick Friedell.
Boozer very frustrated with his lack of minutes in the fourth quarter. Wants to make it clear he would like to play more down the stretch.

— Nick Friedell (@NickFriedell) February 3, 2014
Boozer on 4th Q minutes: "I think I should be out there but it's (Thibs') choice. He makes the decisions out there. I play, he coaches …"

— Nick Friedell (@NickFriedell) February 3, 2014
Boozer:"He's been doing that a lot since I've been here, not putting me in the 4th qtr. Sometimes we win, but more times than not we don't"

— Nick Friedell (@NickFriedell) February 3, 2014
Again, the frustration is understandable. No one wants and likes to be benched. But going public with his frustrations was not the smartest move by Boozer, especially when the organization he works for is intensely private and tries to keep all matters internal (quite successfully might I add).
What's more is Boozer's comments are a bit ridiculous. As our friend's at Blog-A-Bull have pointed out, the numbers show Taj Gibson has been significantly better in the fourth quarter than Boozer;
In 116 fourth-quarter minutes, Boozer is shooting just 40.0 percent from the field, by far his worst mark of any quarter (not counting overtimes). Meanwhile, Gibson is at 49.0 percent in 451 fourth-quarter minutes.

Going further, the team has simply performed better with Gibson on the court in the fourth quarter this year. Gibson has a net rating of 0.9 in the fourth quarter, while Boozer's is -7.0. Want more? Boozer is generally terrible when the game is close, shooting under 40 percent when the score is within five points. Gibson is at 47.0 percent in those situations this year.
How Thibodeau handles the situation with Boozer will be interesting to see but our guess is that it'll involve some screaming, spit flying out of his mouth as he speaks, and his skin turning some hue of red.
If you want to read the full ESPN report, it can be found here.