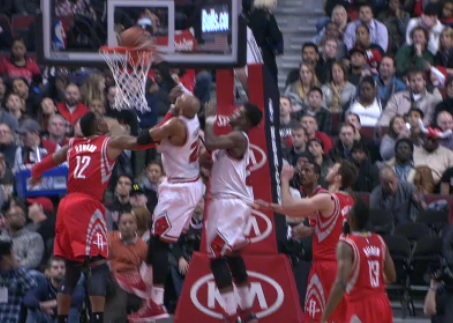 The Bulls have had more emphatic wins than the one they notched tonight. They thumped the Knicks to open the year, mounted an impressive comeback over the Clippers in Los Angeles, claimed two victories over Toronto, won shorthanded in Memphis on a road back-to-back and came through with an emotional triumph in Washington. However, tonight felt more meaningful than any of them. Before covering why, let's recap the action.
Houston claimed an early lead on the back of MVP frontrunner James Harden. He netted seven quick points, absolutely torching Kirk Hinrich, whose inability to hang with the bearded one was all too predictable. It's unclear why Kirk started on Harden, but the combination of Jimmy missing the previous game on bereavement leave and that the Bulls adjusted makes it hard to criticize. They tried it, it didn't work, and they went away from it. That's all you can ask. Answering Harden's contributions for Chicago was Pau Gasol, as he's done so often for them this season. In the first quarter alone, he had 18 points and six rebounds. Similar to LaMarcus Aldridge in last year's playoffs, Gasol attacked Houston by using Dwight Howard's reluctance to stretch away from the basket against him. The midrange game was always there and he got in a good rhythm. Finishing with 27 and 14, he's now gone 25/13 in consecutive games for the second time this year. The rest of the league combined has done that once, achieved, as one might guess, by Anthony Davis.
Once Pau exited to start the second, Derrick Rose picked up where Gasol left off. After starting 0-3, Rose hit his next four shots, finishing the half 4-9. Just 6-17 overall, it was still an improvement from his recent dismal shooting. Houston got contributions from Patrick Beverley and new addition Josh Smith. Beverley continually attack the boards on offense, creating second chance opportunities. He converted all six shot attempts in the opening half before fading to finish 7-12 for 14 points. Smith had his typical mixed bag performance that is becoming the norm with Houston. Taking into account both volume and efficiency, he had his best night as a Rocket, going 10-20 for 21 points. The downside to that was he got back to chucking threes as he had in Detroit. After not taking more than two in any game since joining the team, he took five triples, and a couple of the four misses were rather damaging. He also had four turnovers for the fourth time in seven games as a Rocket.
Tied at halftime and deep into the third, this was a game of runs marked by lots of penetration to the rim. The Bulls got easy alley-oops to Gasol and Butler, with Taj Gibson adding a nasty one-handed putback and Nikola Mirotic added the most emphatic dunk of his young career. Meanwhile, Houston only got to the line three times in the first three quarters largely as a byproduct of the Bulls offering no resistance at the rim whatsoever.
At 83-all, Houston finished the third with a transition three, a point off of a Thibs technical, and finally a Smith tip-in. Despite Jimmy shutting down Harden (no field goals after halftime, per K.C. Johnson, and just 4-19 after starting 3-3), a couple buckets from Mirotic and the Rockets giving Hinrich all day to knock down a corner three, Houston still led 100-95 going into timeout at the 5:41 mark. The scoring frenzy ceased for over two minutes, Houston unable to put the game away and Chicago unable to pull even. Then, in less than 30 seconds, the Bulls had tied it at 100 thanks to buckets from Gasol and Butler.
After a Houston timeout, Jimmy drew a charge on Harden and Pau put the Bulls up with a pair of free throws. Smith hit his lone three to put the Rockets back up, but that would be their last field goal of the game and threes from Butler and Mirotic iced the win.
Both teams played well, and it was one of those games that just came down to whose shots fell. That element, plus their poor interior defense, make it hard to call this the best Bulls win of the year. What makes it the most meaningful is that they again executed offensively down the stretch, hitting big shots and getting fantastic passing from Rose and Gasol, and Thibs finished the game with Hinrich on the bench. Mike Dunleavy remains injured, so Mirotic got his most time yet at small forward, and he rewarded the Bulls for their trust in him. If they can finish games going forward with Rose, Butler, Mirotic and some combination of Noah/Pau/Taj, they'd finally be putting the most talent on the floor that they can. They won't succeed deep into the playoffs without doing just that.
Chicago now sits at 25-10, the sixth-best record in the league, as well as second in the East. They're 13-2 since the disappointing home loss to Golden State and will have a chance to solidify their standing in the East over the next two weeks with two games against the Wizards and opportunities to avenge close defeats to Cleveland and Atlanta.