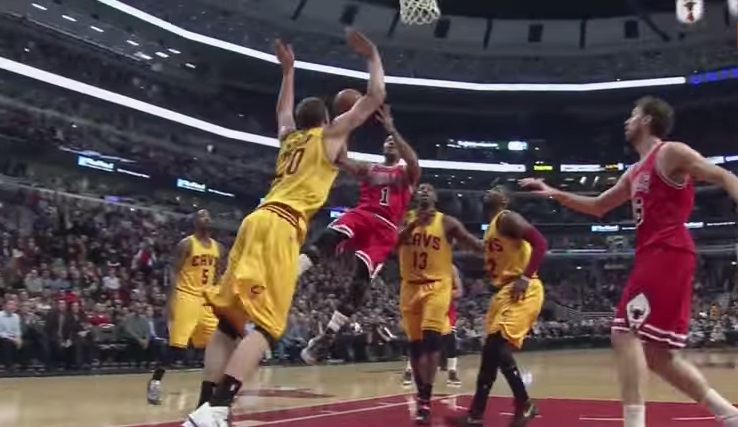 They were merely fine, then they were world-beaters, then they were the basketball version of a dog trying to walk around with a cone on its head, and now they seem back to themselves.
This All-Star break has been a nice respite from an emotional roller coaster of a season for the Bulls. Let's briefly look back at the season thus far.
Team record: 34-20, .630 win %, third best record in the East and tenth overall. For context, their records at the All-Star break under Tom Thibodeau are 38-16 (2011), 27-8 (2012, lockout season), 30-22 (2013) and 27-25 (2014).
Best win of the season nominees:
October 29th- The 104-80 opening blowout in New York. It was a fantastic way to start the season, as the Bulls depth and weaponry were on full display in the Garden against a Knicks team that hadn't yet been exposed as terrible.
November 17th- Coming back to beat the Clippers 105-89 in Los Angeles. The Bulls erased a 14 point deficit before halftime, despite Derrick Rose and Pau Gasol being in street clothes. Jimmy Butler played the entire second half, and countered his 6-17 shooting with eight assists, ten free throw attempts and smothering defense. Probably Kirk Hinrich's best game of the year, as he hit 4-6 from three and added five assists in 34 minutes in Rose's absence.
December 19th- Going into the Grindhouse on the second end of a back-to-back sans Rose and Taj Gibson and coming out of it with a 103-97 win. The Bulls got little offensively from their starters, as Gasol scored just six points, while Hinrich and Mike Dunleavy notched just five apiece. Picking up the slack was Butler, with 31 points and 10 boards in 43 minutes. This game is best known as Nikola Mirotic's breakout performance, as he hit all six triples en route to 27 points, essentially rendering ground-bound Zach Randolph unplayable.
December 23rd- A night after handling the Raptors again, the Bulls had to travel to Washington for their first regular season meeting since their playoff series. Chicago tapped into their old emotional identity as opposed to their newfound offensive firepower, handling the Wizards most of the night until John Wall took over and had the place rocking. Rose tapped into his old MVP form and took the air right out of the building, famously strut-skipping back to the bench after a big basket.
The Derrick Rose Skip https://t.co/O7woag5hne

— Michael Lee (@MrMichaelLee) December 24, 2014
January 22nd- Having lost four out of five, the Bulls came out on national TV and steamrolled the defending champion Spurs, 104-81. There weren't any virtuoso individual performances and the Spurs were somewhat flat, but this game helped quiet down the buzz that had begun to hover over the Bulls in their malaise to start 2015.
January 27th- With Jimmy Butler sidelined, the Bulls lived up to their Streakbusters moniker, snapping Golden State's 19 game home winning streak, becoming the first team from the East to defeat the Warriors. It wasn't pretty, as the teams combined for 17-62 from three, and the Warriors didn't hit a single triple after halftime. It was an intriguing contrast of styles, as the Dubs were forced to go small in Andrew Bogut's absence, so at times coach Steve Kerr doubled down, going super small against Thibs' super big lineups with Mirotic at small forward. This one inspired a stats-versus-eye test debate, as Rose infamously posted 11 turnovers and didn't tally an assist until a shocking Curry turnover led to Rose finding Hinrich amid the chaos for his only made three in six attempts. Just 13-33 shooting, Rose carried an ineffective Bulls offense and hit the game-winner in overtime with a difficult 20-footer over Klay Thompson.
The winner- It comes down to Washington or Golden State. The Warriors game relied on their opponent missing shots, but featured an iconic summation of the Derrick Rose Experience. The Wizards game saw an impressive and focused effort, plus heroics from Rose, however, it's been retroactively tainted by the way Washington has trumped them since that night. The edge goes to the win in Oracle, buoyed by a sneaky 18/15/6 line from Joakim Noah and that one could sense Thibs flipping off every single hater as Kirk hit the pivotal shot after bricking everything all night.
Worst loss: In a category certainly not lacking for candidates, the loss in L.A. takes the cake. In the words of Stefon, this game had everything: Pau being lazy on defense, Rose taking awful threes, Kirk being useless and Thibs neglecting to play Mirotic, all in a super-sized portion as the loss came in double overtime, caused by a giant choke by the Lakers at the end of regulation and the Bulls repaying the favor in the first overtime.
The good, the bad, everything in between, it's all in the rearview mirror now, just as it is for every team, contenders and tankers alike. Here's what the homestretch holds for the Bulls.
Schedule:
The Bulls have defeated 13 of the 14 teams in the West that they have played. They've yet to play OKC and lost 99-93 to the Suns in Phoenix. By my count, the Bulls are one of eight teams still capable of notching victories over all 30 teams (ATL, CHI, CLE, DAL, GS, MEM, SA, TOR), something only Oklahoma City was able to pull off last year. To complete the feat, the Bulls need to win Saturday versus Phoenix, at least split against OKC and then win the regular season finale against Atlanta, who may have wrapped up the #1 seed long before then.
As for rest, the Bulls are done with road trips west of Texas. OKC and San Antonio are the only Western teams the Bulls have yet to visit. After having five back-to-backs in the month leading up to the break, only five back-to-backs await Chicago in the remaining two months of the regular season, with a four-in-five-nights stretch of OKC/@IND/off/@SA/MEM in early March representing the toughest stretch by far.
The Bulls have nine national TV games on tap, the first three at home, the last four on the road. All four Sunday games left for the Bulls will be on ABC.
The Players:
Derrick Rose- The restrictions have slowly been lifted and he's answered the bell. In his last ten games, he's averaging over 36 minutes, and it's clear he's only going to play under 30 minutes in absolute blowouts, such as the win over New Orleans. In the 2014 portion of the season, he scored 20 points on nine occasions and was inactive for ten. Since the calendar turned to 2015, he's had 11 games with 20 points and missed just one contest.
Whether you believe the report or not, it's pretty crazy to think back about the story that Rose had to prove to Carmelo Anthony that he was healthy during Melo's free agent tour. Imagine telling someone a year ago that Rose would play more games by the All-Star break than Kevin Durant, Russell Westbrook, Kawhi Leonard or Dwight Howard. It's a good reminder that even with medical histories, predicting the health of athletes is nigh impossible.
Jimmy Butler- He's not the MVP candidate he was to start the season, but he's not the guy who struggled mightily after that either. He's somewhere in-between, and that's really all the Bulls need. He can still dial up the defense (ask James Harden), and he's hitting enough threes (34.2%) to supplement his drives to the rim and the offense overall.
Joakim Noah- Appears to have been on point when he said he felt better. His points, rebounds and assists are up, and not just because of a slight minutes bump. If he's right, all the concerns about the on-court chemistry will mostly solve themselves. A hampered Noah is a tough player to watch. A healthy Noah is one of the most valuable players in the sport.
Pau Gasol- At this point, we know what Pau is. He's playing a ton of minutes for a seven-footer his age, but he hasn't worn down as some expected, at least not yet. It sounds weird to say about a guy who started in the All-Star Game, but the Bulls season doesn't really hinge on Pau. By that, I mean he's not as important as Rose and Noah, and arguably Butler, and conversely, while there are times Taj Gibson or Mirotic should be playing instead of him, Pau being on the floor isn't going to cost them games in the way Carlos Boozer could.
Mike Dunleavy- His absence showed all of the areas he shores up for Chicago. He's easily the most threatening shooter on the rosterm and by always moving around the floor he churns the offense, preventing it from getting stale as things often can under Thibs.
Taj Gibson- For whatever reason, he just hasn't been the destructive, game-changing force we're used to seeing as recently as the Wizards series. Could be his continued sixth-man role finally getting to him, or more likely that his continual ankle injuries have him hobbled. The Bulls need more out of Taj, but I'm not overly concerned about him.
Kirk Hinrich-Needs to be a limited minutes guy, solely at backup point sharing minutes with Aaron Brooks. However, despite numerous ways of examination showing Kirk having one of the worst offensive seasons in recent memory, it appears it'll be business as usual upon his return from injury. In a way I feel bad for him because we know that he knows he's not meant to play as much as he does, if nothing else because his body can't handle it at his age. Unfortunately, he plays for a coach who believes injuries are for the weak and that fatigue sliders can be turned off.
Tony Snell- He's obviously not going to maintain the play that inspired me to make this:
GIVE THIS MAN A STATUE pic.twitter.com/iE7DkFJZRQ

— Trenton Jocz (@TrentonJocz) February 13, 2015
However, there's not a single reason imaginable to relegate Snell back to the bench. If Thibs does, it'll be the most egregious offense of his entire tenure.
Nikola Mirotic and Doug McDermott- Though Niko plays much more than McDermott, I've grouped them together because it just seems clear that Thibs isn't going to use either of them come playoff time. The 96 big man minutes will get absorbed by the Noah/Gasol/Gibson trio, leaving Mirotic fending for small forward opportunities that Thibs would prefer to give to Snell. What a shame.
Playoff Outlook:
Best case scenario for the Bulls is to get into the 2-3 matchup with the Raptors, the contender they've had the most success against. Predicting their first-round opponent is a fool's errand, considering it could be determined by the health of Dwyane Wade and Paul George. Their returns for Miami and Indiana would make the Bucks the most enviable 6-8 seed to play, rather than the least, as they are at the moment. Getting the Raptors while the Hawks, Cavs and Wizards duke it out on the other side of the bracket would be a dream. Anything short of the conference finals would be a huge disappointment. I still trust their size and experience to get them to the Finals, where I think a better coached, more complete team will defeat them in a tough series.