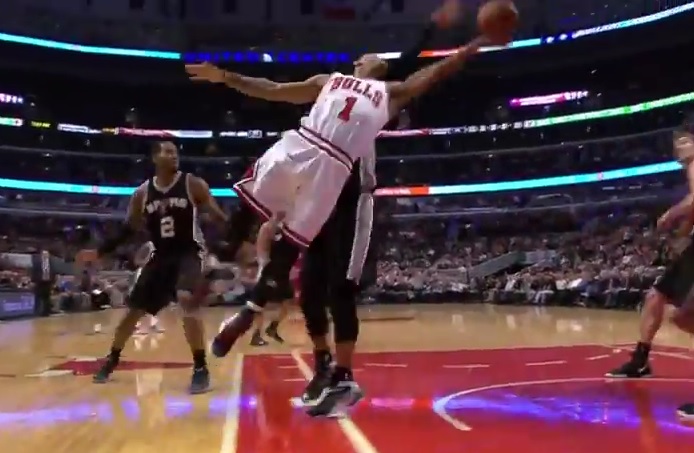 Seeing as the Bulls have played their best against contenders this year, it only makes sense that they would break out of their slump in emphatic fashion against the Spurs, last year's champion and the most successful franchise of the last 15 or so years.
Chicago came out focused right off the bat, led by Derrick Rose. Attacking the basket as relentlessly as he has all season, he backed up his semi-controversial airing of dirty laundry following the embarrassing loss in Cleveland. In a game with many interesting threads on the long-term direction of the team, Rose displayed the kind of leadership that he couldn't while injured and that he didn't have to when Joakim Noah was on court with him. His raw numbers don't pop out because he didn't play heavy minutes in the relative blowout, but he had 15 points and four assists on 7-11 from the floor in the first half. His first ten points all came in the paint, as he uncharacteristically worked inside-out. Upon scoring inside, he took that rhythm to the perimeter, marked by eschewing an open Aaron Brooks on a 2-on-2 fastbreak to dribble back out to the wing and drill a three of his own with a hand in his face.
His start was critical as Jimmy Butler had a rare game where he was in foul trouble. Two quick calls sent him to the bench, and Tom Thibodeau's call to re-insert Tony Snell into the starting lineup became irrelevant as Kirk Hinrich was pressed into early duty to relieve Butler. The first quarter and much of the first half saw both teams struggling to hit shots. Rose and Kawhi Leonard were the guys keeping this from becoming plain ugly basketball. Per ESPN Stats and Info, the Bulls shot 51.1% while Rose, who finished with 22 points and five assists, was on the court, compared to 41.4% with him on the bench.
The Bulls dug out a lead largely by getting back to their trademark toughness. Taj Gibson was just 5-13 shooting, but he made his presence felt in the interior. Pau Gasol, who was named an All-Star starter and will join his brother Marc as the only brothers to start opposite each other in the All-Star Game, had only 12 points, but that came on merely six shots, and he added 17 rebounds. Thibs clearly wanted to get back to that defensive mentality, as he leapfrogged Nikola Mirotic in the rotation with Nazr Mohammed, who was considered a veteran before most of his teammates were even in the league. In limited minutes during the competitive portion of the game, Mirotic again opened up the floor for Rose even without hitting shots of his own.
Chicago was much more active on defense, but I'd be remiss if I didn't mention that San Antonio's old guard just didn't have it tonight. In limited minutes, Tim Duncan, Tony Parker and Manu Ginobili had 17 points combined on 7-22 shooting. Ginobili had good looks as Rose was eager to leave him and help elsewhere, and he just couldn't knock them down.
The game was not out of hand, as Chicago led 46-40 at the break, though the Bulls began the second half with a quick 7-0 spurt. After a Spurs timeout, they kept it going, pushing the lead up to 20 and more, peaking at 73-48. At that point, Leonard, Parker and Ginobili took a seat, and unlike some other coaches, ahem, Gregg Popovich did not overreact to his subs trimming the lead by reinserting his stars.
Rose took a page out of Pop's playbook by removing himself early in the fourth. Pau and Jimmy played too deep into the game, counteracted a bit by Jimmy's foul trouble, which made this just the second time all season Butler failed to play 30 minutes in a game.
Rarely do we talk about heavy minutes encouragingly when it comes to the Bulls, but Tony Snell played a season-high 34 minutes. While the box score looks ugly (0-6 from three), he made some nice drives to the basket and his length made some impact. An example: early in the third, with Kawhi guarding Rose, Snell proved too big for Parker to handle on a drive to the hoop. Had it been Kirk Hinrich, hiding Parker would have been an easier task. Snell has his rough moments, but it serves the team best in the long run to let him figure things out. If it doesn't work, Hinrich is a known quantity and has played enough with his teammates to slide right back in.
This effort comes after a couple days to re-group and we'll see if the limited minutes from tonight help as the Bulls travel to Dallas on a back-to-back tomorrow and show Thibs that maybe, just maybe, the team benefits when given more time off.