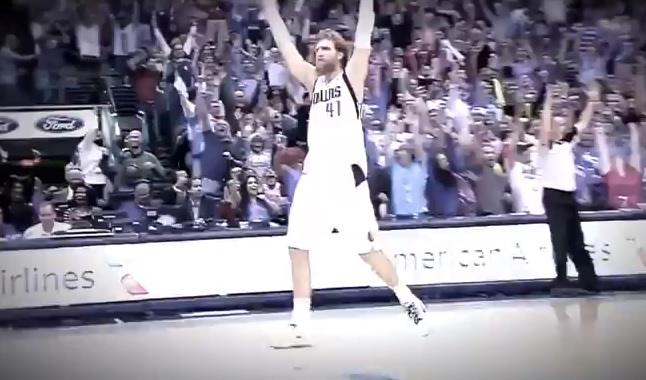 The Bulls can't even get blown out right. Regardless of if you saw tonight's game or not, there's only one fact you need to know about Chicago's 105-83 loss at home to the Mavericks: Accounting for a 1:14 "breather" in the first half and the last minute-plus where Tom Thibodeau actually waved the white flag, Jimmy Butler, who recently said he feels his turf toe injury may follow him for the rest of the career, played 45 minutes and 43 seconds. Shockingly, ESPN's Nick Friedell said Butler was seen limping in the locker room after the game.
In their first meeting since Dirk Nowitzki dropped 15 in the fourth, capped by a game-winning 3 to shock Nate Robinson (7 of 7 from downtown!) and the Bulls back in March, the same old Bulls and the new look Mavs played a drastically different game, with Dallas pushing their lead to 32 at 86-54 in the final minute of the third quarter before an 18-0 run gave the Bulls false hope.
Despite five turnovers in the first six minutes, the Bulls led at the 3:30 mark of the opening frame after Butler poked away an inbounds pass and scored. At that point, Mavs coach Rick Carlisle called the first of many wonderful timeouts of the night and Dallas never looked back. After leading 17-15, the Bulls needed the rest of the half to score 17 more, while allowing 46 to find themselves in a 61-34 halftime hole.
This doom and gloom story obscures a couple uplifting observations. First, after missing practice yesterday with a sore hip, Joakim Noah looked fantastic. He scored 20 points on 8/11 shooting, added ten rebounds, and finished strong at the hoop multiple times, including a couple and-1's as well as tipping this pass to himself, hauling it in and scoring off glass: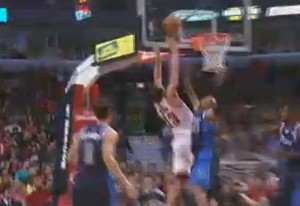 Also, while Mike Dunleavy was only 3-9 and saw less playing time than usual due to early foul trouble, it struck me how he looks much more comfortable in the offense than he did early in the season. It's a shame Derrick Rose didn't get to play with an integrated Dunleavy and such a spry Noah before getting hurt.
Dallas crushed the Bulls with a balanced attack. They got between 14 and 22 points each from Nowitzki, Monta Ellis, Vince Carter and Shawn Marion. They had space to drive into the lane, as well as space to shoot when they kicked it out, leading to a 13-26 assault from deep, which included four point plays less than three minutes apart from Dirk and Jae Crowder.
What really stuck out in this game while it was still competitive is the versatility in the two squads. At all times, the Bulls have some combo of the Noah/Boozer/Gibson trio, save for Nazr Mohammed's usual stint in the second quarter, with two of the Deng/Butler/Dunleavy/Snell wing group, depending on who's healthy and a point guard. The only time that changes is if Thibs wants to close with a dual point guard lineup. On the other hand, when Dirk sat midway through the first, they threw out a Calderon/Ellis/Carter/Marion/Blair lineup, and in the second quarter, Calderon/Larkin/Crowder/Dirk/Wright, just to name a couple. Some of that is roster construction, but some of it is Thibs not wanting to go small and try something different. Would going small with Augustin/Dunleavy/Butler/Deng (when healthy) and whoever's playing better between Jo and Taj work? Not necessarily, but it would be nice to see something other than the regular five or six lineup iterations, and I'm tired of seeing Noah and Gibson worked to death in the second half because Boozer is having another bad game and Thibs wants to stay big.
Whether you want the Bulls to stay competitive and fight for a playoff spot or do what they can to tank for a lottery pick in this loaded draft, both sides should be able to agree on this: when the team is getting blown out, hope they continue to get blown out. That aforementioned 18-0 run was enough for Thibs to keep pursuing a game that had been lost long before, and instead of Butler and Noah getting a reprieve from heavy minutes, they stayed in far longer than they should have. Consider, the closest Chicago got in the second half was 14 points, yet Butler played 23 minutes straight. That doesn't help the team in the short-term or the long-term. (Side note: the Bulls crowd got pretty pumped up to "Welcome to the Jungle" despite being down 18 with less than five minutes to go. Can a crowd have Stockholm Syndrome?)
I don't want every recap I do to become a referendum on the state of the Bulls, but it's hard to not to get frustrated at the repeated mistakes the franchise makes with injuries. Despite another lost season because of Derrick Rose being hurt, this team has as good a chance as any team (well, any team that doesn't have LeBron) to win a title in the near future. A couple Twitter arguments have been borne from this statement, but there aren't more than a couple teams I'd rather be than the Bulls for the foreseeable future. The quartet of teams in bigger markets Los Angeles and New York have some combination of awful ownership (Clippers, Knicks, potentially the Lakers), no star to build around (Lakers and arguably the Nets) and no picks (Knicks, Lakers, Nets). Oklahoma City and Indiana have two game-changing superstars apiece with great front offices, but are under mandates to avoid the luxury tax and may not be able to do what it takes to add to or maintain a title contender. San Antonio and Dallas have top-notch ownership, management and coaching, but for as great as they are, Tim Duncan and Nowitzki are not only on the wrong side of 30, they're on the wrong side of 35.
Chicago has a game-changing star when healthy in Rose (some feel he'll never again be healthy enough to be an alpha-dog, but I remain optimistic, perhaps because I care far more about Rose as a player than I do the Bulls as a franchise), a defensive anchor in Noah, and supporting players in Butler and Gibson even if they trade or fail to re-sign Luol Deng. They have the best player not in the NBA arriving as soon as next year in Nikola Mirotic and a good shot at two picks in the top 20 of the best draft in a decade. They have a defensive mastermind at coach and a front office that makes up for, ahem, poor people skills, with fantastic scouting. Chicago as a market allows them to pay for a winner like Jerry Reinsdorf claims he will, and while it's too cold to be a prime free agent destination, it's not impossible to get good players to sign. The repeated errors by the franchise aren't frustrating so much because they happen in the first place, but rather because they are entirely preventable.