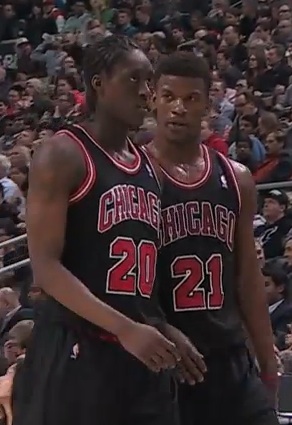 Hello again! Hope y'all had a nice All-Star Weekend. It's good to be back, especially after the Chicago Bulls continued their bizarre success this season with a 94-92 win over the Toronto Raptors last night.
The Bulls, of course, hadn't played since they beat the Brooklyn Nets six days prior, and facing the only team over .500 in the Non-Miami, Non-Indiana portion of the East, it wouldn't have been unfair to expect the Bulls to fall flat. But, with Toronto on the second night of a back-to-back, the Bulls managed to eke out a win, even after a late surge by the Raptors.
Now then, here's what we learned:
1. Joakim Noah, #PointCenter
Noah set a career-high with 13 assists last night, giving him 11 or more assists in 3 of his last 5 games. By way of contrast, the two actual point guards on the Bulls roster, DJ Augustin and Kirk Hinrich, combined for all of 1 assist. He had but 8 points and 4 rebounds, but nobody cares. Noah almost single-handedly keeps the Bulls offense from becoming one of the worst in history. According to 82games.com, the Bulls score 104 points per 100 possessions with Noah on the floor and just 98.3 with him off. Those numbers don't include last night's game, but still. That's the difference between a league-average offense and a bottom-five offense.
2. Someone must've told Kirk that last night's game was on national TV.
Lack of assists aside, Kirk scored 19 points on 8/11 from the field and 3/3 from deep, which is typically more in line with his performances in games on national TV. Though I suppose you could make the argument that TSN, which broadcasts Raptors games, qualifies as Canadian national TV. Anyway, getting credible production from Kirk goes a long way for the Bulls, especially when Mike Dunleavy can't make anything and Tony Snell only plays 6 minutes.
Speaking of…
3. #FreeTonySnell
This is one of those things that seems less complicated than it really is. On the face of it, Snell should get maybe 20 minutes a night. The Bulls only have three wings that aren't Toko Shengelia: Jimmy Butler, Dunleavy and Snell. And Jimmy doesn't really need to be playing 40+ minutes every night.
But you have to keep in mind that Jimmy's playing well right now, and when Jimmy plays well, he's incredibly important to the Bulls. He functions as the secondary ball-handler, something approximating a spot-up threat — though we'll get to why that's not totally the case in a minute — and the only truly elite perimeter defender on the roster. Tom Thibodeau is loathe to take him off the floor, and it's hard to blame him. Furthermore, when Kirk is actually shooting well, two-PG lineups with Kirk and DJ both become more prevalent and actually kind of work.
But the biggest thing is that Snell is still adjusting to the NBA and to Thibs. The fact is that Snell is a lot more likely to miss a rotation or otherwise screw up than the veterans ahead of him, and Thibs just doesn't trust him.
That said, he absolutely should play more than 6 minutes. He's flashed a much more diverse offensive game than we had any particular right to expect. We knew he was a good shooter, but what we did not know was that he's a perfectly competent secondary ball-handler. He's decisive, he passes well, his pull-up game is solid, and he's been able to finish at the rim, going 17/27 there according to Basketball-Reference. Anecdotally, he has a nice floater when he gets into the lane but can't get to the rim, but B-R tells me he's shooting but 37.5 percent from 3-10 feet, which isn't that great. Alas.
I'm very excited to see him play more next year. The combination of Derrick Rose, Snell, and Butler on a regular basis feels like an excellent fit, though obviously we've not really seen them play together yet. Sigh.
4. Jimmy Butler: slasher and … mid-range ace?
Jimmy had to take his first three since the Bulls beat the Los Angeles Lakers on Feb. 9 (all of three games ago) when he ended up with the ball and the shot clock winding down, but his last three games have seen him take the long ball almost completely out of his arsenal. I have mixed feelings about this, but Jimmy's gone from sub-40 percent shooting for much of the season to above 50 percent in each of the last three games, so I'm not going to complain. What is interesting, however, is that in addition to getting to the rim more, Jimmy's started going to a two-dribble pull-up out of the pick and roll a lot, and he's been nailing them. I have absolutely no explanation for this.
On the one hand, if he's going to take jumpers, you'd really prefer them to be threes, but since he's actually making these pull-ups and wasn't making threes at all, maybe this is better. Teams are perfectly happy to give him that shot — at least for now, we'll see if they start trying to take it away if he continues to make it regularly — and an open shot in-rhythm is usually a good shot regardless of location. So I don't know. I'm willing to just go with it for now.
Also, Jimmy's just great in general:
Butler: "I don't think I played any D tonight. DeRozan had, what, (32) points? I take pride in defense. (32) is a lot. I gotta get better."

— K.C. Johnson (@KCJHoop) February 20, 2014
5. Tyler Hansbrough is fairly lucky he didn't get punched in the face.
Hands-bro has long since been an annoyance to pretty much everyone, and he was especially annoying last night. He got tangled up with Nazr Mohammed in the second quarter, when the two were fighting for rebounding position and Nazr ended up on top of him on the ground. It's a little unclear exactly what happened — Nazr had some words for Hands-bro as he was getting up and Stacey King claimed Hands-bro pulled Nazr down, though he's hardly an unbiased source — but Hands-bro shoved Nazr, touching off a scrum, then went to the tried and true "I'm being held back so I'm going to yell and look angry and generally try to seem tough" move. Later, he and Mike Dunleavy got tangled up on yet another rebound, and Hands-bro literally tackled Dunleavy. Somehow, this resulted in a double-foul.
Tyler Hansbrough just tried to put Mike Dunleavy in a fireman's carry.

— Brian Schroeder (@Cosmis) February 20, 2014
Anyway, that's all I got. Bulls are off tonight, but they'll host the Denver Nuggets on Friday on ESPN.