In a battle of two teams that have dealt with more than their fair share of injuries, the Chicago Bulls embodied their coach's "Next Man Up" philosophy while the Denver Nuggets folded, with the Bulls taking home the 117-89 victory.
The Bulls jumped on Denver right from the beginning, and not even Jimmy Butler leaving with a rib contusion could bring them down. All in all, it was a really fun game.
Now then, on to what we learned.
1. Tony Snell, doing things.
Snell played almost 37 minutes after Butler went down — Next Man Up! — and slapped up a career high with 20 points. He went 7/14 from the field and 3/4 from three, including a three from the corner with the shot clock winding down and a defender draped all over him. He also made plays off the dribble, mostly stepping into rhythm pull-ups and knocking them down, but he also got to the rim a couple of times.
Now, the question becomes whether Butler will be ready to go in Miami tomorrow. He's making the trip and will be a game-time decision. If not, Snell figures to start in his place and see significant time guarding LeBron James and/or Dwyane Wade. Of course, LeBron may not play either, after he broke his nose on Thursday, but we'll see. Regardless, it was cool to see Snell do this just a day after I talked about how he should play more.
2. Garbage time is so much fun.
It's been long enough since the Bulls had such an extended garbage time period in a game they were winning that I'd forgotten how much I enjoyed it. For example, this is probably the best five-tweet stretch of my Twitter career: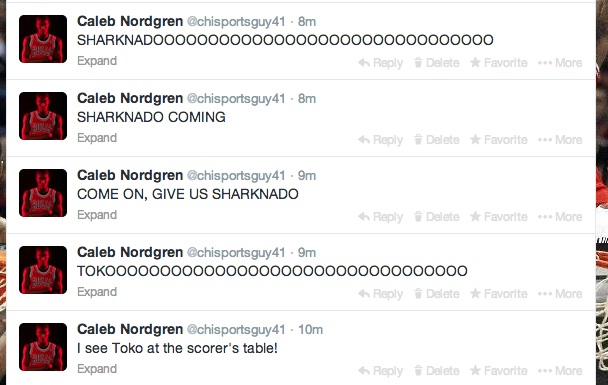 Eventually, we ended up with Snell, Toko Shengelia, Erik Murphy, Jarvis Varnado and Nazr Mohammed as the finishing lineup, and I cannot describe how happy that made me. It was great.
That's honestly all I have. The Bulls were on fire, guys stepped up, and it was a ton of fun.
Bulls are off today and then they'll take their talents to South Beach tomorrow.