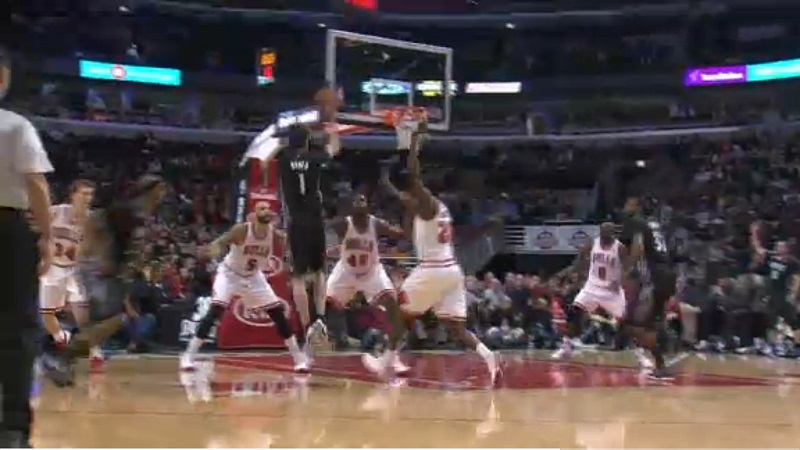 Tonight's loss to the Timberwolves was basically a glass ceiling game. Once Minnesota took the lead in the first quarter, they pretty much led by 4-12 points the entire game. While the Bulls never "let go of the rope", as Thibodeau would say, it never seemed likely that would get over the hump and take the lead. Joakim Noah's absence was somewhat offset by Minnesota losing Nikola Pekovic to an Achilles injury, which hopefully isn't anything serious and just something with which the team wanted to play it safe, but the Wolves role players stepped up and produced in his stead while Chicago's ancillary parts simply didn't.
Chicago's bench played poorly, but so did Carlos Boozer. He was just 3-11 in the first half, and 9-24 overall. While 20/14/5 looks nice, his offensive game is simply not capable of changing games. His buckets mostly come from midrange, and while Taj Gibson also shoots his fair share of jumpers, his physicality can at least force the defense to make adjustments.
And here's a screenshot of how poor Boozer's "defense" was: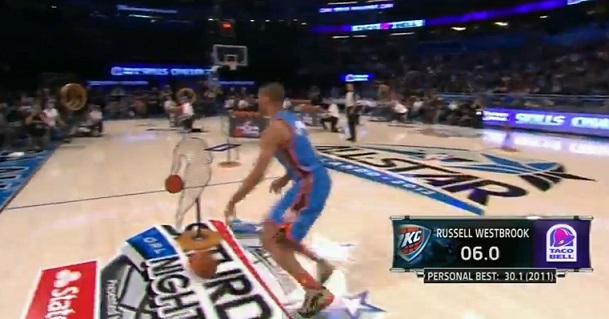 Seriously, even the likes of Alexey Shved (who Neil Funk calls "Sha-Ved") need just one change of direction to coast right past a frozen Boozer.
The first quarter was littered with dropped passes by both sides. It defied explanation. Once that was over, the Wolves got contributions from a host of players. Corey Brewer attacked in transition. Kevin Love, who Stacey King thinks is just 6'6″, perfectly executed the play where he fakes a handoff to trick the defender, only to turn around and drill an open three. He was 1-7 from three, but hit all 14 of his free throws en route to a 31 point night. Ronny Turiaf picked up the slack for Pekovic, scoring 11 points in the first half.
On the bright side for the Bulls, Jimmy Butler looked much more confident shooting tonight. He was 4-7 in the first half (just 1-5 in the second), and hit two of his four shots from beyond the arc.
Speaking of Jimmy, this was a really ugly game, so even though the TV broadcast didn't show it, I'm going to assume this was the highlight of the night: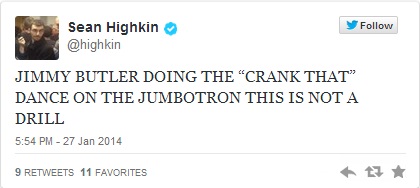 One more note before signing off: King suggested Erik Murphy might get a little playing time with Noah out. Myself and others scoffed at that notion, and when Taj picked up another foul with a minute before the half, we got a chance to see what Thibs would do. He chose to insert Cartier Martin to guard Love instead of Murphy. Love proceeded to draw a foul on an offensive rebound, but it's still a pretty good indication that Thibs would rather play Jimmy Butler just 30 minutes a night than play Murphy. Sorry rook.
The Bulls fall to 22-22 on the season and look like a good bet to drop back below .500 in San Antonio on Wednesday.