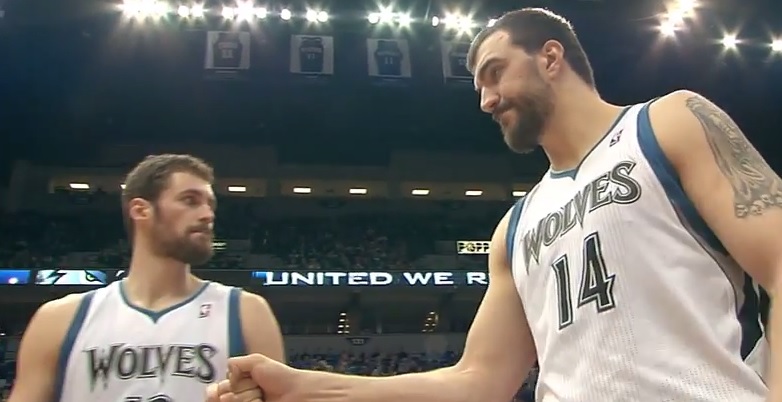 On the surface, the 22-21 Bulls hosting a 21-22 Wolves team that sits in 11th place in the loaded Western Conference looks like a very winnable matchup. The narrative around Minnesota is that they're a below .500 team that struggles to finish close games, with a frustrated superstar and an overrated point guard whose flashy passes mean less and less the longer his inability to shoot persists. Now, there's some truth to those statements but their +4.5 point differential, which would be third-best in the East, suggests that the Wolves are not a team to take lightly.
That's especially true if an ill Joakim Noah is unable to play at something close to full strength, or at all. Regardless of if he plays or not, Minnesota will have a fantastic offensive option whenever Carlos Boozer is on the court. Usually when the Bulls play a team with a stretch four -and Kevin Love is so good that "stretch four" feels like a pejorative- Noah or Taj Gibson take that task, while Boozer guards the other big in the post, even if that presents a size mismatch. However, few bigs are set to take advantage of that like Nikola Pekovic. He's one of the most physical players in the league and he's been on a tear recently. After a handful of down games during the team's three game losing streak, Pek has averaged 22 and 12 on 58% shooting in their last four contests, three of which resulted in victories. Even if Noah or Gibson battle with Pekovic, neither seems likely to succeed. Noah's always struggled against the biggest and strongest centers like Dwight Howard and Roy Hibbert, while Gibson was dominated at times by Brooklyn's Brook Lopez in last year's playoffs.
At point guard, Ricky Rubio and D.J. Augustin, still starting for the oft-injured Kirk Hinrich, are nearly polar opposites. Rubio is one of the bigger points and a strong defender, but his shooting woes are so pronounced that they've become a topic of discussion on talking head shows and a target for columnists who dispense #hotsportstakes. Meanwhile, Augustin has been on fire as of late and is providing much needed spacing for Chicago, but he is diminutive and is not a positive on defense.
Minnesota has sputtered in finishing tight games and if that trend is to be trusted, it's a great sign for Chicago because these Bulls simply don't blow out respectable teams.