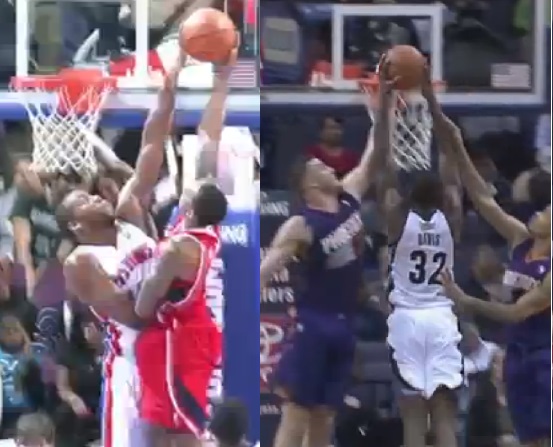 For years the Bulls have touted 2014 as the year the team would finally have spending flexibility. But with the summer approaching, management has thrown cold water on the possibility of bringing over long-awaited Real Madrid star Nikola Mirotic. With a franchise so well-versed in bracing its fans for disappointment, that got us at Bulls by the Horns thinking of exploring the other possibilities that await Chicago this summer. This week our look at restricted free agents starts with an evaluation of two Class of 2010 big men who, despite their talent, have left many wanting and wondering.
But first, a little bit of housecleaning regarding last week's post on Carmelo:
-Chicago's chances at acquiring him in the summer are small, but the chances of trading for him this season are non-existent. New York is still the favorite to sign him and they aren't about to bail on a player their owner sees as comparable to LeBron James or Kevin Durant. In addition, Chicago wouldn't do it either because a hypothetical Boozer/Hinrich/picks for Melo trade would put the Bulls back over the luxury tax.
-Another bonus of acquiring Melo was pointed out to me on Twitter by reader Jermaine Jones (@jermaine611), as he noted that having Anthony would prevent James from smothering Derrick Rose in crunch time as he did in the 2011 Eastern Conference Finals. Other free agents like Lance Stephenson are cheaper and younger, but Anthony is likely the only one that can truly alleviate the threat of long defenders like LeBron or Paul George leaving their assignment to cover Derrick.
With that said, let's move on and take a good look at the 2010 NBA Draft for a minute and see what stands out.
I came away with three impressions:
1. It's a solid draft, as it has provided elite talent at the top with the aforementioned George (10th) and John Wall (1st), as well as a lack of busts. 19 of the top 20 picks (sorry Luke Babbitt) are still in the league. For perspective, the 2009 draft had colossal busts Hasheem Thabeet, Jonny Flynn and Terrence Williams all within the top dozen selections. The 2010 draft looked nearly as bad with the likes of Wesley Johnson, Al-Farouq Aminu and Xavier Henry, but all three players have managed to find some footing after having their fourth year options declined.
2. Having said that, yikes is the second round a barren wasteland. Indiana's success in creating a nurturing environment for Lance Stephenson has been well chronicled and Jeremy Evans is now a rotation player in addition to having won a dunk contest, but after that? It's Landry Fields and a bunch of nobodies. So basically a bunch of nobodies.
3. There's five very good bigs in the top 15 picks that all have very big question marks about their future: #3 pick Derrick Favors (Will he level out as a Taj Gibson type or can he become a dominant player?), #5 pick DeMarcus Cousins (maturity and ability to anchor a defense), #15 pick Larry Sanders (Are his fights with teammates a disturbing trend or just isolated incidents with Brandon Jennings and Gary Neal? And how could you leave puppies out in the freezing cold?), Greg Monroe at #7 and Ed Davis at #13.
Of the five, Cousins signed a max extension, and Favors and Sanders signed eight figure deals, while Monroe and Davis were unable to secure new contracts. That means they can test the waters this summer, with the caveat that Detroit and Memphis can match any offer. However, it's fair to wonder if either is a part of their team's plan moving forward.
Monroe might be the odd man out in Detroit, as Andre Drummond has turned into one of the most valuable assets in the league, Josh Smith is in Year 1 of a monster four year deal, and Detroit's experiment of trying to play all three at the same time has failed miserably. Monroe is reportedly seeking the max, and considering he's a not-yet 24 year old big man who has averaged 15.4 points and 9.4 rebounds the last two and a half years, he'll surely get it.
Meanwhile, Davis hasn't established himself in the league the way Monroe has, but as the draft shows us year in and year out, sometimes that lack of opportunity leads front offices and fans alike to convince themselves that the player has that much more potential to grow. Davis was a big point of contention between the front office and former head coach Lionel Hollins. Obviously the front office wanted him to play more after getting him in the Rudy Gay deal from Toronto, but Hollins preferred to stick with the veterans. With that in mind, as well as Marc Gasol's injury, I expected to see significant playing time in Davis' game log, except he's only tallied 30 minutes in two games all year. On the flip side, he's notched three double-doubles this month, so without watching the Grizz on a night-to-night basis, I have no idea what to make of Davis.
If Zach Randolph exercises his $16.9 million player option for next year, it will be very hard for Memphis to keep him and not go over the dreaded luxury tax. Their ability to keep him probably hinges on either dumping Randolph before the deadline or hoping he opts out of that last year. That might sound unlikely, except we've seen players like Andre Iguodala and Monta Ellis sacrifice a little money in the short-term to get a three or four year deal. Z-Bo turns 33 in July, so a three year deal at $10-12 million might make more sense than opting in for 2014-2015 and risking a decline that would cost him significantly in the years after.
As for the Bulls chances of pursuing either, Davis is definitely the more likely option for a couple reasons. The first is that Memphis is a little more likely to not match an offer. Someone might be able to scare them out of matching Davis in the same way Houston spooked the Bulls with Omer Asik. With Monroe, even if they don't plan on building around him, he's too good of an asset to not match, even at the max. That means a trade would be necessary, which for one, would be a non-starter for Chicago, and two, Davis would cost less in a trade anyway.
Finally, in order to get Monroe, it would take all of the cap room the Bulls will have, while Davis would likely leave room to add another rotation player. Monroe on an Eric Gordon/Roy Hibbert size post-rookie max deal would throw off Chicago in regards to adding a wing player. Taj Gibson making $8-9 million is pretty good for a starter, but not feasible as a third big if they are to add a dynamic playmaker next to Derrick Rose.
For those reasons and many more, Chicago is much more likely to pursue a perimeter player among the restricted free agents, and we'll look at those possibilities in the next part of this series.