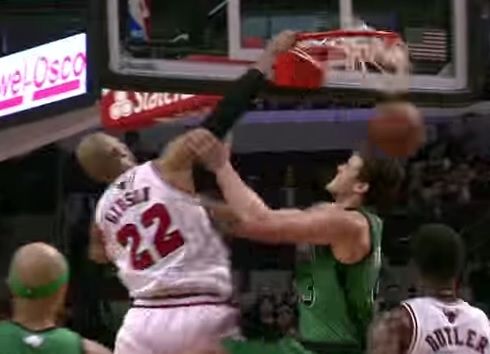 For years the Bulls have touted 2014 as the year the team would finally have spending flexibility. But with the summer approaching, management has thrown cold water on the possibility of bringing over long-awaited Real Madrid star Nikola Mirotic. With a franchise so well-versed in bracing its fans for disappointment, that got us at Bulls by the Horns thinking of exploring the other possibilities that await Chicago this summer. In this edition, we look at the Atlantic Division.
Boston Celtics
Kris Humphries
Even setting aside the whole "not wanting Kris Humphries on the Bulls" part of this, if he were on the Bulls, that would mean Taj Gibson doesn't get to dunk on him anymore and that's not OK. Every player has a place in the NBA ecosystem and getting dunked on is the role Kris Humphries was meant to fulfill.
Keith Bogans
One year of Keith Bogans was plenty.
Jerryd Bayless
Bayless is kind of a younger, bigger D.J. Augustin, but he's shown he's more of a bench scorer than an actual point guard. If the Bulls happen to lose Augustin this summer, I'd prefer to see them go after a more established guy like a Mo Williams to replace him. In the event they seek a heat check guy, there's some available players like Nick Young who get hot a tad more frequently.
Brooklyn Nets
Paul Pierce
For that brief period of time where it looked like the Bulls were going to tank (the most foolish of notions, in retrospect), a Boozer-Pierce swap made a lot of sense for both sides. The floundering Nets were seeking frontcourt help after Brook Lopez went down for the year and the Bulls would have loved to get out of the last year of Boozer's deal, especially when factoring in that Pierce likely would have negotiated a buyout to join a title contender.Then both teams turned it around and Brooklyn even became a little cap-conscious in regards to adding onto their gargantuan tax bill.
Unlike many Bulls fans, I root for Pierce, though he isn't a great fit for the Bulls at this point in his career. He's not washed up like Rip Hamilton was, but the Nets have thrived going small with Pierce, and that's something the Bulls rarely ever do (nor should they). My guess is he'll get something like two years, $12 million, with the second year partially guaranteed, or something close to the mid-level exception with a team over the tax, and that's not a great price for a short-term asset who would push Jimmy Butler back to shooting guard and exacerbate his shooting woes.
Shaun Livingston
He's been such a great story and looks to be getting to the point where he's just a good basketball player and not "Shaun Livingston, Oh You Remember, That Guy Who Had The Most Gruesome Leg Injury You've Ever Seen." Livingston could very well leave Brooklyn this offseason seeing as they don't hold his Bird Rights, meaning the only way they can pay him more than the veteran's minimum is to use part or all of their taxpayer mid-level exception. This is the part where I say Livingston doesn't fit with the Bulls because he can't shoot, but this time, it's not because his three point numbers stink, it's because he simply doesn't take them. Out of his 461 attempts this year, he's only taken a mere six shots from beyond the arc.
New York Knicks
Carmelo Anthony
Already covered in-depth here and here. Not much has changed since then, other than Phil Jackson joining the Knicks and more anonymous sources mentioning Chicago as an option, except we knew that already. To reiterate, the Bulls shouldn't, nor do I think would they would, trade Taj Gibson and Mike Dunleavy for no immediate return, sign Carmelo outright for as much as they can, and have a skeleton bench behind Rose/Snell/Butler/Melo/Noah. The only way it makes any sense for the Bulls is to acquire him in a sign-and-trade involving Carlos Boozer. If the Knicks for some reason weren't open to facilitating that and getting a pick or two for their help, then it's much too damaging to Chicago in the long run. 
Raymond Felton
I only put him here to entertain the thought of Thibs coaching Felton.
Philadelphia 76ers
As one might expect, there aren't any useful players to be found on the Sixers. Honestly, if I was playing 2K and saw their roster, I'd have assumed at least a couple of their players were computer-generated. Casper Ware? James Nunnally? Are we sure these are real people? And if not for an "Honor Code Violation," there's no way Brandon Davies wouldn't have ended up in that group too. Wait, did I just pull off a triple negative?
Toronto Raptors
John Salmons
We'll always have 2009.
Kyle Lowry
Lowry's breakout year has come at just the right time financially. After a trade to the Knicks fell apart, Lowry has been one of the main factors in Toronto's shocking resurgence that will have them not only making the playoffs, but holding homecourt in the first round. It seems likely he stays put in Toronto this summer, which shouldn't impact the Bulls, as Lowry, a clear starting point guard and a moody player known for clashing with coaches, won't be on their radar anyway.