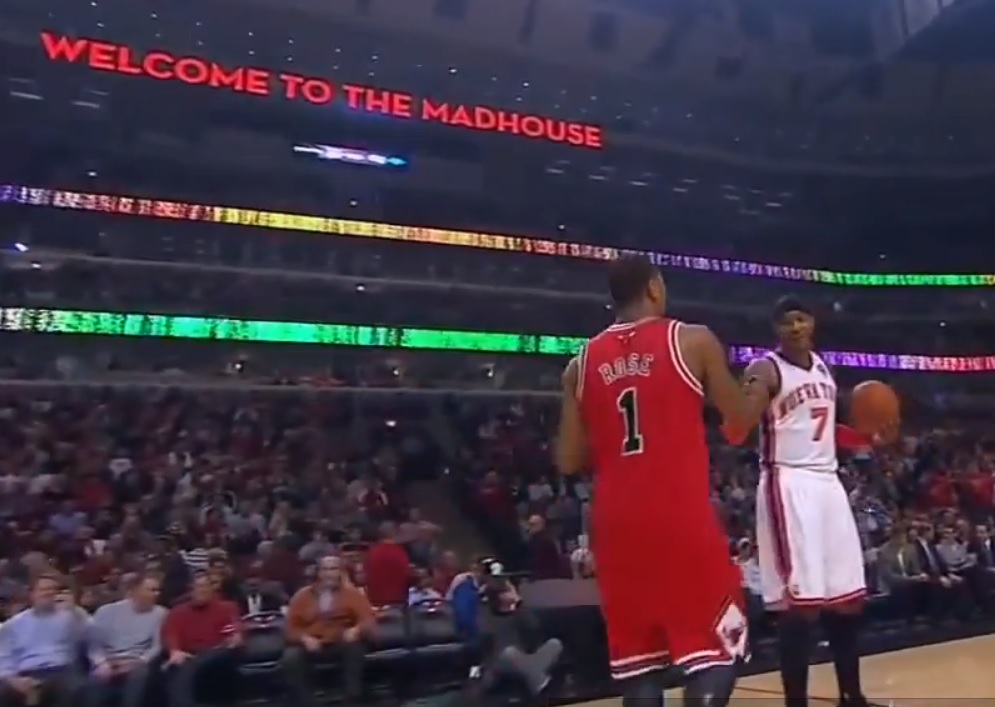 For years the Bulls have touted 2014 as the year the team would finally have spending flexibility. But with the summer approaching, management has thrown cold water on the possibility of bringing over long-awaited Real Madrid star Nikola Mirotic. With a franchise so well-versed in bracing its fans for disappointment, that got us at Bulls by the Horns thinking of exploring the other possibilities that await Chicago this summer. The first part in our examination is an in-depth look at the biggest star deemed to have a shot at changing teams, New York's Carmelo Anthony.
Not a leader. Not a winner. Won't do the little things. Doesn't play defense. Only cares about stats and cashing checks. Those are the types of things that people believe about Knicks star Carmelo Anthony. To be fair, he hasn't always done his best to fully dispel some of those labels, but despite his faults, Melo is one of the best players in the NBA. He also happens to be a free agent this summer.
Rumors, seemingly a daily occurrence when it comes to the Knicks, suggest Anthony is likely to stay put in New York, where he can remain the focal point for the Eastern Conference's marquee franchise, make the most money, and stay in a city in which he and his family apparently enjoy living, However, if he were to leave, the ever knowledgeable "sources" claim Chicago would be one of the few teams he would entertain playing for, as they're a big market team that is set up to reclaim their status as a title contender next year. Melo is also said to be a fan of Tom Thibodeau, both of whom are represented by the omnipresent company CAA. The buzz around those rumors had one obstacle cleared after the Luol Deng trade, as re-signing him long-term is now out the window as a realistic option.
Then the question becomes: is it even a move the Bulls should make? To scoff at adding the defending scoring champion sounds crazy on the surface, except every move comes at not only a dollar cost but opportunity cost as well.
Before evaluating the ramifications of acquiring Melo, one must examine how Chicago could obtain his services in the first place. As cap wizard

Mark Deeks

noted 

here

, the Bulls can get to over $13 million in cap space this summer if they amnesty the $16.8 million Carlos Boozer is due in the final year of his mammoth deal and clear Mike Dunleavy's $3 million in a trade (note: that post was written before the Marquis Teague trade, which opened up another $613,584 in cap space). Keeping Dunleavy at that cost is probably the wiser move as his production will be near impossible to replace at that price, but for the purposes of this discussion that's the ballpark of room they can carve out without trading a core piece.
Well, that appears to rule out Chicago as a Carmelo destination. Miami's stars each took a little less than the max to make it easier to build around them, but expecting Anthony to take a 40% discount on his current $22 million salary is asinine. However, one avenue remains: a sign-and-trade. Instead of amnestying Boozer, the Bulls could use that $16.8 million figure to balance the salary scales in a trade and not have to pay him to play elsewhere, a possibility that surely would enthuse Jerry Reinsdorf.
New York, for all their laughable missteps, has actually set themselves up for the books to clear soon, as the giant contracts of front-court trio Tyson Chandler, Amar'e Stoudemire and Andrea Bargnani all end in 2015. No team loves them some declining former All-Stars like the Knicks, and acquiring an expiring Boozer represents a chance to save a little face for one of the most PR-paranoid teams in sports, while also fitting their timetable. In addition, the Bulls could send one of their extra picks to slightly restock New York's barren cupboard of assets. They would hardly be happy facilitating a sign-and-trade, but if Anthony was determined to leave, Boozer and a heavily protected first rounder or a couple second rounders aren't worthless parting gifts.
Now, Chicago's chances of snagging Anthony are probably equivalent to an 8 seed's chances of shocking a 1 seed, but it appears to be a non-zero chance that grows with each Knicks controversy or debacle. With a path laid out, I'll bring in Caleb Nordgren to debate the merits of the Bulls pursuing Carmelo.
Caleb: If this were a podcast, I would open with a long sigh. I've never been terribly fond of Melo, mostly because I just don't like watching him very much. He can be compelling when he catches fire, but otherwise…meh.
As to whether the Bulls should pursue him, I'd say they probably should, in a vacuum. Absent all other factors, you want the best players you can possibly get. Having said that, I don't think it makes any sense right now. The Bulls need to preserve whatever cap space they end up with to bring Nikola Mirotic over from Spain, and I think anything that's left over should go toward building depth.
But honestly, as long as the Bulls don't re-sign Kirk Hinrich, I'm not going to get too worked up about it
Trenton: I get what you're saying, and agree Mirotic is the better option. I guess it's that I think the Bulls and Melo would fit each other really well. He would be surrounded by great defensive players in Joakim Noah, Jimmy Butler and Taj Gibson, and would have a coach he respects on one of the most mature teams in the league. He's been the centerpiece of five 50 win teams and is proving he won't quit on a bad team in giving every ounce of effort for a floundering and flawed squad this year.
Also, I think the Bulls might even benefit at times from Anthony's shot selection. Even with Derrick Rose healthy, the Bulls have struggled to score, as their offense gets stagnant and they often have to labor just to generate a decent shot. Carmelo's patented "catch, wait, jab, jab, pretend to consider passing, jab, shoot" routine where you can practically go to the bathroom, come back and not have missed a shot would, much like with Nate Robinson's gunning ways, save the other players some energy. It would be like hiding James Harden or Stephen Curry on defense, just on the opposite end of the floor.
Now, that's putting some spin on things, but the differential between a bad Carmelo shot and a typical Bulls possession is far less damaging than it would be on offensive juggernauts like the Clippers or Spurs, and when things are going well he's the caliber of talent that can dominate and shift games.
Caleb: Two things: 1) The Bulls posted a top-five offensive efficiency in 2011-12, even with Rose missing half the season, so I feel like the "Chicago can't score enough" narrative isn't entirely true. 2) I don't like the idea of Melo and Rose together. Both are at their best when they have the ball in their hands a lot, so I question the fit. Then again, Rose's spot up jumper did look really good before he got hurt, and maybe not having the ball in his hands all the time would help in terms of long-term durability and crap I just talked myself into this. Dammit.
I think, at the end of the day, Melo's high price tag and relative lack of youth make him a poor investment and one the Bulls would be wise to avoid. But I guess we'll see. I would say Mirotic and depth makes more sense than hanging it all on Melo. (Also worth mentioning that if the Bulls want to re-sign DJ Augustin, that probably will take a chunk of cash.)
Trenton: Their 2011-2012 offense is interesting because some of it might be chalked up to continuity and playing harder than the average team during the lockout year. There's really no way to know since we haven't seen much of Derrick Rose since, and I suppose neither that year nor the year before are particularly relevant now that Deng is gone and Boozer will be as well in a few months.
I think in the end, while I'm a little more optimistic than you are, we seem to have a similar outlook in that the biggest downside to Anthony is his salary. If you ballpark Melo at $20 million a year and add that to the approximate $40 million of Rose, Noah and Gibson, that's $60 million right there before adding in Tony Snell, draft picks, a backup point guard, a requisite third big, and most of all, Butler's extension (more on that in another part of this series). However, that shouldn't be a problem, as the Bulls make enough money that Reinsdorf can roll in it like
Huell

, plus they averted the threat of the repeater tax with the Deng trade, so the team scoffing at this would be nothing more than frugality. Going this route would also likely leave the full mid-level exception open, which they could use to pursue a third big, like say Channing Frye if he opts out in Phoenix, though that would most likely take them deep into the tax eventually. Either way, in an Eastern Conference where LeBron is weary, essentially the entire Heat roster could hit free agency, and Indiana could very well lose Lance Stephenson, unless Mirotic can be brought over, the idea of Rose/Butler/Anthony/Gibson/Noah with Snell and a bevy of draft picks is awfully enticing.