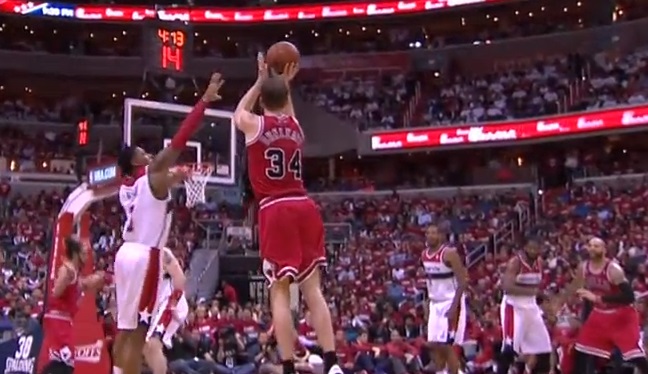 "Oh, you can't always get what you want.
But if you try sometimes, you just might find
You get what you need."
Those iconic lines from The Rolling Stones essentially sum up the 2013-2014 season for Mike Dunleavy. The 33 year-old came to Chicago after 11 seasons with three franchises and only one playoff win to his name. He turned down more money elsewhere not just to play with Derrick Rose and on a title contender, but also in one of the most professional locker rooms in the league. Chicago's chances for the title ended the same night Rose's season did in Portland, but Dunleavy still relished playing on a winning team for just the second time in his career.
The first? That memorable 2006-2007 Warriors squad that shocked the Mavs in the first round – which Dunleavy wasn't around for, seeing as the team, 19-20 at the time, traded him midseason to Indiana in the eight player deal that brought Stephen Jackson and Al Harrington to Golden State. He'd only been to the playoffs twice, with the 2011 Pacers (who lost to the Bulls) and last year's dysfunctional Milwaukee squad (Bucks in 6!), two teams that squeaked into the 8 seed with below .500 records thanks to the putrid company surrounding them in the Eastern Conference.
With all that in mind, it's easy to understand why Dunleavy took Chicago's mini midlevel exception, and with it, his lowest earnings since his rookie season. He proved invaluable to the Bulls, especially after the white flag trade of Luol Deng, and no matters what happens from this moment forward, he put on one of the greatest shooting displays in playoff history.
The Numbers:
Overall: 82 G, 61 GS, 31.7 MPG, 11.3 points, 4.1/9.4 FG/FGA (43.0%), 1.5/4.0 3p/3PA (38.0%), 2.0 FTA, 85.4 FT%, 4.2 rebounds, 2.3 assists, 0.8 steals, 51.0eFG%, 53.9 TS%, 17.0% usage rate
Pre-Deng trade: 32 G, 11 GS, 28.2 MPG, 10.8 points, 4.0/8.7 FG/FGA (45.5%), 1.4/3.7 3P/3PA (39.3%), 1.7 FTA, 83.0 FT%, 3.8 rebounds, 2.1 assists, 0.7 steals, 53.8 eFG%, 56.9 TS%, 17.4% usage rate
Post-Deng trade: 50 G, 50 GS, 33.7 MPG, 11.7 points, 4.1/9.9 FG/FGA (41.6%), 1.5/4,1 3P/3PA (37.2%), 2.2 FTA, 86.5 FT%, 4.4 rebounds, 2.4 assists, 0.8 steals, 49.4 eFG%, 53.8 TS%, 16.7% usage rate
The Good:
This section obviously starts with a mention of his Game 3 barrage against the Wizards. Practically shooting flames out of every orifice, Dunleavy went 8-10 from three, and the Bulls needed every one of his 35 points. Only 17 times in history had a player hit eight triples (Ray Allen has done it four times, and Chris Paul has done it since in Game 1 against Oklahoma City), and it was a career-high for Dunleavy, as well as a playoff-high for the Bulls as a franchise.
The season may not have gone as well as Dunleavy hoped, but for one night, the veteran with one career playoff win extended his team's season with the best shooting display of his entire career. Pretty cool stuff.
Beyond that, he is to be commended for stepping into the starting lineup and playing a larger role than he should be at this point in his career. He tallied 30 games of 35 minutes or more in the regular season. Per Basketball Reference, only Zach Randolph, Kyle Korver and David Lee had more among players over 30, and Dunleavy is older than all of them. To find a player older than Dunleavy on the list, one passes a handful of perimeter players before landing on Pau Gasol and Dirk Nowitzki, who each hit the 35 minute threshold 21 times.
The burden Dunleavy shouldered is even more impressive when considering he would often play the first 18 or so minutes of the game without a rest, and that he played in all 82 games for the fourth time in his career.
While he did post his lowest three point percentage since 2009-2010, 38.0% is right in line with his recent numbers and is no cause for alarm, especially when factoring in that he should get more catch-and-shoot looks with better offensive talent around him next year. (I'm assuming a bit there, but if the weaponry isn't upgraded, then GarPax won't have just fallen asleep at the wheel, they'll have driven the car off the side of a cliff.)
The Bad:
Following in the footsteps of past Chicago wings, Dunleavy took a while to find his place in Tom Thibodeau's defense. Because of that, and the sheer numbers game of Jimmy Butler (defensive stopper) and the Hinrich/Augustin duo (Thibs prefers two ball handlers) taking all three perimeter spots, Dunleavy often found himself on the bench to finish games. In fact, leaving him on the bench may have very well cost the Bulls a victory in Game 2 against Washington. Also, while his offense was needed against them, the Wizards did expose him on defense, as Trevor Ariza made the Bulls pay all series from beyond the arc.
The Grade: B
The Future:
Dunleavy is signed through next season, for which he is set to make $3,326,235. It's a great price for the role he fills, and while many expected him to follow Deng out the door at the deadline, the Bulls resisted offers from contenders for him. Unless clearing his salary is absolutely necessary in order to bring in Carmelo Anthony or Kevin Love (should the Wolves decide to trade him), he should be back with the Bulls. Returning to a lesser role, as well as having another training camp to get comfortable on defense, should make Dunleavy even more successful in 2014-2015.