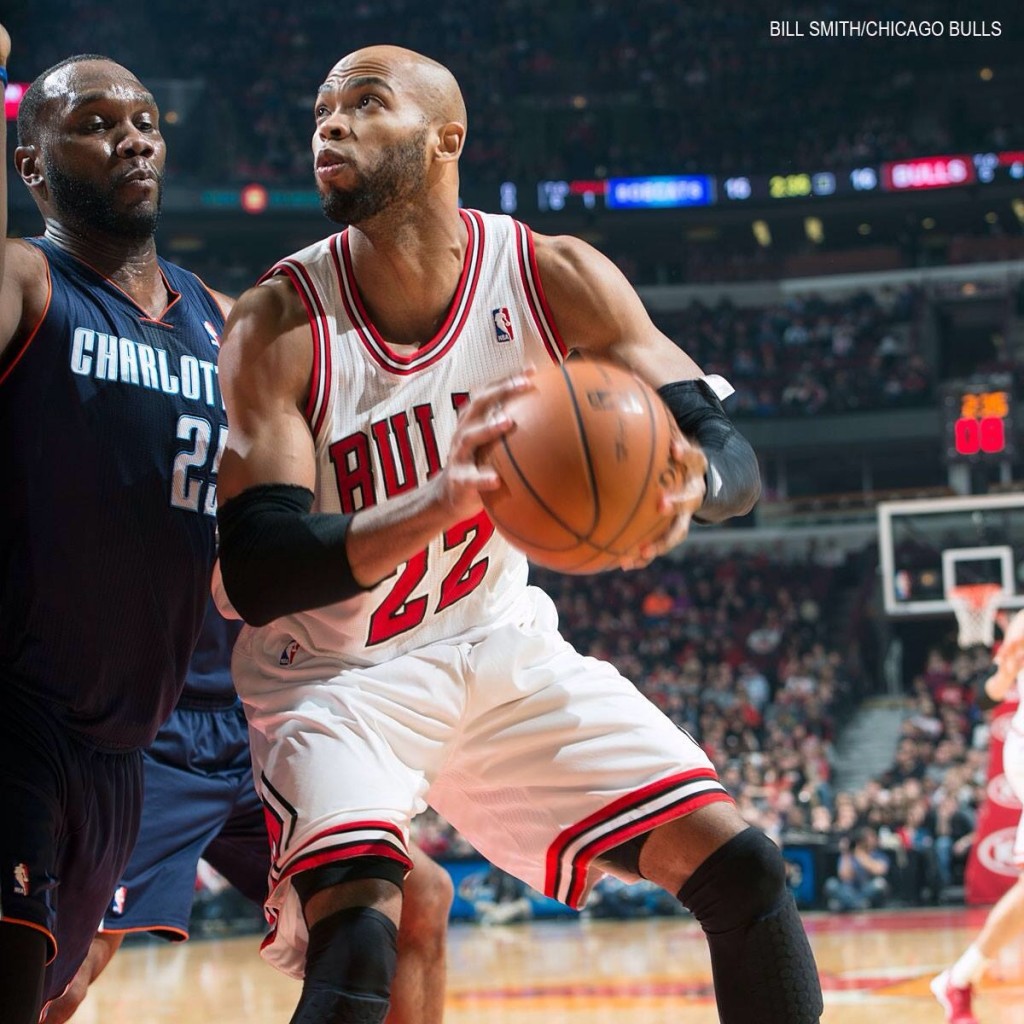 Player:
Taj Gibson
Per Game Stats:
82 games played, 28.7 minutes, 13.9 points on .479 shooting, 6.8 rebounds, 1.1 assists, 1.8 turnovers, .5 steals and 1.4 blocks.
The Good:
After Joakim Noah, the brightest part of the Chicago Bulls' season was the breakout offensively by Taj Gibson. Any questions as to whether Gibson could score enough points to justify his contract were laid to rest.
Gibson vastly improved his low-post game. In the 2012-13 season, per Synergy (account required), Gibson recorded 37 field goals on post-up plays. This year he had 110.
He also showed a massive improvement in his jump shot, elevating his average points per play form .61 points per play to .95, slightly better than Serge Ibaka's .92.
And Ibaka-lite isn't a bad comparison here. Gibson's per-36 numbers aren't that far off (16.4 points, 8.5 rebounds to 16.6 points and 9.6 rebounds) from the Oklahoma City Thunder's star. That's not to say Gibson is Ibaka's equal, but he's in the same league. Both are now capable third-scoring options and elite defenders.
Only, Gibson is doing it for $4 million a year less. Point being: He's assuredly validated the contract he signed and established that he can start.
He also averaged 18.2 points on .561 shooting in the playoffs and had the best PER on the Bulls with 26.5. That makes him the only player in Chicago's history other than Jordan to record a playoff PER over 25 (minimum 100 minutes). Yes, it's super, super small sample size, but the idea of a starting power forward next year who actually elevates his game in the postseason is absolute honey compared to the last four years.
Gibson's numbers were better as a starter too.  He averaged 19.3 points and 9.8 boards in eight starts. He's probably not going to give you a 20/10 season, but 16/8 is feasible. At $8.5 million a year, that's high-value contract, especially when you factor in his All-Defensive caliber play on the opposite end of the court.
The Bad:
There were occasional disappearing acts by Gibson. To the naked eye, it looked like Gibson played through some unannounced injuries which impacted his play.
But, that combined with his struggles when double-teamed, suggest he can't be more than a third option unless his game takes another bump. His offensive game elevated to above average, but not elite. The enthusiasm for his boost should be tempered with the understanding that it's probably close to peaked at that.
The area he can still improve is in turnovers. Seventy of his 150 turnovers were ball-handling turnovers, per 82games.com. Another 35 were offensive fouls. Most of those 105 combined turnovers probably came from two things: traveling and falling for the same trick.
There were countless times where he got whistled for moving his pivot foot when going into his spin. That can be worked on, as it's just a skill thing. The other is he fell for the "pull the chair out" trick numerous times when backing his defender down.
The only other negative on Gibson was his defensive rebounding isn't on par with Carlos Boozer's. To a degree, it's because they have different jobs on defense. Boozer is supposed to stand and wait for missed shots because he's useless doing anything else, while Gibson is frequently stepping out and trying to guard wings at the perimeter.
Still the difference is pretty dramatic. Boozer's 8.3 defensive boards per 36 minutes dwarves Gibson's 5.5. Gibson will have to improve on that if he's the starting power forward next season.
Grade: A 
Future:
Gibson will be the Bulls' starting power forward next year unless they trade for Kevin Love or sign Pau Gasol in free agency. If he's a starter he's a borderline All-Star (his numbers already compare with David West and aren't far off Paul Millsap).
At $8.5 million a year that's a high-value contract and in today's NBA, you don't just need stars, you need high-value players who can out-perform their contracts. Gibson looks like he'll be doing that, whether as a starter, or as a perennial Sixth Man of the Year candidate.