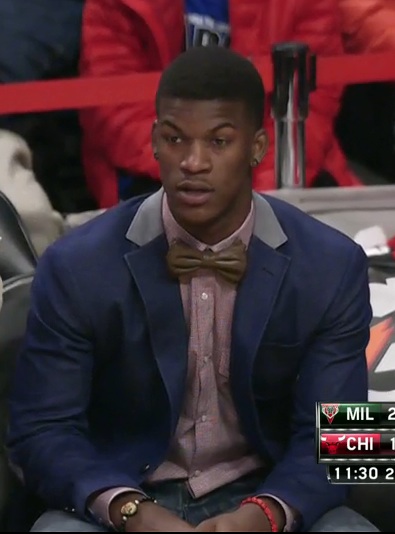 Let's get the obvious out of the way immediately: Jimmy Butler did not have a great season. And that is most likely an understatement.
Having said that, I don't think it's much of a stretch to say that the 2013-14 Chicago Bulls would not have won 48 games without Jimmy. He stepped into the void created when Luol Deng was shipped off to Cleveland and did a phenomenal job, so long as you're not into stellar shooting percentages. There's no disputing that Jimmy is one of the very best perimeter defenders in the NBA, and the Bulls defense would not have been as good without him.
The Numbers (per-36): 12.2 points, 4.6 rebounds, 2.4 assists, 1.8 steals, 0.5 blocks, 1.4 turnovers, 39.7% FG, 28.3% 3PT, 76.9% FT, 13.5 PER, 7.1 WS, 0.131 WS/48
The Good: Defense, mostly, though there were a few nice things we saw offensively. Pressed into a role as a secondary ball-handler, Jimmy did seem to improve his playmaking somewhat, evidenced by his increased assist total and assist rate. He continued to get to the free throw line at a very high rate, posting a .488 free throw rate, which is even higher than last year's. But yeah, not a great year overall on that end.
The Bad: I mean, his jumper just straight up abandoned him. I've been blaming the turf toe injury he suffered in November, based on the fact that he was shooting 44 percent from deep in the first 9 games of the season and then shot in the mid-20s the rest of the way, but I have no idea. You could tell me someone hypnotized him and I'd probably believe you.
Though, oddly, Jimmy actually did pretty well from mid-range this year, hitting about 40 percent from 10-16 feet and about 36 from 16-23 feet, according to basketball-reference. That's not great, but it's not bad, and it's a far cry from his abysmal 28 percent mark from three. Jimmy shot 45.7 percent on twos overall, which is pretty not bad. Don't worry, I'm just as confused as you are.
Jimmy's offensive rebounding, a big part of why he was so good in 2012-13, mostly disappeared. His defensive rebounding rate is essentially identical over the last two years, but his offensive rebounding rate dropped from 7.2% to 3.9%. The first number is elite for a wing, the second is … not. I feel pretty confident that's because Jimmy spent so much more time on the perimeter this year compared to last. He attempted 240 threes this year in 67 games, compared to 105 all of last year in 82 games. Granted, he did play about 400 more minutes this year than last, but still, that's a bit of an increase.
The Grade: B
The Future: I would very much like to think that a summer off will let Jimmy rediscover his jumper, which would make him a hell of a player again. It's entirely possible that it won't, and he'll have to compensate by crashing the offensive glass and drawing fouls and such, and that would be fine too. But on a team so starved for shooting, I really hope he comes back with his jumper in hand once more. That would be delightful.
But even if he doesn't, I'll still love him forever.